Best Kept Secrets of the Icelandic Highlands
The Icelandic highlands are one of the largest unpopulated areas in Europe and hide some of the best natural beauty in the world. You can find some of the best-kept secrets here if you are heading to Iceland between June and September.
Ranging over a huge 40,000 square kilometres, these rolling landscapes of drastic mountains and valleys are an explorers dream. If you are looking for an adventurous holiday then this is definitely something you should plan on doing when you head to Iceland. During the summer months, these regions of Iceland are easily accessible if you have a 4x4 once the ice and snow has fully melted. There is plenty to see in the region but we have picked out some of the best-kept secrets of the Icelandic highlands that you should definitely make time for on your trip.
Thor's Forest or Þórsmörk
Distance from Reykjavik: 158 km
Approximate travel time: 2h 39min
This interesting region of the highlands is linked to some ancient Norse mythology, that has recently been popularised by the Marvel franchise. The region is well known by local Icelanders as the area where the Norse god Thor landed and struck down his hammer, creating the deep depression which forms the valley. The region is a hikers paradise with ice-capped peaks, caves and canyons littering the area. The mountain ridges are a spectacular site and there is a range of hiking trails for easy to more advanced.
Hekla Volcano
Distance from Reykjavik: 154 km
Approximate travel time: 2h 30min
Simply a must see when visiting the volcanic highlands of Iceland, Hekla is one of the most active volcanoes in the world. It has been the inspiration for many myths and legends across Europe and has produced more lava fields than you will find anywhere else. The earliest recorded eruption took place in 1104 and stories quickly spread throughout Europe detailing the volcano Hekla as the gates of hell. This belief spawned many other stories and gave birth to mythology, with people still believing Hekla to be a source of evil until the 19th century. Despite erupting as recently as the year 2000, thankfully the volcano now lies dormant and is regularly monitored by scientists for any volcanic activity. It has become a hotspot for tourists who wish to climb to the volcano's summit, but be warned this can take up to 4 hours by foot.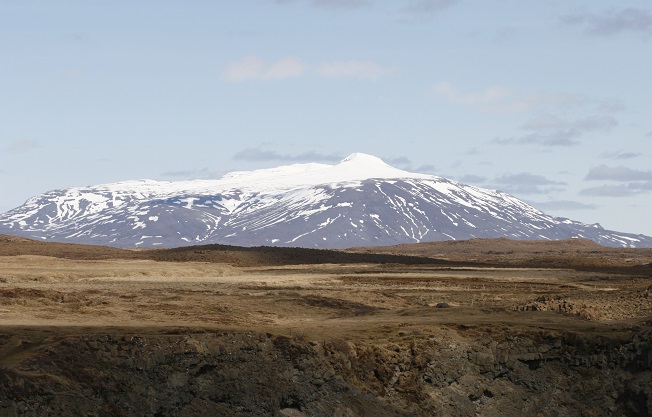 Hveradalir
Distance from Reykjavik: 33.2 km
Approximate travel time: 34min
This is a real hidden gem and provides travellers with a rare opportunity to see landscapes being forged right in front of them. The geothermal area of Hveradalir is a hot spring valley that contains both natural hot springs and arctic vegetation to make this the land of fire and ice. Retreating glaciers in the region along with the natural habitat mean that the landscape is constantly changing and it is possible to spot where this is occurring. There are plenty of hiking trails throughout the region and a number of hot springs that are completely free to bring a bathing suit with you!
Landmannalaugar
Distance from Reykjavik: 182 km
Approximate travel time: 3h 11min
You will more than likely have seen photos of this region as it remains one of the most popular locations for photo opportunities amongst tourists. The drastic and colour changing mountain ranges are well worth a visit if you are planning on heading to the Icelandic highlands. Trekking through the region you will come across a number of natural beauty spots, including the sulfur wave volcano also known as Brennisteinsalda, with the surface coloured by sulfur from the volcano. You will also enjoy views of other craters, glaciers and Ljótipollur explosion crater along the way.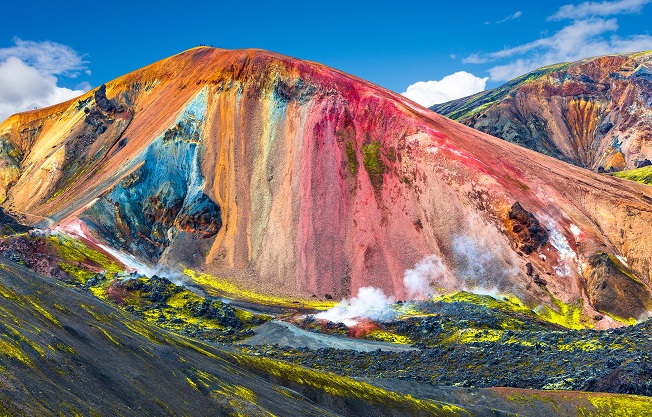 Langisjór Lake
Distance from Reykjavik: 180 km
One of the best-kept secrets of the highlands that not many people know about is Langisjór Lake. This lake can be found in the highlands and is around 20km long by 2km wide. This large lake is around 75m at its deepest point and is a real marvel as one of the largest natural lakes in the country. If you take a relatively easy hike up Mt Sveinstindur then you will be rewarded with spectacular views across the region that you would find hard to beat anywhere else. There are large mountain ranges on either side of the lake and it remained undiscovered until the middle of the 19th century. It really is one of the best-kept secrets of the Icelandic Highlands and you should make time to head here during your visit.
Although many of these regions are available as part of a tour or with local bus routes, they are much easier to get to and quicker by Jeep or 4x4. If you are only heading to Iceland for a short amount of time and wish to make the most of your trip, you should consider taking out car rental while you are there. This will allow you to explore the more remote regions of the Highlands and still take in all the other sites you want to see too.
Back