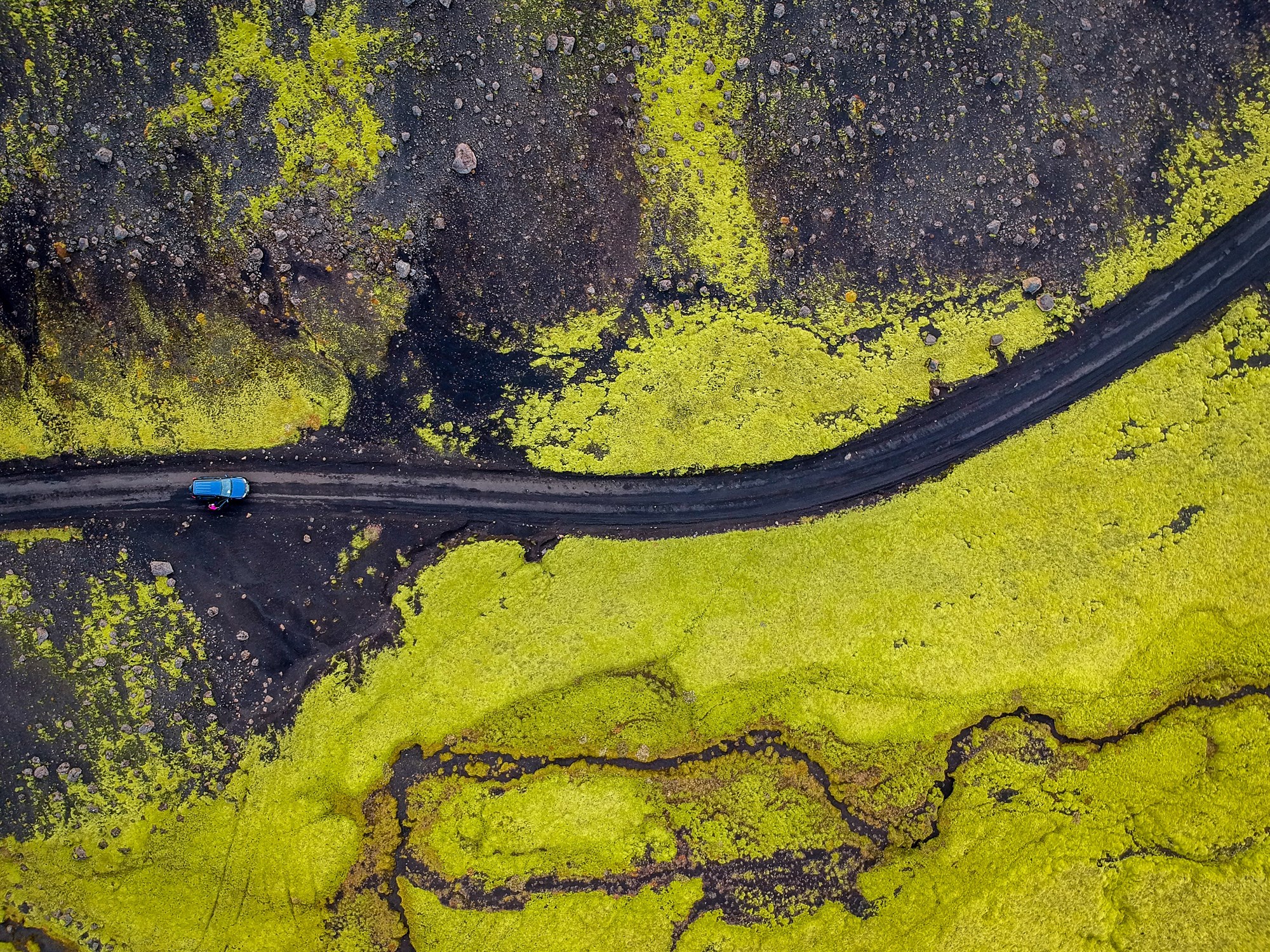 F-Roads are roads that access the highlands of Iceland. Iceland's F-Roads are well known for taking drivers to some of the country's most beautiful wild locations. For those who are not familiar with the highland routes, F-Roads are difficult to navigate, as they often contain loose gravel and unpredictable terrain. If you are not a confident driver, it is not recommended that you explore Iceland via F-Roads. We have put together a few tips for drivers that are new to F-Road driving, as well as a trusty F-Roads Iceland map, so that you can enjoy the scenery without putting your safety at risk.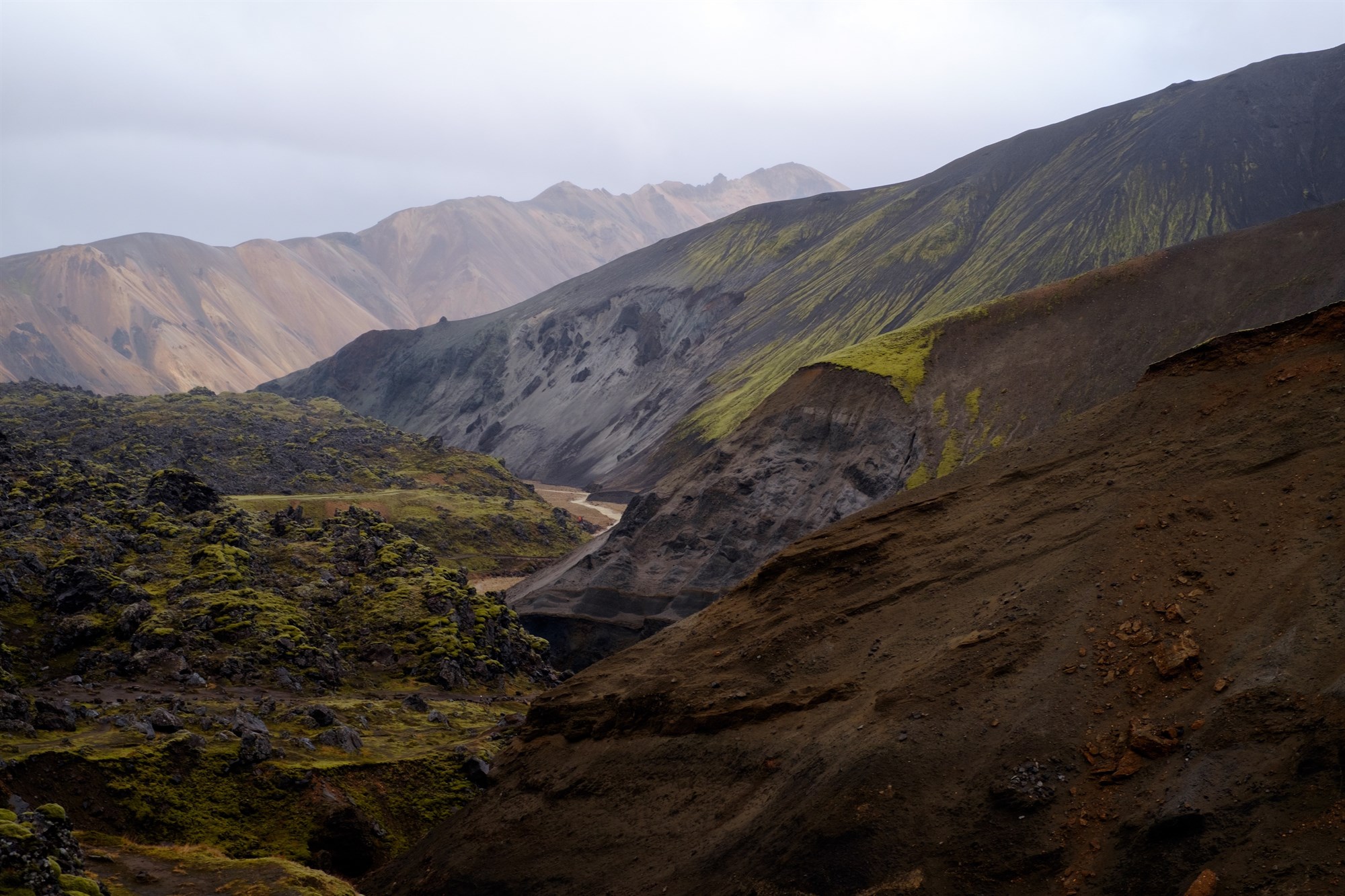 When are F-Roads open?
Due to weather conditions, F-Roads are only open for a short period of the time. Most of the roads open during summertime, anywhere between June - September. When F-Roads are opened, it is determined by the amount of snow on the roads and the level of damage. In order to open the roads, they need to be in good condition to withstand future driving.
Do I need a 4x4 vehicle to drive F-Roads?
Yes. Iceland's highlands offer immense natural beauty, but are untamed. Therefore the tracks can often be complicated to drive on, so it is important that you have a sturdy 4x4 vehicle to take you safely across the roads. This is mandatory by Icelandic law, so ensure you are prepared with a suitable rental car before venturing onto F-Roads. Most F-Roads will have the following road sign at the entrance to warn you of the restriction.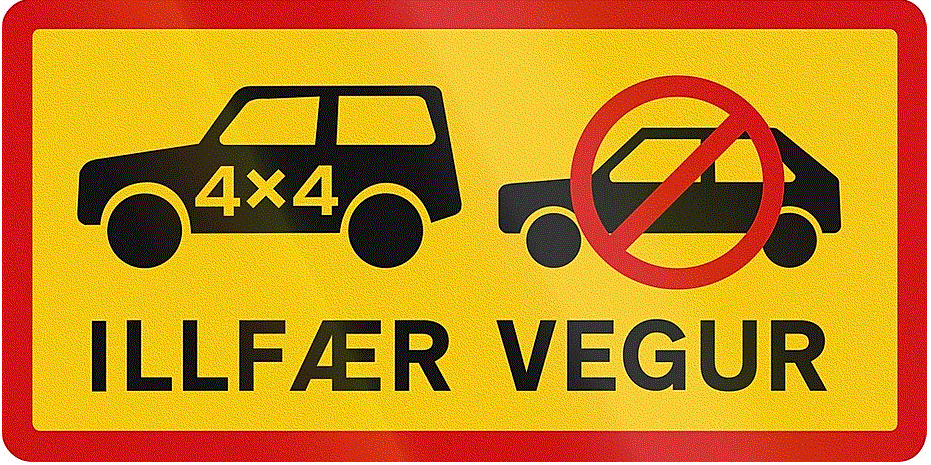 Map of Iceland's F-Roads
As you can see from the F Roads Iceland map we have shared below, there are a number of F-Roads in Iceland. The most known roads are F35 Kjölur, F26 Sprengisandur and F208 Fjallabaksleið Nyrðri, which lead to Landmannalaugar. It's important to take an F-Roads map with you when you are travelling in Iceland's highlands. You should also check conditions regularly when your mobile signal allows you to do so. If you know you are planning to travel on a variety of F-Roads in the highlands throughout your trip, you can visit a very useful website. Road.is has a very helpful F-Roads map with a list of the F-Roads in Iceland, and shows you live coverage of the conditions of all the roads in Iceland. This will help you travel safely on the F-Roads.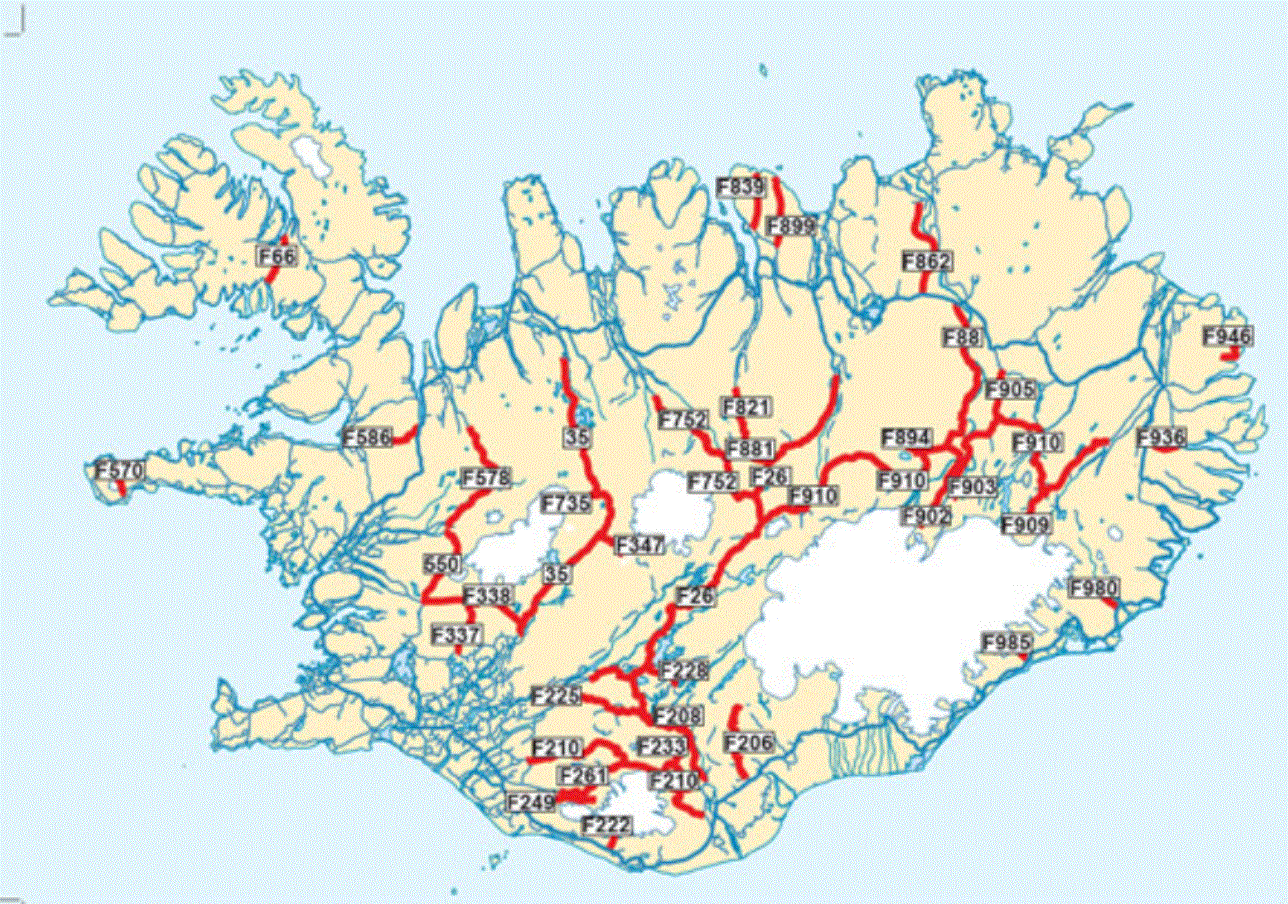 Map from Road.Is
Does my route contain an F-Road?
Due to the confusing nature of F-Roads, many travelers tend to wonder if their route contains F-Roads. In most cases, it does not. A large number of travellers tend to stick to popular routes such as The Golden Circle, The South Coast and Ring Road. These routes are easy to navigate, and do not contain F-Roads. 
Which F-Roads are most popular?
One of the most popular routes accessed via F-Road is Landmannalaugar. There are 3 main routes to take, F208 is by far the easiest and is accessible by most 4x4s.The second is F225, which requires a larger 4x4, such as a Toyota RAV4. There is also F26 and F206, which are completely inaccessible unless you are in a fairly raised vehicle. Here is a list of all of the main F-Roads:
F26

– Sprengisandur/Sprengisandsleið - Hrauneyjar - Nyjidalur 

F26

– Sprengisandur/Sprengisandsleið - Nyjidalur - Bardardalur 

F35

– Kjölur - Gullfoss - Hveravellir

F35

– Kjölur - Hveravellir - Blonduvirkjun 

F88

– Öskjuvegur - To Herdubreidarlindir 

F88

– Öskjuvegur - To Herdubreidarlindir 

F225

– Landmannaleið

F550

- Kaldidalur 
Our F-Road driving tips
Even if you know that F-Roads are open, be sure to regularly check the Icelandic weather forecast and predicted road conditions. 

Get to know your vehicle and ensure that you are confident enough. It is imperative that your car is a 4x4, but you will also need to know how to handle it properly. Ask the staff when you pick up your car for more information.

It is important that you limit your speed when driving F-Roads. They can be complicated to navigate, so do not rush and take your time.

If you intend on fording rivers, be sure to check the weather information beforehand. Heavy rain can raise river level immediately, so be prepared. Also never cross a river where the water is still, as this would be a deep area. Do not change gear.