Highland Driving in Iceland
The Highlands of Iceland cover the majority of the inland area of the country. Situated around 400-500 meters above sea level, this volcanic desert is almost entirely devoid of human life and vegetation. The ground here is mostly volcanic ash and dirt. There are some sparse oasis-like locations around the highlands, but they are few and far between.
 To drive on mountain roads, it is imperative that you hire a 4x4 car - be warned: a vehicle that is not 4x4 will not be able to make the journey through the Highlands. On the road maps, the highland mountain roads are indicated by an 'F' and therefore also known as F-roads. These roads are unpaved and often require you to drive through rivers and streams as there are no bridges in these remote areas.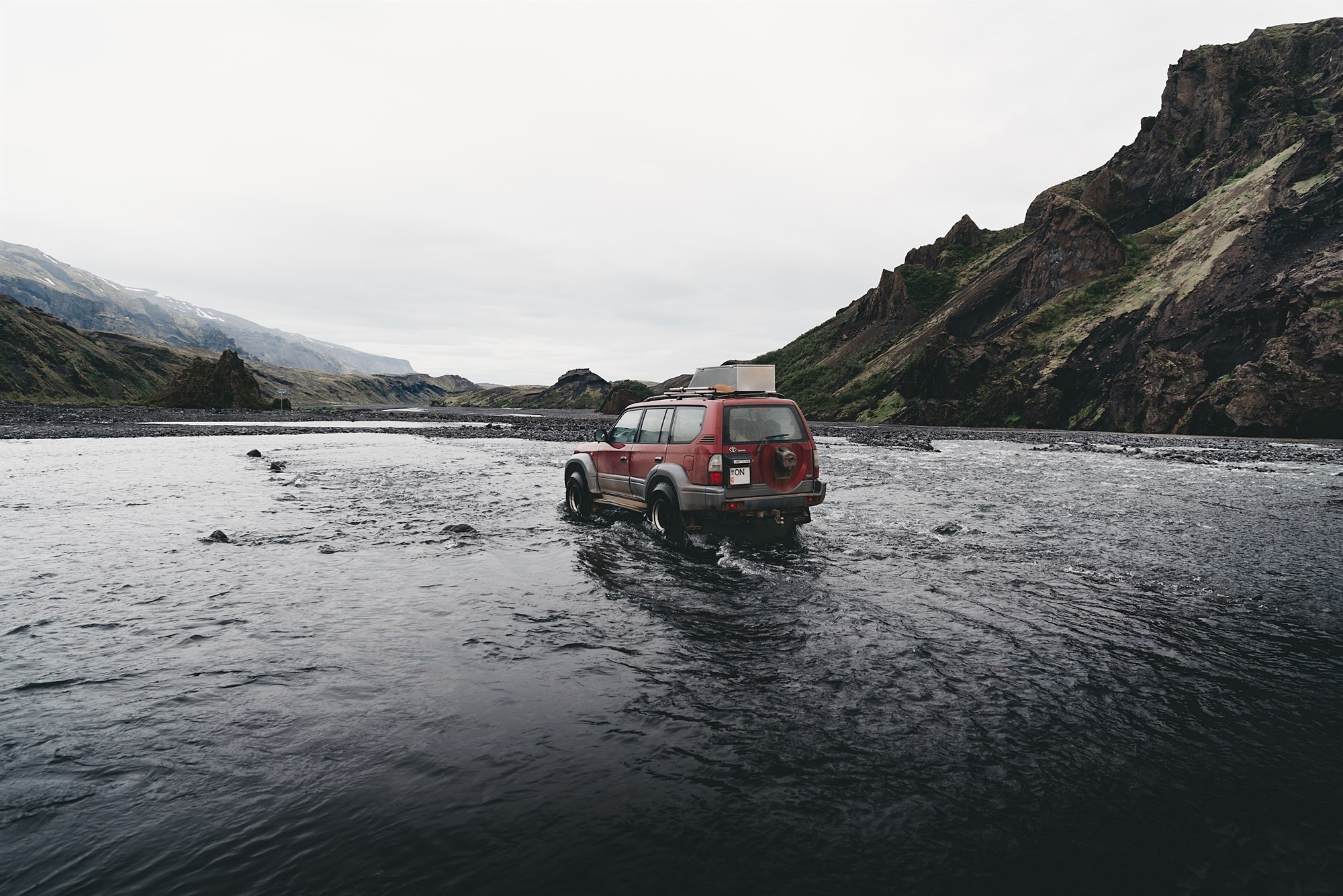 The best time to travel the highlands would be the summer months. In the winter, the F-roads are closed to anyone not in a modified vehicle with extra safety persuasions. During the summer, however, is when the roads are most easily accessible to tourists. It is important to keep in mind the unpredictability of the seasons in Iceland. The weather can be bad enough that some roads only officially open in late July and winter arrives at unpredictable dates as well, leading to closures. 
There are many beautiful locations to see in the highlands and chances are you will be one of the few people there. In fact, many places you visit in the Highlands will be empty of any other tourists at all! Thorsmork is a mountain range located in south Iceland where you can see amazing rugged terrain. There is also a campsite located in the area.
Landmannalaugar is famous for a colourful, picturesque landscape and geothermal pool which is a popular tourist attraction. The pool and surrounding area are easily accessible from Reykjavik for a day trip. Askja is the caldera of a volcano on Iceland which last erupted in 1875, leaving behind a striking deep blue lake. Close by is the Víti crater which is a popular geothermal bath among bathing enthusiasts although it can get quite hot.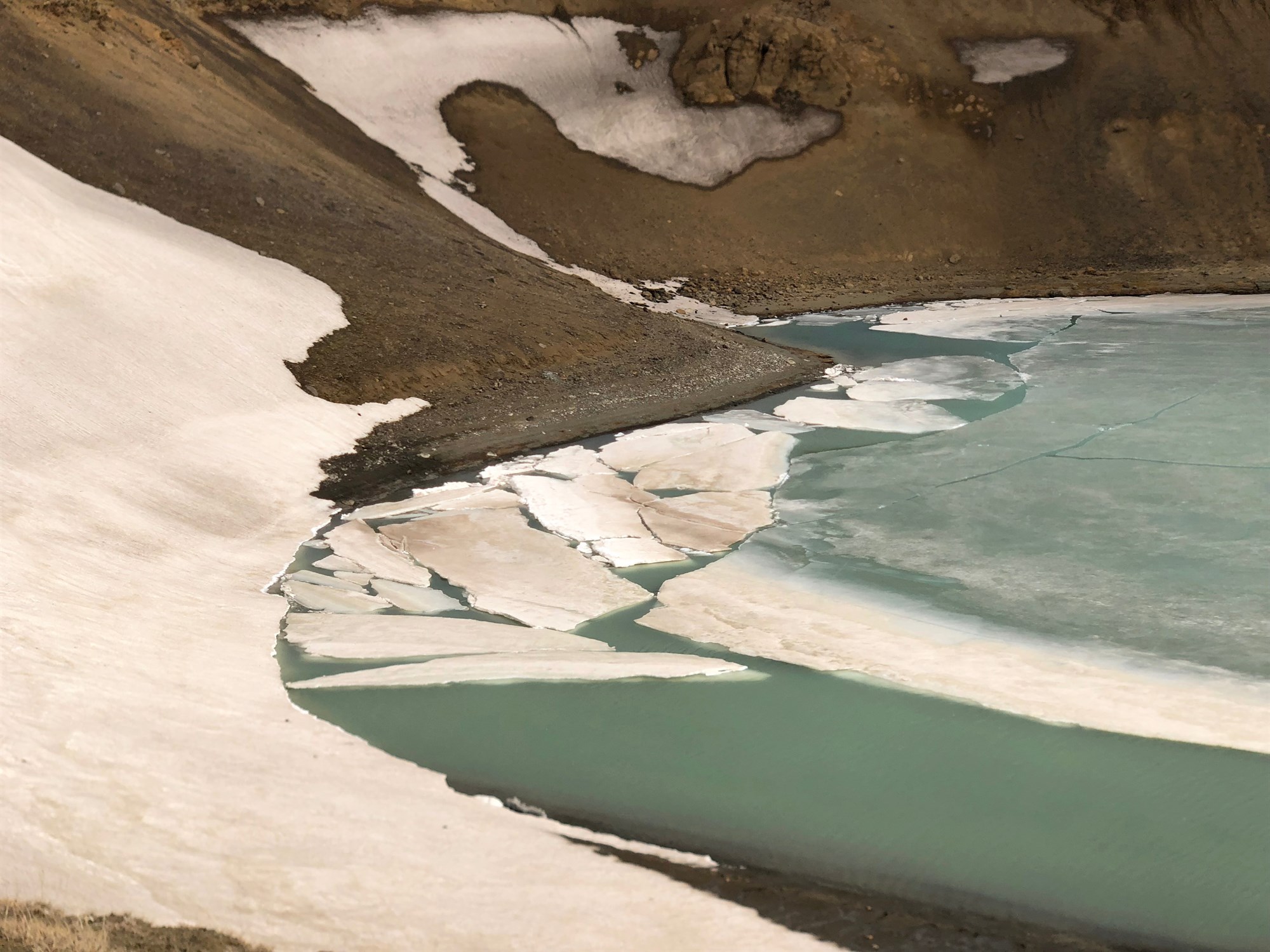 10 tips to driving the mountain roads in Iceland's highlands
Safety is very important when driving out in the highlands; you are usually alone and might not see another human for an entire day. If you get stuck or your car breaks down be sure to have a back-up plan, as the chances of you being found quickly can be very low in the lesser-travelled areas.
Here are some essential tips for traversing Iceland's highlands:
If an emergency happens while driving along an F-road, call 112 for Iceland's emergency services.
Off-road driving is forbidden in Iceland due to health safety and nature preservation factors. Always follow marked roads and pay attention to any posted warnings or signs. 
Plan your route in advance and know how long it will take. Keep in mind the average speed of cars on F-Roads is rarely over 40 km/h.
Fuel up and bring food! Don't forget to fill up on gas before you start and bring food and water. There are few locations to refill the gas tank or grab a snack while out in the Highlands.
Keep a charged phone with you at all times in order to call for help if needed.
Always travel in groups of two cars if possible, as this will make it easier to get help if one of you gets stuck along the way.
Insurance almost certainly does not cover damage from river crossings. Be cautious and safe, as the cost of repairs can easily be in the thousands of euros.
Don't attempt to cross rivers unless you're sure you can make it to the other side. Many tourists get stuck on their way through the various rivers in the Highlands. Try to cross at the marked locations or with another experienced driver to avoid issues.
Avoid crossing rivers in the places where the water is calmer. This is usually an indication of deeper water.
The earlier you begin driving the less water will be in the rivers. Glaciers melt over the course of the day in the sun's heat and will cause the rivers to swell making them more difficult to cross towards the evening.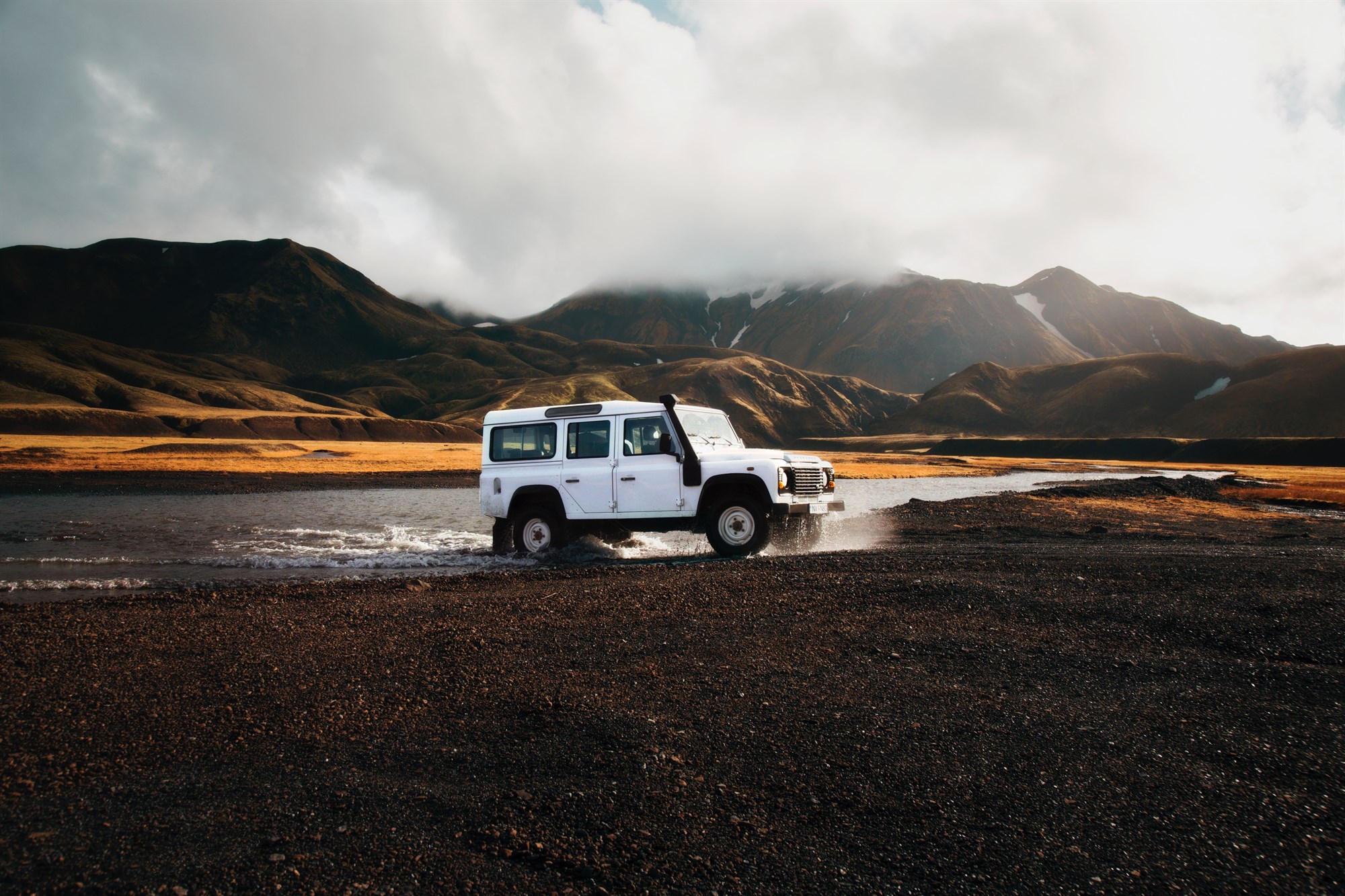 Driving the Highlands can be a challenge and requires preparation, planning and caution, but the scenery you'll find on your adventures is more than worth it! Read our other articles to find out more about driving in Iceland. 
Back