Ultimate Guide to Waterfalls in Iceland
Are you planning the adventure of a lifetime to Iceland? You may be interested in the various natural sites you can see across our remarkable country. Luckily, Iceland is home to around 10,000 waterfalls of varied sizes and beauty that attract thousands of tourists per year. It is impossible to see them all but there are some that are more well known than others. Our ultimate guide to waterfalls shows you where to find some of the biggest and most impressive waterfalls in the country.
With so much to see and do in Iceland, it can be difficult to plan where to go and what you are going to see on your trip around the country. One thing you should make time for though is getting to see some of the amazing some amazing Icelandic waterfalls. You can schedule these into your plans on the way to see other attractions, as there are waterfalls spread out all over the country.
How many waterfalls are in Iceland?
With so many stunning glaciers, tall mountains, copious precipitation and a freeze/thaw climate,  waterfalls are abundant in Iceland. Estimates suggest that there are over 10,000 waterfalls around Iceland, and over 200 of them have been recognised with an official name. 
We have put together an ultimate guide to waterfalls in Iceland, featuring some of the following waterfalls;
Gullfoss – Most Popular Iceland Waterfall

Morsárfoss - Tallest Waterfall in Iceland

Dettifoss – Most Powerful Waterfall in Europe
Seljalandsfoss – Walk Behind the Water Flow
Skogafoss – Rainbow Waterfall
Glymur – Second Tallest Waterfall in Iceland
Svartifoss – Waterfall Surrounded by Black Columns
Hraunfossar – Lava Waterfalls
Godafoss – Waterfall of the Gods
Bruarfoss – Bright Blue Waterfall
Dynjandi – Remote Waterfall
Gullfoss Waterfall – South Iceland
Distance from Reykjavik: 116 km
Approximate travel time: 1h 44min
This is widely considered the most popular waterfall in the country and is regarded by many locals to be the most beautiful. One of the reasons it is the most popular is likely due to its close proximity to the golden circle and Reykjavik. It is fairly easy to get to and can be reached from Reykjavik by car in just under 2 hours. The translation of the fall's name actually means Golden Waterfall and being so close to the golden circle route it makes for an easy pit stop. It's an impressive two-tiered waterfall that you can view from many angles.
You can visit Gullfoss throughout the entire year, however summer is most definitely the best time to view the fall. The warmer months give you full-volume meltwater-thunder, whereas in the winter, the canyon becomes encrusted with frost and ice. This means that access can be fairly limited during colder periods when the access path freezes.
Morsárfoss - South East Iceland
Distance from Reykjavik: 246 km
Approximate travel time: 4h (to Route 1 viewing spot)
With an impressive recorded height of 228 meters, Morsárfoss now holds the title of Iceland's tallest waterfall. The fall, which was discovered in 2007 when the Morsárjökull glacier began to melt, is nestled in the Skaftafell Nature Reserve within the national park of Vatnajökull. 
The remote location of Morsárfoss means that it can be difficult to explore and getting up close means a hike over a moving glacier - which we wouldn't recommend! If you want to view Morsárfoss then the safest option is to hike the 11.1-mile Kristínartindar Peak Ascent, a trail which isn't for the faint-hearted. You may be lucky enough to spot it from Route 1, a 4-hour drive from Reykjavik, but at a distance of over 12 miles away, you'll need to bring your binoculars.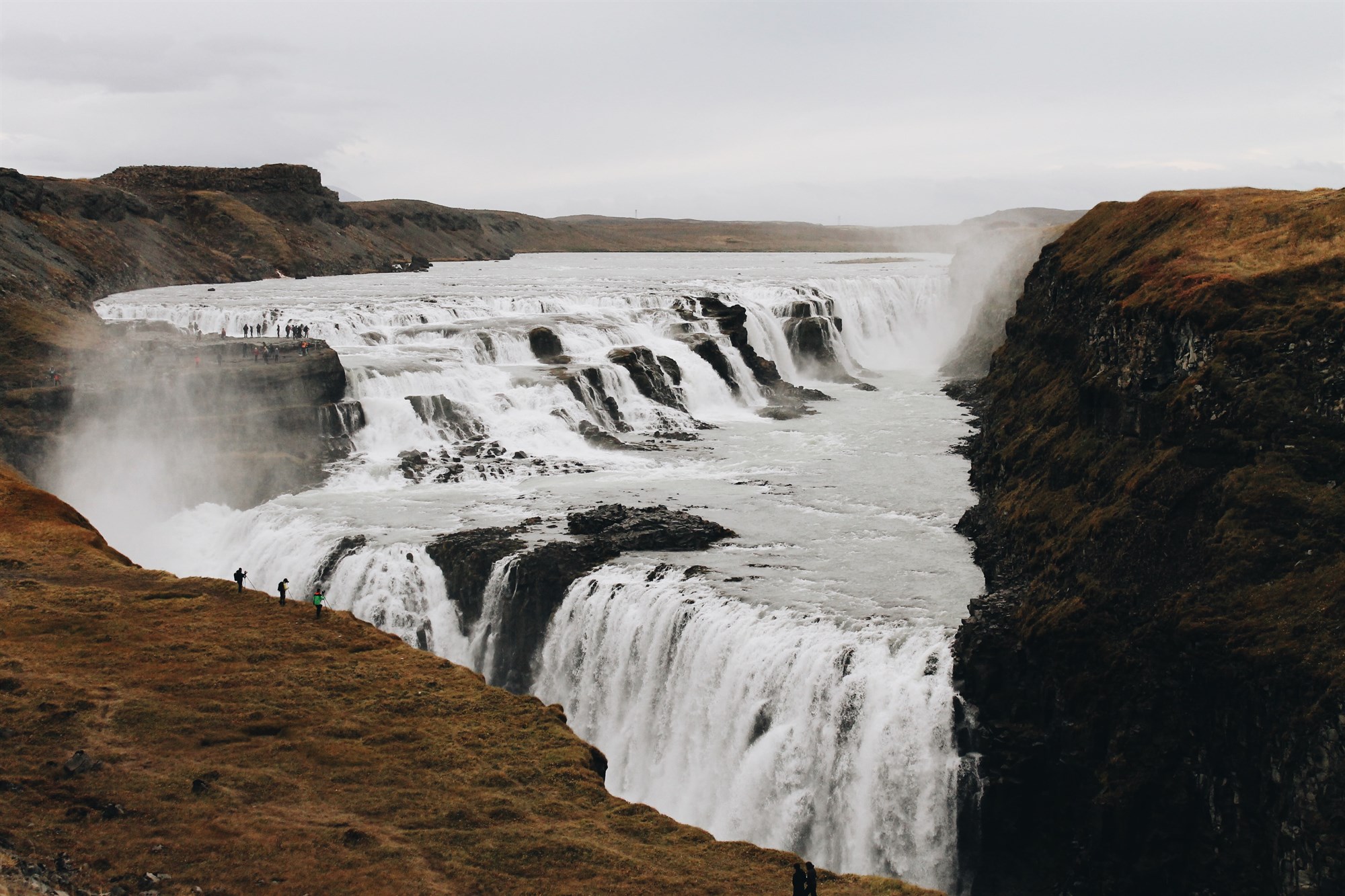 Dettifoss Waterfall – North Iceland
Distance from Reykjavik: 539 km
Approximate travel time: 7h 7min
If you are looking for raw power, then you should definitely head to this awesome waterfall in the northern part of Iceland. Located not too far from Akureyri, it is Iceland's most powerful waterfall with a huge volume of water cascading down every second. Although it isn't one of the tallest waterfalls at just 45 meters tall, it is 100 meters wide and really is an amazing sight. It was also seen at the beginning of the film Prometheus by Ridley Scott. The road can be closed in the winter though so check first before heading to the fall.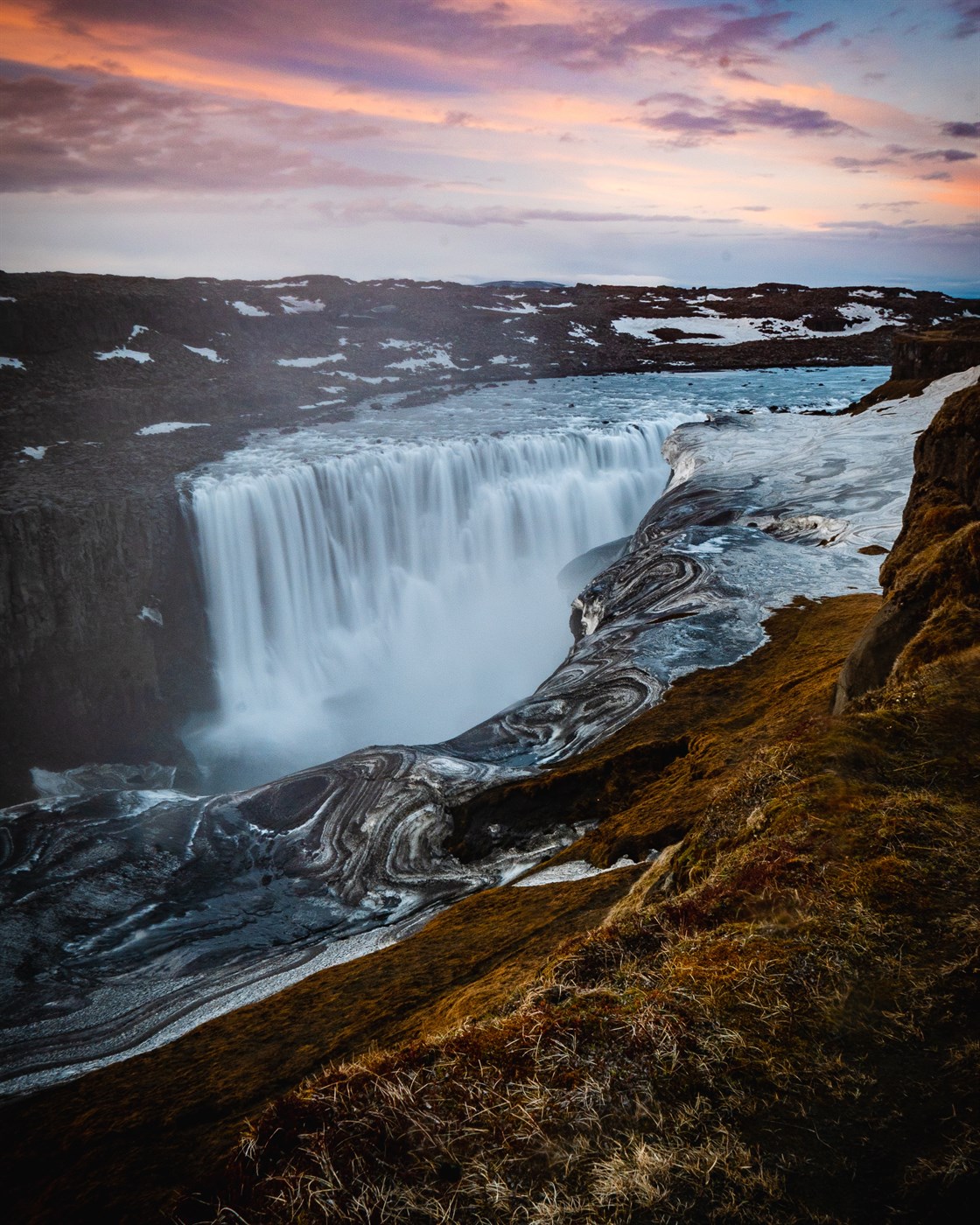 Seljalandfoss Waterfall – South Iceland
Distance from Reykjavik: 128 km
Approximate travel time: 1h 47min
If Gullfoss is the most popular waterfall in Iceland, then this could be a close second. Seljalandsfoss is one of the most visited waterfalls in the country, due to the fact you can actually walk around the waterfall and stand behind the water flow. This offers a unique opportunity that you wouldn't find in many other places in the world. The mist from the fall can cause the path and visitors to get slightly wet, so beware of slipping and make sure you are wearing appropriate clothing. It is close to the ring road and you can drive there yourself by heading east on Route 1 from Reykjavik.
Take your time to explore Seljalandfoss from every angle, and become transfixed by the everchanging dynamic between the light and water. This waterfall is known as a photographer's favourite, due to its mesmerizing nature. You can even get up close and personal to the water to capture some amazing pictures. 
Read our blog on The Best Photography Spots in Iceland to discover some more otherworldly locations in our country.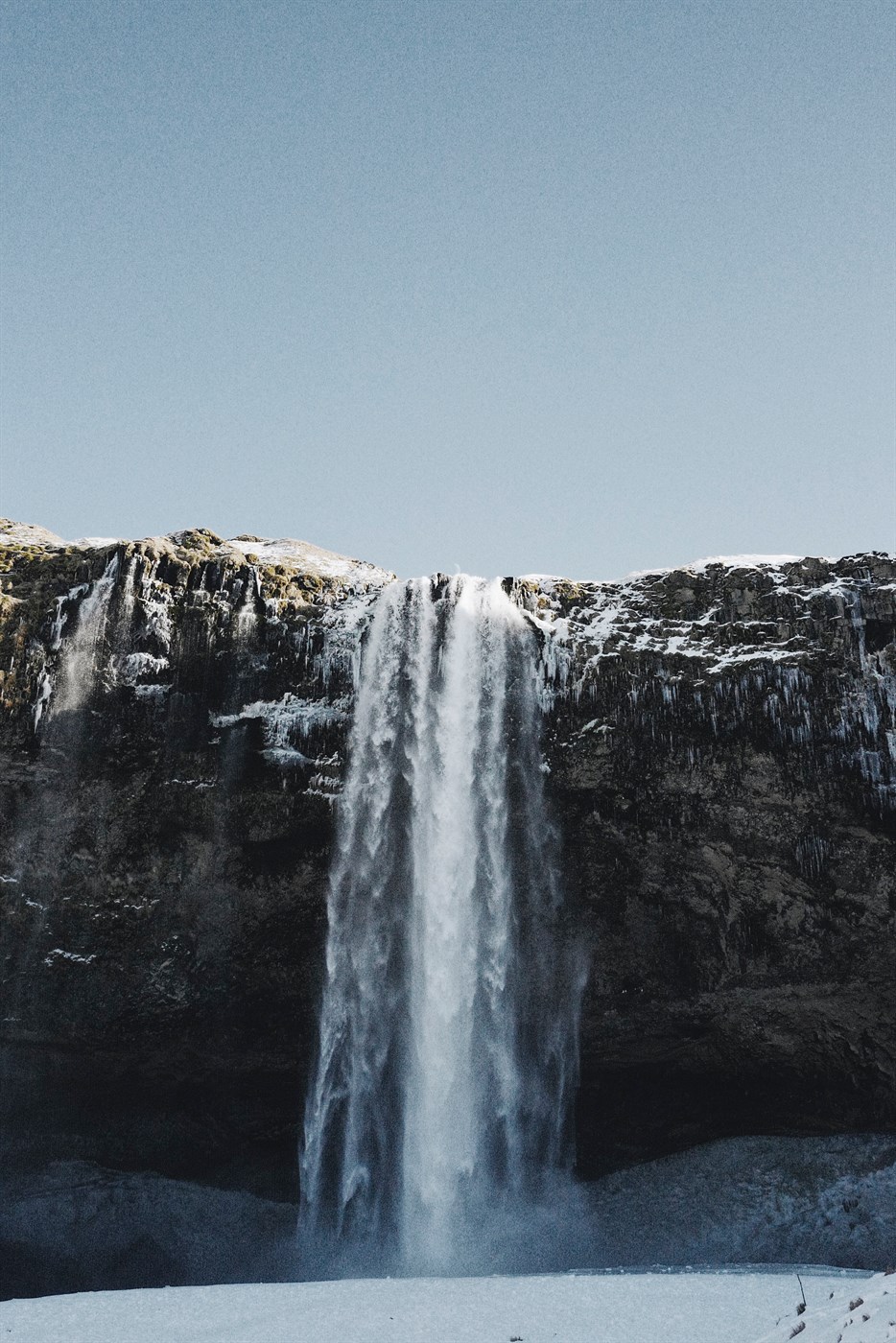 Skógafoss Waterfall – South Iceland
Distance from Reykjavik: 156 km
Approximate travel time: 2h 10min
This is another waterfall located in the south of Iceland and is just a short drive away from Seljalandsfoss, so you could visit both waterfalls on the same trip. Skógafoss is sometimes referred to as the rainbow waterfall because a rainbow is always visible here when the sun shines. It can be seen from the ring road and much like Seljalandfoss, you can walk right up to the waterfall itself. You can also hike up to see different sides of the waterfall or see it from above too. You can walk along the river that leads up to the fall when weather conditions allow. The Skógá river, where Skógafoss is located, is said to have over 30 other waterfalls within its banks. 
Similar to Seljalandsfoss, Skogafoss can be accessed easily from Iceland's Ring Road when touring the south coast of the country. If you're looking for a rental car to get you there, take a look at our wide range of high-quality 4x4 vehicles today.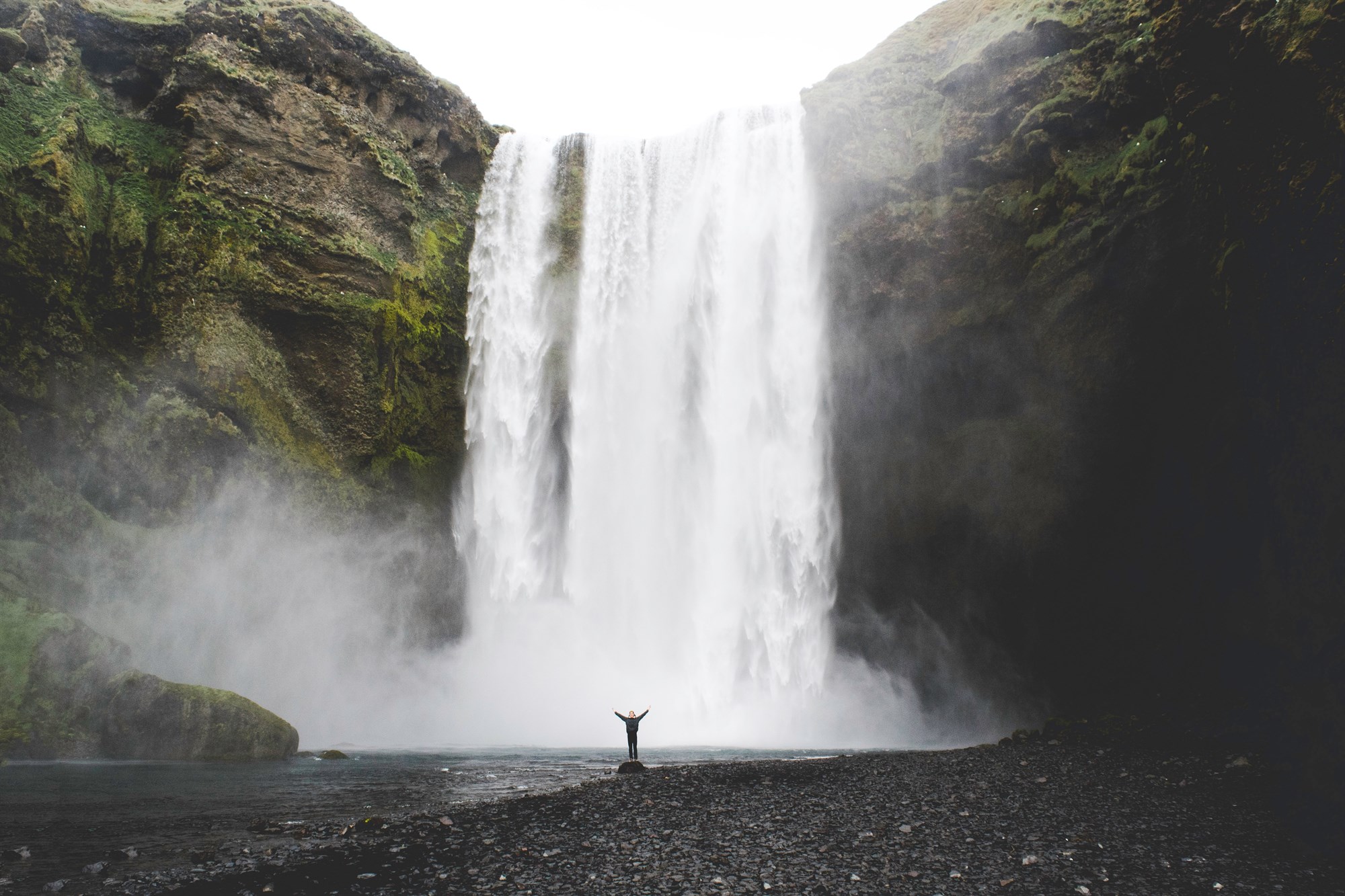 Glymur Waterfall – West Iceland
Distance from Reykjavik: 40.8 km
Approximate travel time: 1h 8min
It might seem strange to mention the second tallest waterfall and not the first, but until 2007, Glymur was considered to be the tallest. Morsárfoss, as described above, was only fairly recently discovered and is quite hard to reach, so many locals still see Glymur as the tallest waterfall. You certainly won't be disappointed though as this waterfall stands an impressive 198 meters high, making it one of the tallest in Europe. You can find the waterfall in the West of Iceland at Hvalfjörður fjord, but it is about a 2-hour hike from the main road.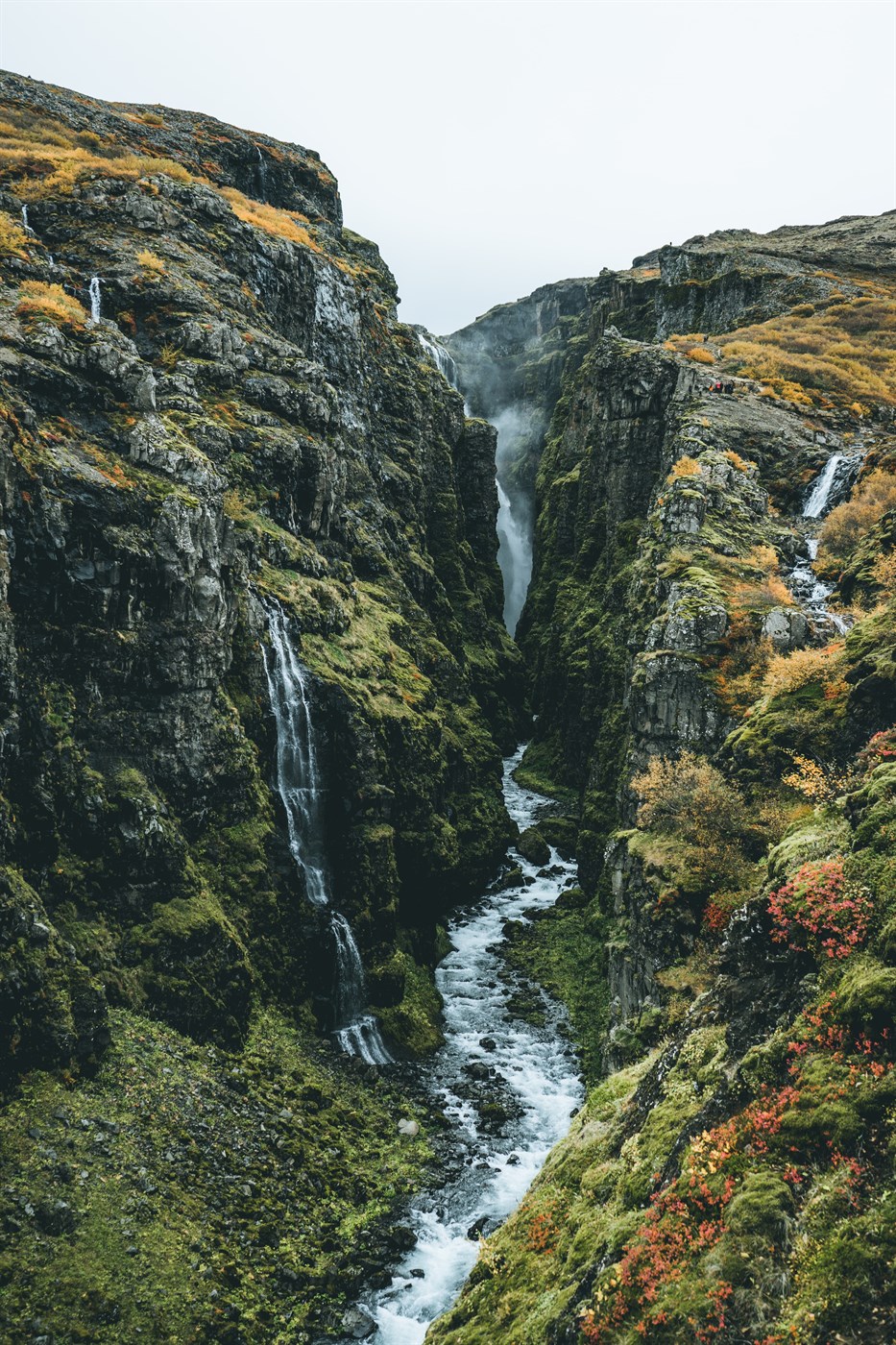 Svartifoss Waterfall – South Iceland
Distance from Reykjavik: 327 km
Approximate travel time: 4h 21min
Translated as the black waterfall, this is one of the most unique and photo-worthy waterfalls in Iceland. It is more than likely you would have seen images of the waterfall, with striking black columns surrounding the fall. Located in the southeast of Iceland, you can find Svartifoss in Vatnajökull National Park and it is well worth a visit. The awesome natural formation has provided inspiration to artists for decades and is thought to be the inspiration behind the famous church Hallgrímskirkja in Reykjavik. It is slightly further to reach than some of the other southern waterfalls, at just over a 4-hour drive from Reykjavik, but it is easy to reach when you arrive.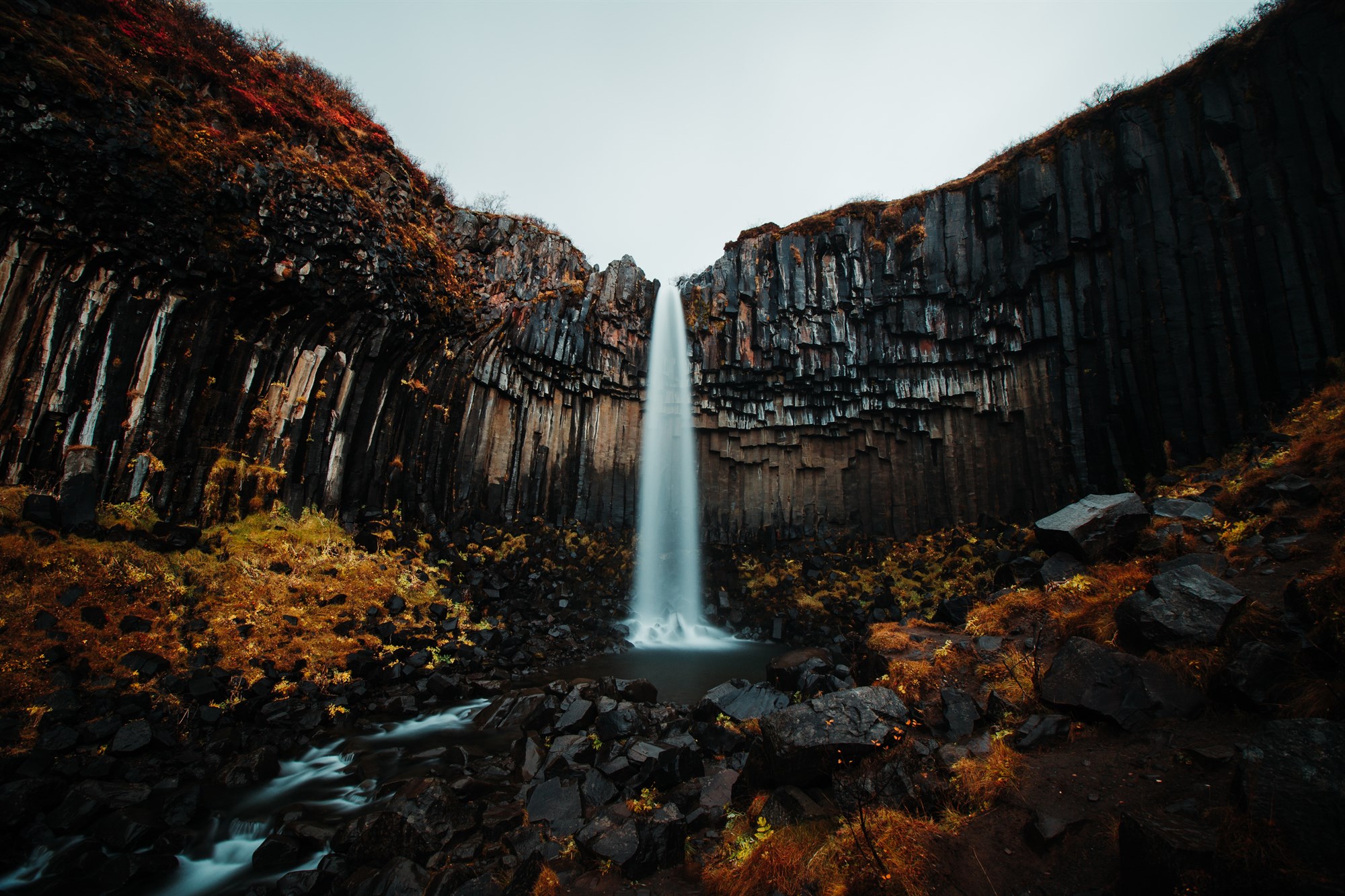 Hraunfossar Waterfall – West Iceland
Distance from Reykjavik: 126 km
Approximate travel time: 1h 46min
A unique number of spring waterfalls that run from the lava in the West of Iceland, just over 2 hours drive north of Iceland. It's a magnificent waterfall that differs from so many others in the world and is more a collection of lots of small falls that make picturesque falls. The lava fields in the area surrounding these waterfalls are renowned for their many hidden caves, including the country's longest cave, Víðgelmir.
It has easy access from the parking spot and it also sits right next to Barnafoss waterfall, another dramatic fall that you can visit while you are there.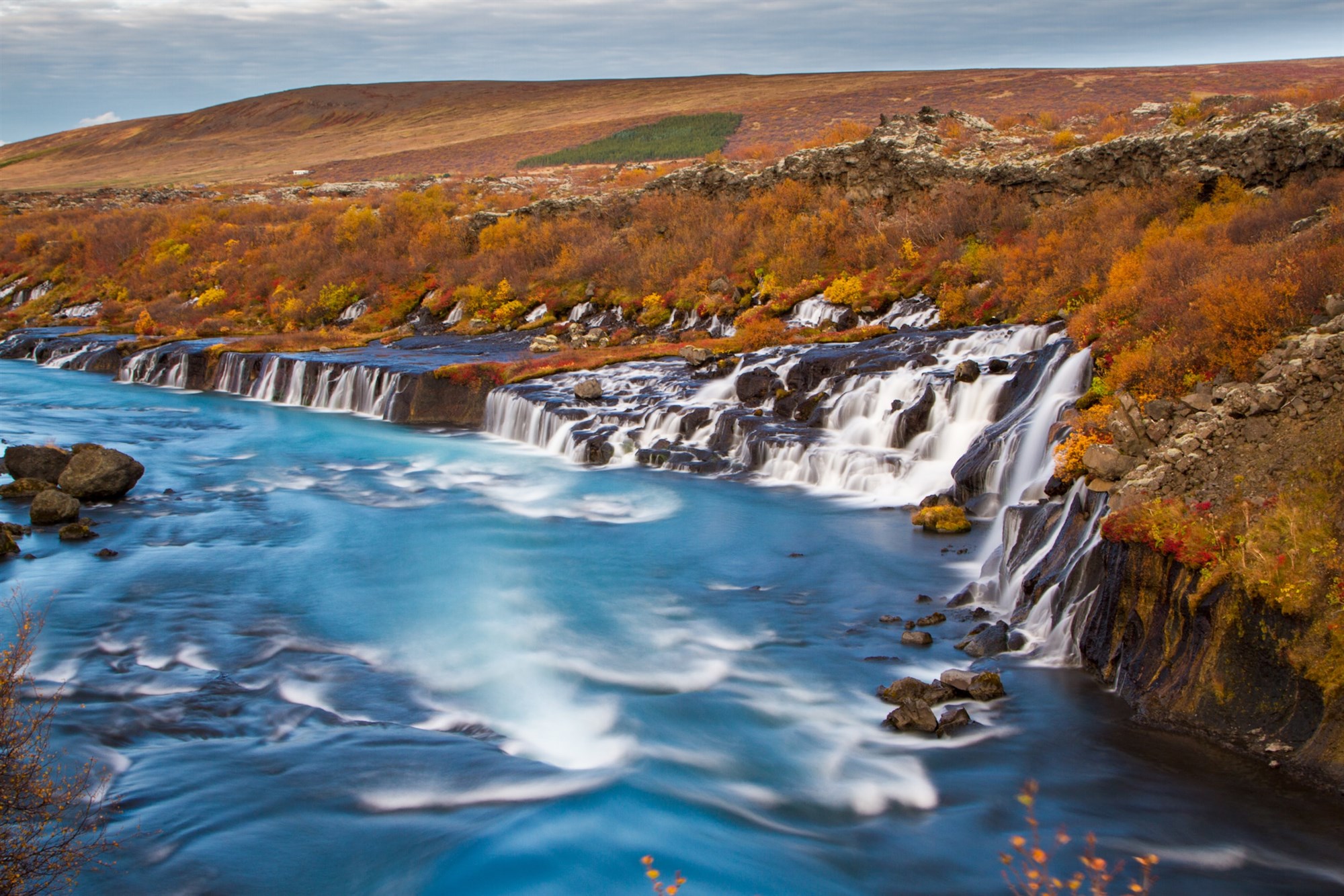 Goðafoss Waterfall – North Iceland
Distance from Reykjavik: 422 km
Approximate travel time: 5h 22min
The literal translation for its name means the falls of the Gods and has drawn the comparison to a small Niagara Falls due to its horseshoe shape. According to Iceland folklore and sagas, the chieftain threw the idols of the Old Norse Gods into the falls, which symbolised the nation's conversion to Christianity. This settled a religious crisis in the region as there was unrest about which religion should be followed.
It is a truly remarkable waterfall and you can find it on the ring road, close to Detifoss, so again you might want to visit both on the same trip.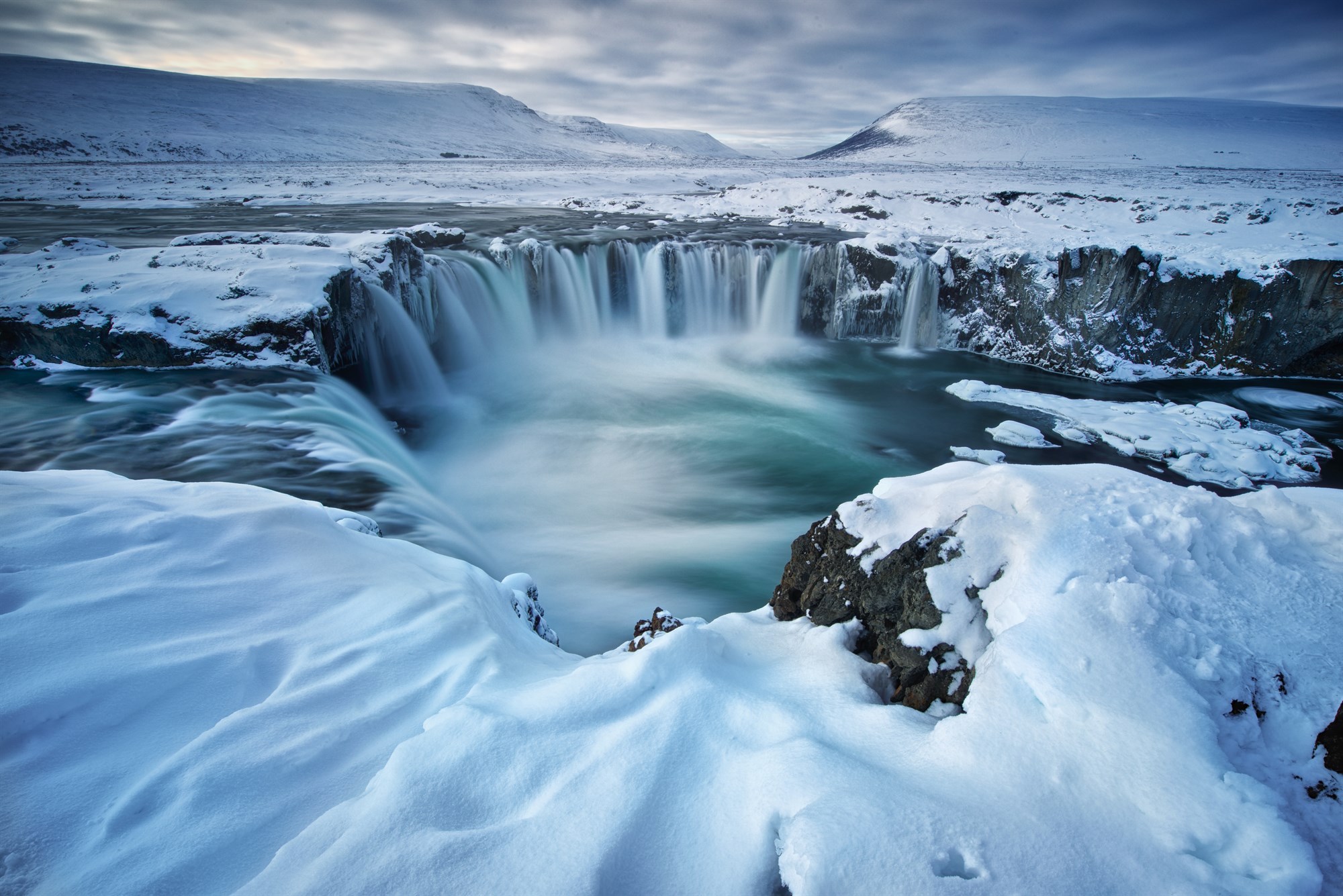 Brúarfoss Waterfall – South Iceland
Distance from Reykjavik: 95.2 km
Approximate travel time: 1h 31min
One of the smaller waterfalls in our guide but certainly not any less awe-inspiring, it is also one of the closest waterfalls to Reykjavik at just over an hour and a half drive. It is a series of smaller waterfalls that lead into one larger pool. It is notable and often visited for its strikingly bright blue waters from the melting Langjökull glacier.
There is easy access and parking near the fall but you will need to follow the trail some way to find the perfect photo spot.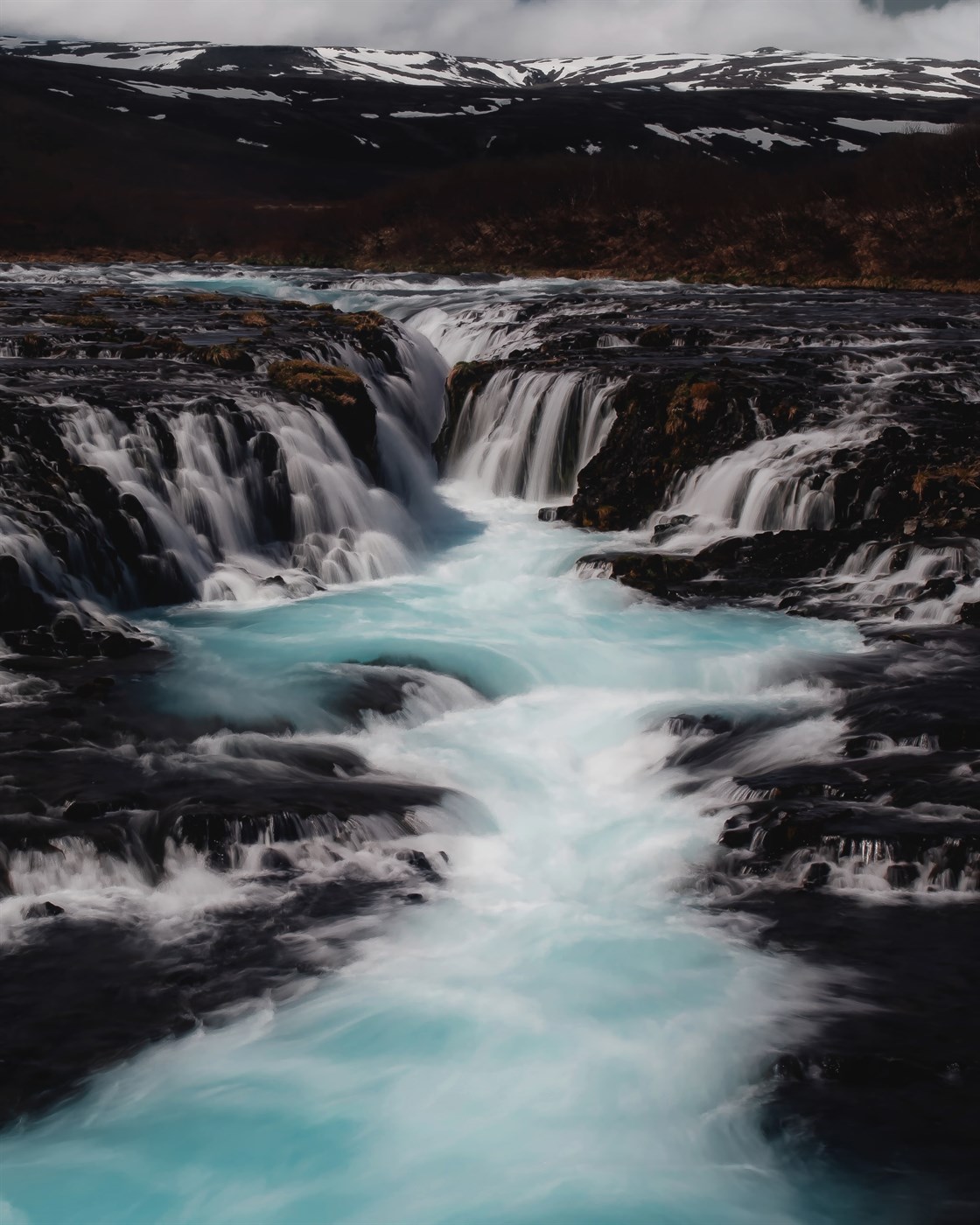 Dynjandi Waterfall – West Iceland
Distance from Reykjavik: 366 km
Approximate travel time: 5h 4min
One of the most awesome waterfalls in Iceland is also one of the more remote locations in our guide.  What makes Dynjandi truly remarkable is its shape, which makes it look like a beautiful white bridal veil. The quirky Icelandic geology produces some flamboyant falls that you cannot find anywhere else in the world.
The waterfall is 100 meters high and flows down the side of a cliff that ends 60 meters wide at the bottom. Located in the Westfjords it is more remote but this simply adds to the appeal of the waterfall. It is one in a row of seven waterfalls in the region, with plenty more to see locally. However, with over a 6-hour drive away from Reykjavik, you should think about staying closer to the Westfjords if you plan on visiting.
In Iceland, it is often said that each waterfall is home to a supernatural being and the energy that you will find at these sights certainly represents this.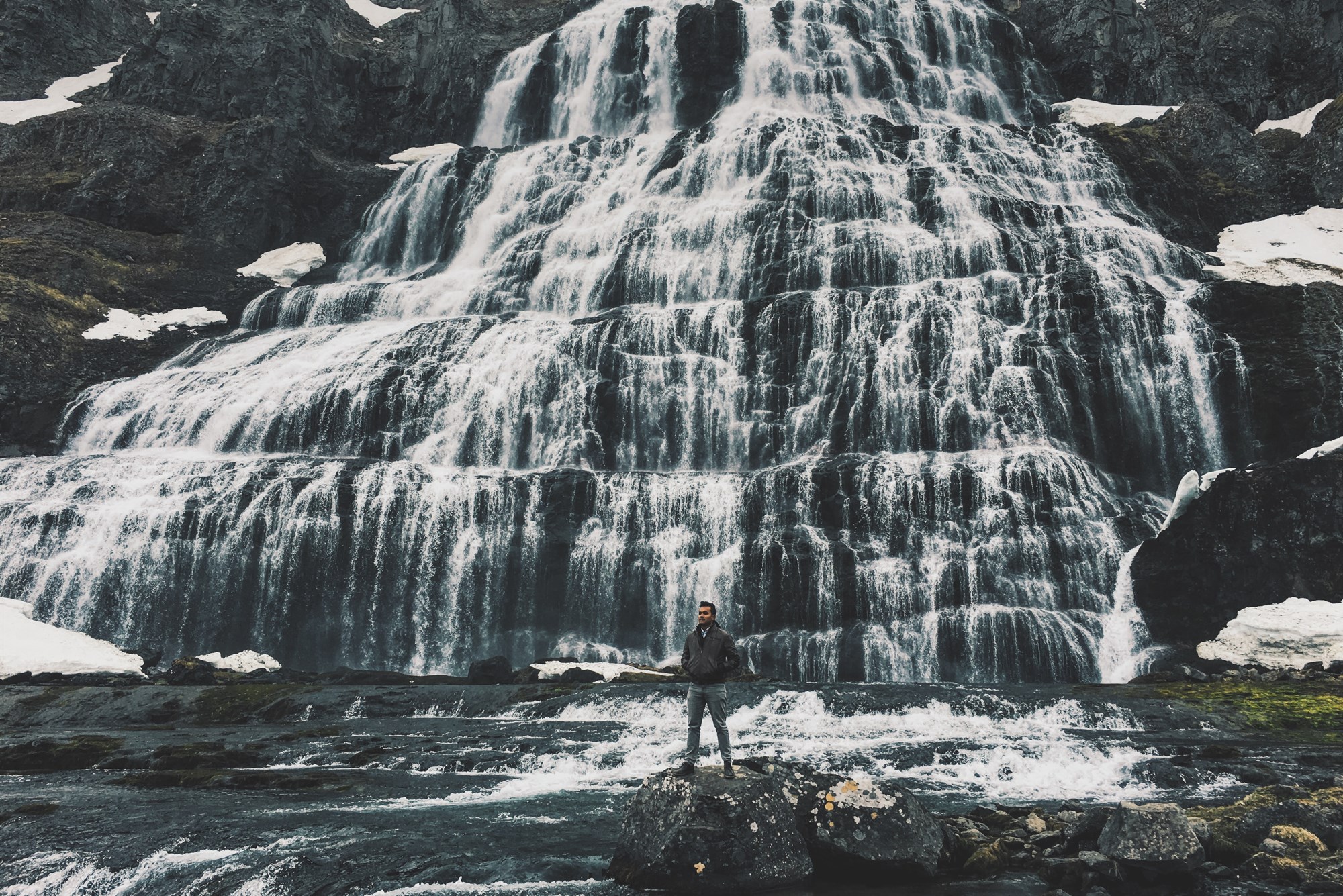 Back