Professional photographers and amateur hobbyists alike love visiting Iceland. This island, covering only 40,000 square miles, is home to remarkably varied landscapes, from sandy deserts to highland roads, ice caves to sprawling valleys and volcanic beaches.
It's safe to say that Iceland is the proverbial photographer's playground. But with so many beautiful places to shoot and capture, where is the best place to start? Whether you're a landscape photographer or keen to shoot waterfalls, wildlife or beaches, or just fancy finding the best spots for your Instagram posts, we've got you covered. Read on to discover our pick of the best Iceland photography locations.
Best Iceland Landscapes
Capturing the unreal beauty of Iceland's landscape isn't difficult to do. Around every corner you'll find amazing views you can shoot, combining colour, texture and unique composition to create an unrivalled photo.  But where are some great Iceland photography locations to capture iconic landscapes?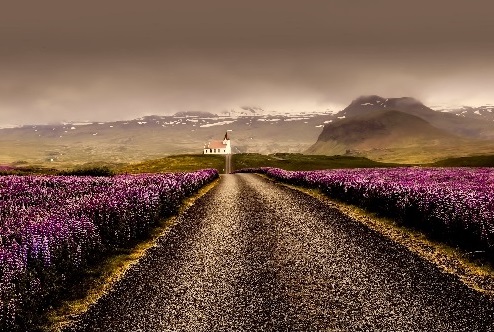 Kirkjufell
Distance from Reykjavik: 183 km
Approximate travel time: 2h 29min
This iconic mountain is a popular Iceland photography spot and has been photographed many times over by tourists and professional photographers alike. What is unique about this location is that on one side of the mountain is the sea, and on the other side is the waterfall Kirkjufellsfoss. The varied surroundings provide ample opportunity for capturing many different images of Kirkjufell, all from different angles.
Eldhraun Lava Field
Distance from Reykjavik: 248 km
Approximate travel time: 3h 19min
This fascinating location is not only the largest lava field in the world but also the site where the crew of Apollo 11 trained for their moon landing, thanks to its otherworldly landscape. That alone makes it an incredibly unique photography location. The field was created after a devastating volcanic eruption in the 1800s, which left an entirely new landscape. Since the eruption the field has grown over in Woolly Fringe Moss, making the site hauntingly unusual and beautiful. Take as many photos as you like, but do not walk on the moss as it takes years to grow back when damaged!
Holasandur
Distance from Reykjavik: 469 km
Approximate travel time: 5h 58min
When most people think of Iceland they see snowy lagoons, icy glaciers and dramatic volcanic landscapes. But actually, Iceland has plenty of deserts, too. In fact, more than 7,000 square miles of Iceland's surface is covered in desert. Holasandur in North Iceland is a beautiful example of an Icelandic desert. Its rustic expanse and uninterrupted views of the horizon elude to the scenery of the American southwest and make for fantastic photographs.
Waterfall Photography Locations
Iceland is popular for its plentiful and beautiful waterfalls, but did you know that there are actually thousands of waterfalls in the country? Many of these waterfalls are very well known and you've probably seen them photographed before, but we've included a list of our favourites for you to shoot. These make for some of the best of Iceland's Instagram spots.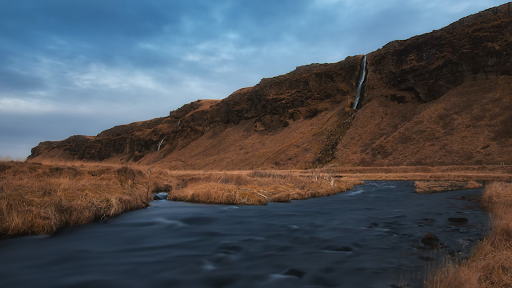 Gljúfrabúi
Distance from Reykjavik: 128 km
Approximate travel time: 1h 47min
This is one of Iceland's best-kept secrets when it comes to waterfalls, making for a unique photography opportunity even amongst frequent Iceland visitors. Located near Hamragarðar in South Iceland, Gljúfrabúi is hidden in a canyon behind a large cliff and is only accessible through a small opening in the cliff. To see the waterfall, you will need to enter the opening and wade through a stream, so make sure to bring your waterproof clothing and equipment to shoot this beauty! Once you're through the stream, the canyon opens and overhead you are surrounded by sheer cliffs and the waterfall streaming from above. Incredible!
Seljalandsfoss
Distance from Reykjavik: 128 km
Approximate travel time: 1h 46min
Only about half a mile away from Gljúfrabúi, one of the most secret waterfalls in Iceland, you will find Seljalandsfoss, one of Iceland's most famous waterfalls. Seljalandsfoss is popular with tourists and photographers because this waterfall allows you the opportunity to venture behind the cascading water to catch the view from behind the falls. Again, we would recommend waterproof clothing and camera equipment for shooting Seljalandsfoss.
Gullfoss
Distance from Reykjavik: 116 km
Approximate travel time: 1h 45min
One of Iceland's most visited waterfalls is Gulfoss. It's neither the tallest nor most powerful waterfall in Iceland, but it is one of the most beautiful. The glacial waters of the Hvítá river flow towards the falls through the surrounding canyon walls. What's wonderful about Gulfoss is that it is a two stage drop, which makes for dramatic photos, including some fantastic slow-shutter-speed shots to transform the moving water into a soft vapour.
Iceland Wildlife Photography
For wildlife photographers, there are plenty of chances to snap photos of Iceland's wildlife. While some animals, like the Icelandic horse or sheep, can be found while exploring the countryside quite easily, some creatures will take a little more looking to find. You can find even more tips on Iceland wildlife photography in our blog.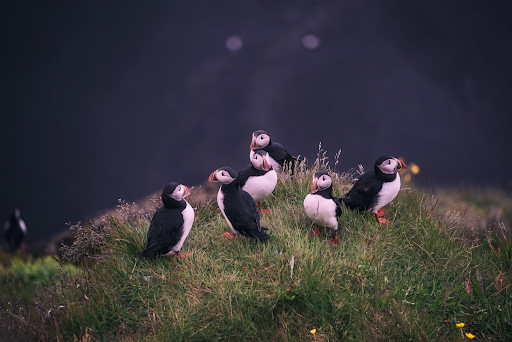 Látrabjarg Peninsula
Distance from Reykjavik: 424 km
Approximate travel time: 5h 49min
Iceland is home to many different species of birds. Some are migratory or only come to Iceland's shores to nest, while others are settled on the island year-round. There are many fantastic places to see and photograph Iceland's birdlife, but one of the most stunning is the Látrabjarg Peninsula. Located in the Westfjords, the nesting cliffs of Látrabjarg provide stunning views and opportunities to photograph Puffins and many other species of birds. The best time to see and take photos of the Atlantic Puffin in Iceland is between May and August.
Hornstrandir
Distance from Reykjavik: 251 km
Another of Iceland's cutest animals is the Arctic Fox. This is the only native mammal in all of Iceland and was likely the island's original settler. Snapping the Arctic Fox is a dream for many photographers, with their dark coats in the warmer months and snow white coat in the winter months. The Arctic Fox is notoriously difficult to spot in Iceland, though they can easily be seen in shelters. The best place to photograph the Arctic Fox is in the Westfjords, where their numbers are higher than in other areas of Iceland. Though only accessible by a boat, Hornstrandir Nature Reserve is without a doubt the best place to spot the Arctic Fox because they are protected here.
Vatnsnes Peninsula
Distance from Reykjavik: 227 km
Approximate travel time: 2h 59km
Iceland's waters are full of many wonderful species of sea life, but perhaps the most photogenic are seals. The Grey and Harbour Seals of Iceland can be found in many different places, but perhaps the best is the Vatnsnes Peninsula located in Northwest Iceland. When exploring the peninsula, you will see many signs with images of seals to let you know that there is a nearby viewing point. It's always best to aim to arrive at the locations a few hours in advance of low tide, as this is when you're most likely to catch the seals sunbathing on the rocks. What an amazing Instagram one of these adorable animals would make!
Iceland Beach Photos
Thanks to Iceland's volcanic history, the beaches here are some of the most amazing you'll see. Iceland is famous for its black and red sand beaches, making for striking photos, something a little different from the golden sand in most people's holiday snaps all over Instagram. Here are some of the beaches you'll want to snap before you leave Iceland.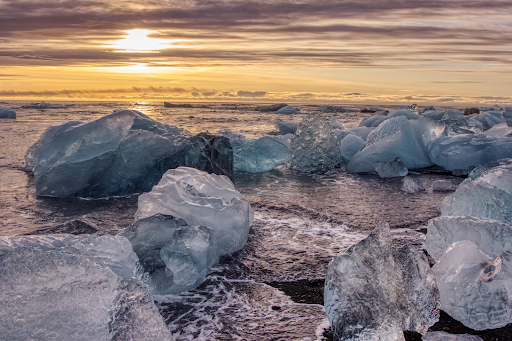 Vik
Distance from Reykjavik: 187 km
Approximate travel time: 2h 32min
Perhaps the most famous black sand beach in Iceland, Vik is located at the very southern tip of Iceland. The beach here is absolutely stunning with the volcanic sands and basalt columns, and amazing rock formations rising from the waves. There is plenty to photograph here, and with the common low-cloud cover, you can capture some absolutely stirring and atmospheric photos. 
Diamond Beach
Distance from Reykjavik: 379 km
Approximate travel time: 4h 57min
In Southeast Iceland, you'll find one of the country's most popular attractions - the Jökulsárlón glacial lagoon. Along the southern edge of the lagoon is Diamond Beach, which is well known for the large chunks of ice that wash ashore from Jökulsárlón which gives the beach its name. When the ice catches the sun, the beach comes to life like twinkling diamonds. Aim to arrive on a sunny day to take full advantage of this glistening beach and capture some mouth-dropping photos.
Rauðasandur
Distance from Reykjavik: 397 km
Approximate travel time: 5h 16min
In the Westfjords you'll find golden and red sand beaches thanks to the area's geology. One such beach is Rauðasandur, which extends in a red-gold expanse along the very edge of the Westfjords. What's fantastic about this beach is that it is very isolated, meaning there are not as many visitors as there are to Diamond of Vik beaches. The very name of the beach translates to "Red Sands," and depending on the light and time of day you visit, the colour of the sand will shift, creating plenty of variety in your photos.
The perfect photo can't be rushed. If you want to ensure you can cross as many of these off of your photography list as possible, why not rent a car to ensure you do so in your own time and at your own pace? Browse our cars today.