Litli-Hrútur Volcanic Eruption
For years, Iceland's volcanoes lay dormant. While the eruption of E15 in 2010 made headlines with its airspace interruptions, the land of fire and ice has seen very few volcanic eruptions - until a few years ago that is! In just a few years, the Reykjanes peninsula has been witness to three eruptions three years running - the latest being earlier this summer.
On July 10 2023, the early hours of the morning saw a 900-metre fissure open near Litli-Hrútur Hill. At around 4 am, plumes of magma could be seen erupting from the earth's crust. After the previous two eruptions, the area is being studied by scientists, so this eruption was expected just north of the previous eruption sites.
Thankfully, the Litli-Hrútur eruption doesn't threaten any nearby infrastructure or homes, so for now it's just a fantastic photo opportunity for those lucky enough to visit! The uptick in volcanic activity over the past three years makes for exciting headlines and is great for Iceland's tourism industry.
This is very reminiscent of the eruption on August 4th 2022 near Fagradalsfjall mountain in the same volcanic system. Last year's eruption was especially well covered in the media due to its proximity to Iceland's capital and the incredibly photographic nature of the lava flow.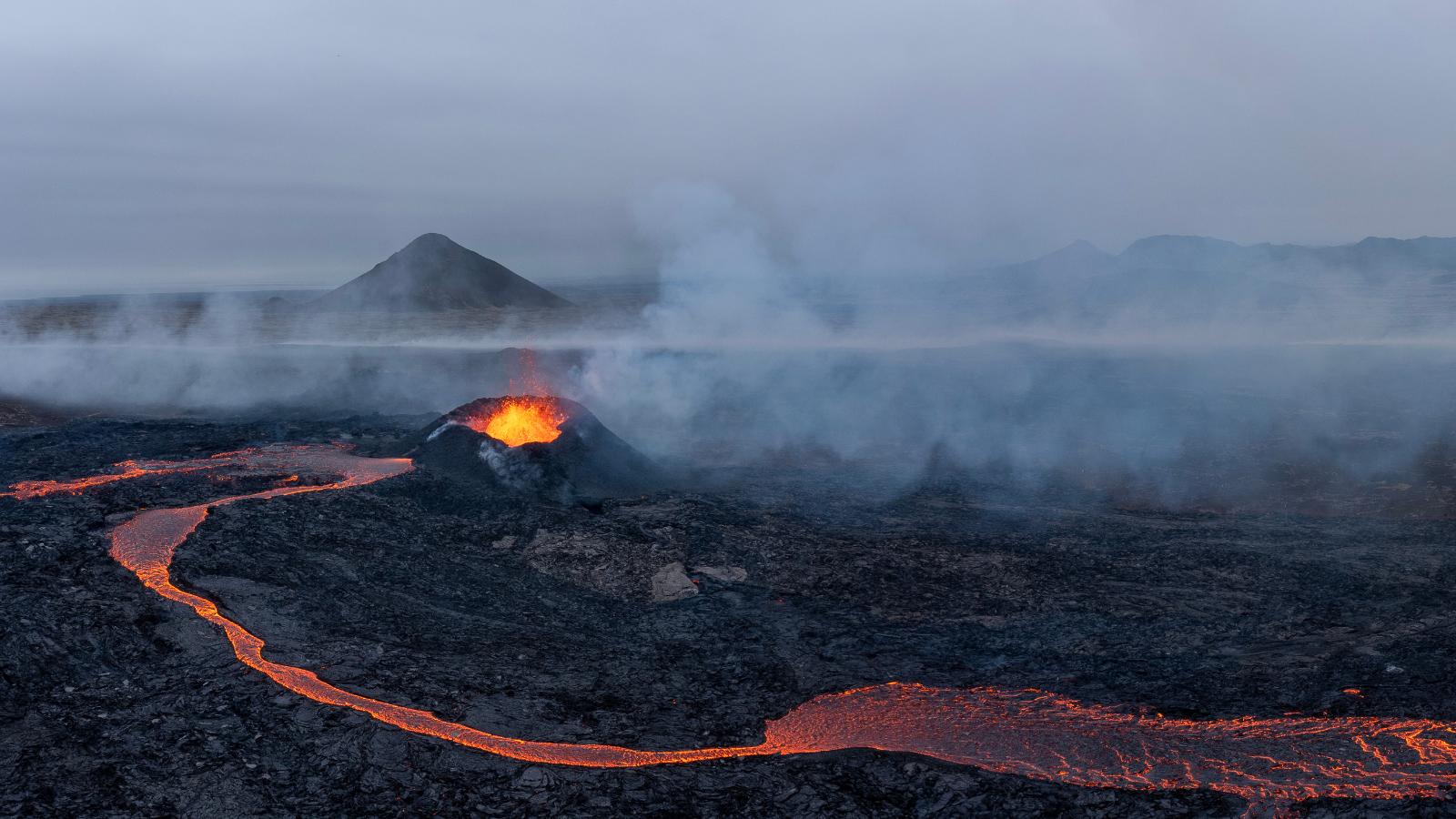 Visiting the Eruption Site
A volcanic eruption is a truly once-in-a-lifetime experience, and the bright lava makes for a stunning photograph when compared to the dark ancient lava field backdrop. It's a no-brainer that if you find yourself in Iceland you should visit this unique sight at Litli-Hrútur whilst you have the opportunity to do so.
Due to its location, hiking from any large town, including Reykjavik, is simply unfeasible. Instead, it's best to take a guided tour of the volcanic site or drive yourself to see it in all its glory. After all, Iceland is often best explored with the freedom of your own rental car.
How to Get There
From Reykjavik, you'll take Road 41 heading out to Keflavik, then on to Road 43 which goes towards Grindavik. From here, turn onto Road 427 until you spot the car parks marked on the side of the road. There are 2 car parks near the eruption site, labelled P1 and P2. 
Parking at Litli-Hrútur
Both P1 and P2 are on private land, meaning you'll need to pay to use either. When you're parking on site, there are detailed signs on how to do this electronically, but both require electronic payment of 1,000 ISK for every 24 hours your vehicle is on site.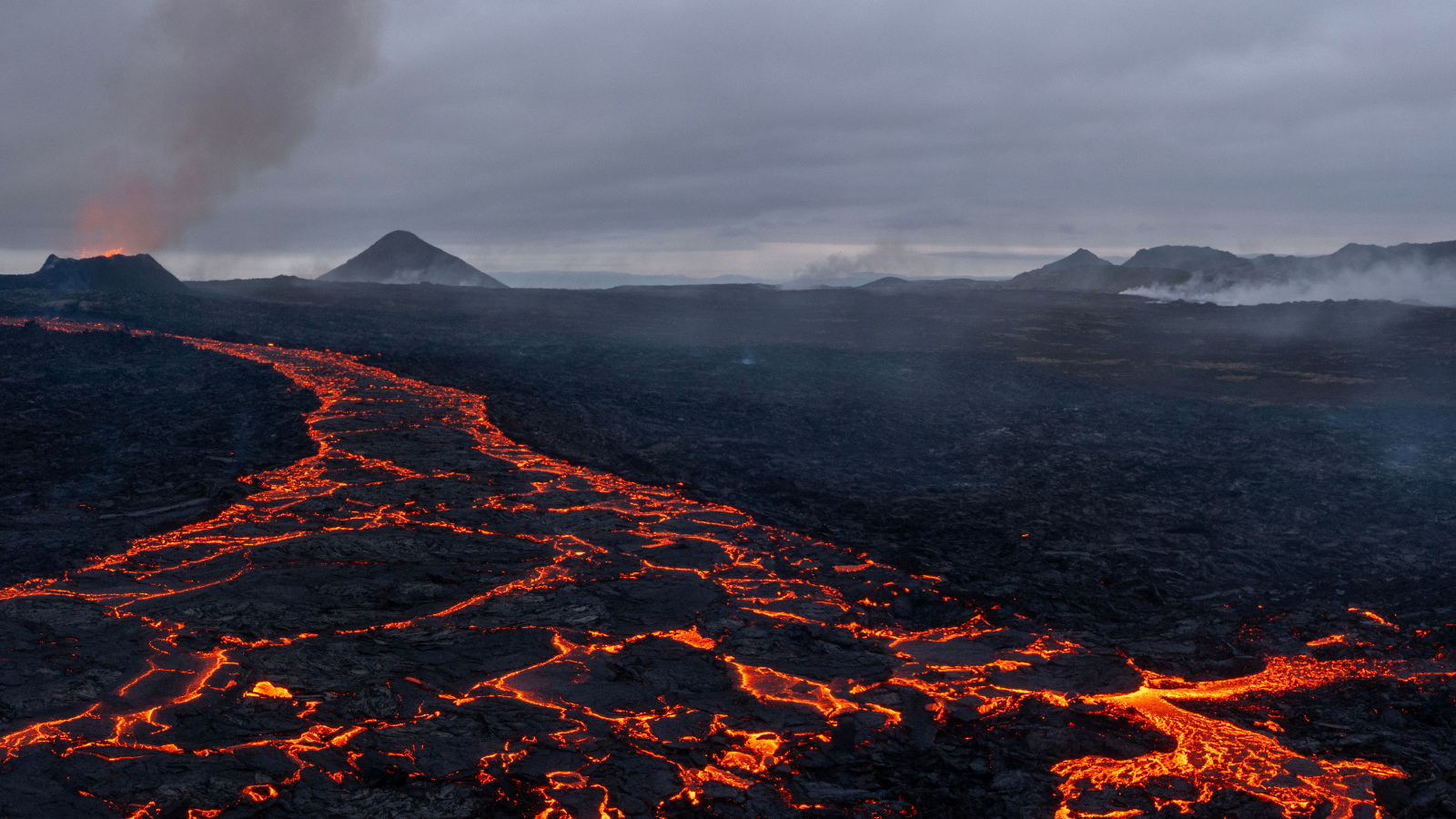 Safety Warnings
Due to the recent nature of the eruption, conditions could change quickly, so it's important to keep updated on safety notices. This is particularly important when considering volcanic gas emissions. While a gas cloud like the one seen in 2010 was not seen as part of this eruption, this does not mean there are no gases being emitted as the eruption continues.
July 10th's eruption means that visitors are flocking to see the site, however, you should note that there are no real facilities on-site. This means that you should be prepared with the food and drink you need before setting off. Stocking up in Grindavik is a great idea, especially convenient if planning on a longer Icelandic road trip.
International Reaction
As is expected, social media is full of pictures and reactions to the latest eruption. Some fascinating drone footage is possible with the latest technology, meaning we have stunning imagery of the early stages of the eruption, and the crowds surrounding it. Some people are so dedicated to the shot that they're happy to melt their drones in the process…
Back