Guide To Icelandic National Holidays
Iceland is a wonderful place to visit with a rich and thriving culture that visitors love to sample. If you're planning a trip, it's helpful to know which holidays are observed to see how they may impact your visit. You might also find that around certain holidays, there are more activities, festivals and fairs to enjoy. 
Like most Westernised countries, Iceland observes typical holidays like Christmas and Easter, in addition to some more traditional and local holidays. There are also bank holidays, of which there are 15. Most workers, students and children in school have these days off - much like the UK's bank holidays and national holidays in the US like Labor Day. If your visit to Iceland falls on one of these days, you'll want to be prepared, as businesses and attractions may be affected or closed. 
Read on to learn more about Icelandic National holidays.
New Years 
 
Like most of the world, the new year is observed on January 1st in Iceland. In Icelandic, the holiday is called Nýársdagur. Icelanders celebrate the new year in the same way that most people from other countries do. Bonfires are a big part of celebrating on New Years Eve, and so many Icelanders gather around an impressively large bonfire to get the festivities started. 
Parties tend to begin at Midnight with the start of the new year, and there is typically a fair amount of drinking, dancing, and general celebrating. Most businesses are closed on New Year's Day, but restaurants and bars are typically open as normal. 
A unique aspect of the Icelandic New Year is the tradition of jumping into the freezing sea. The Icelandic Polar Plunge is an annual event at Nautholsvik beach. Afterwards, you can pay a very small fee to warm up soaking in a natural hot spring, potentially under the northern lights - imagine!
Easter
Though many Icelanders don't consider themselves to be particularly religious, Easter in the country still brings a 5 day bank holiday weekend, consisting of:

Maundy Thursday - The day traditionally observes Jesus' last supper with his disciples, but on this day in Iceland, it's seen as a bit of a kick-off for the upcoming long weekend. Most businesses and schools are closed, but many shops, bars and restaurants are still open. People make sure to visit any shops they need, as most of them won't be open until Saturday.
Good Friday - Most businesses and restaurants are closed, so if you happen to be in Iceland at this time, perhaps plan on a relaxing day resting up, or opt for activities that don't rely on interacting with a business, like hiking, visiting a beach, or trying to catch a glimpse of some Icelandic wildlife.  
Easter Sunday - Again, businesses are typically closed on Easter Proper, as this is traditionally a day of religious observation. However, today most Icelanders celebrate like other countries that observe Easter - with chocolates, Easter egg hunts, and family get-togethers. 
Easter Monday - Business tends to be open, for at least part of the day, as well as supermarkets. Many people still have the day off work and school, and start to prepare to head back to their normal routines the following day. 
May Day
Unlike the UK where May 1st marks a bank holiday for Spring festivals and Morris Dancers, May Day in Iceland is a day for protest. Icelanders who are politically minded take this as an opportunity to protest any issues they feel strongly about. Be aware that Reykjavik tends to be the main location for protests, so any tours or activities you're planning in the city could be affected on this day. 
Ascension Day
Occurring 40 days after Easter, Ascension Day marks Jesus' ascension into heaven. Most people take advantage of this extra day off to enjoy time with their friends and family and get outdoors as much as possible. 
Whit Sunday   
Only 10 days after Ascension Day, Whit Sunday is another Christian holiday and provides Icelanders with a three-day weekend. Most people use this as a chance to get out to their country homes and enjoy time away from their jobs and normal routines. Some large stores will be shut, but for the most part, retail and hospitality businesses run as usual. 
Independence Day        
Each year, June 17th marks the anniversary of Iceland's Independence, which was won from Finland in 1944. The day commemorates the efforts of the man who achieved this independence, Jón Sigurðsson.
Independence day is a hugely important holiday for Icelanders, who celebrate it across the country. Downtown Reykjavik is party-central for the holiday, where people gather for a festive parade, entertainment and more. 
Commerce Day 
Taking place at the beginning of August, Commerce Day recognises shops and retail businesses, allowing them a day off, as most of these types of businesses stay open on other bank holidays. The long weekend is another opportunity for people to enjoy the outdoors, especially camping. 
If you're visiting over Commerce Day Weekend (also called Holiday of Merchants and Verslumannahelgi, there are lots of outdoor festivals to enjoy across the country. 
Christmas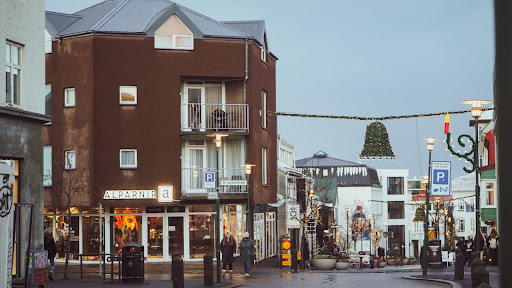 Christmas Eve - Christmas is full of celebrations in Iceland. It all starts with Christmas Eve, which is likely the biggest day of celebrations for Icelandic Christmas. The official holiday goes into effect at noon, after which pretty much everything closes. 
Icelanders then spend the rest of the day getting ready for the evening's celebrations, which formally begin at 6pm. Homes will have been thoroughly decorated and presents will be wrapped and ready to be opened that evening. Icelanders see Christmas Eve as a big deal, so most people dress up and really put care into the dinner spread. Said dinner typically consists of lots of smoked meats and a variety of sides. After dinner and dessert, it's time for presents. 
Christmas Day - With all the main festivities completed on Christmas Eve, Christmas Day is treated a bit more like the UK's Boxing Day. Children spend time playing with their new toys, parents recover from the Christmas ordeal, and enjoy leftovers and tv. Many people see their extended families who they may not have seen on Christmas Eve and just enjoy another nice, festive day. 
Boxing Day/Saint Stephen's Day -  This day is treated similarly to Christmas Day, though many shops, bars and restaurants will begin to resume normal hours from this day and people can continue to enjoy their time off. 
Back