10 Beautiful Beaches in Iceland
The unearthly beaches of Iceland are very popular amongst tourists and locals alike. Due to the volcanic nature of the island, many of Iceland's beaches are made up of jet-black sand.
Although beaches are accessible throughout the year, the best time to visit is during the summer, especially if you wish to swim. However, it is important to note that the waters of the Atlantic Ocean can have immense powers of suction, hence wadding isn't recommended- especially in stormy weather.
Top 10 beaches
Below you will find a handpicked selection of Iceland's top 10 beaches to visit. All of the beaches listed can be reached by car and most are suitable to visit on a day trip. However, for the beach and coastal enthusiast, a summer beach-crawl would be a memorable road-trip. 
Reynisfjara (Vik) beach
Distance from Reykjavik: 187 km
Approximate time travel: 2h 33min
This gorgeous beach is studded with rugged towers of basalt rock, known as Reynisdrangar.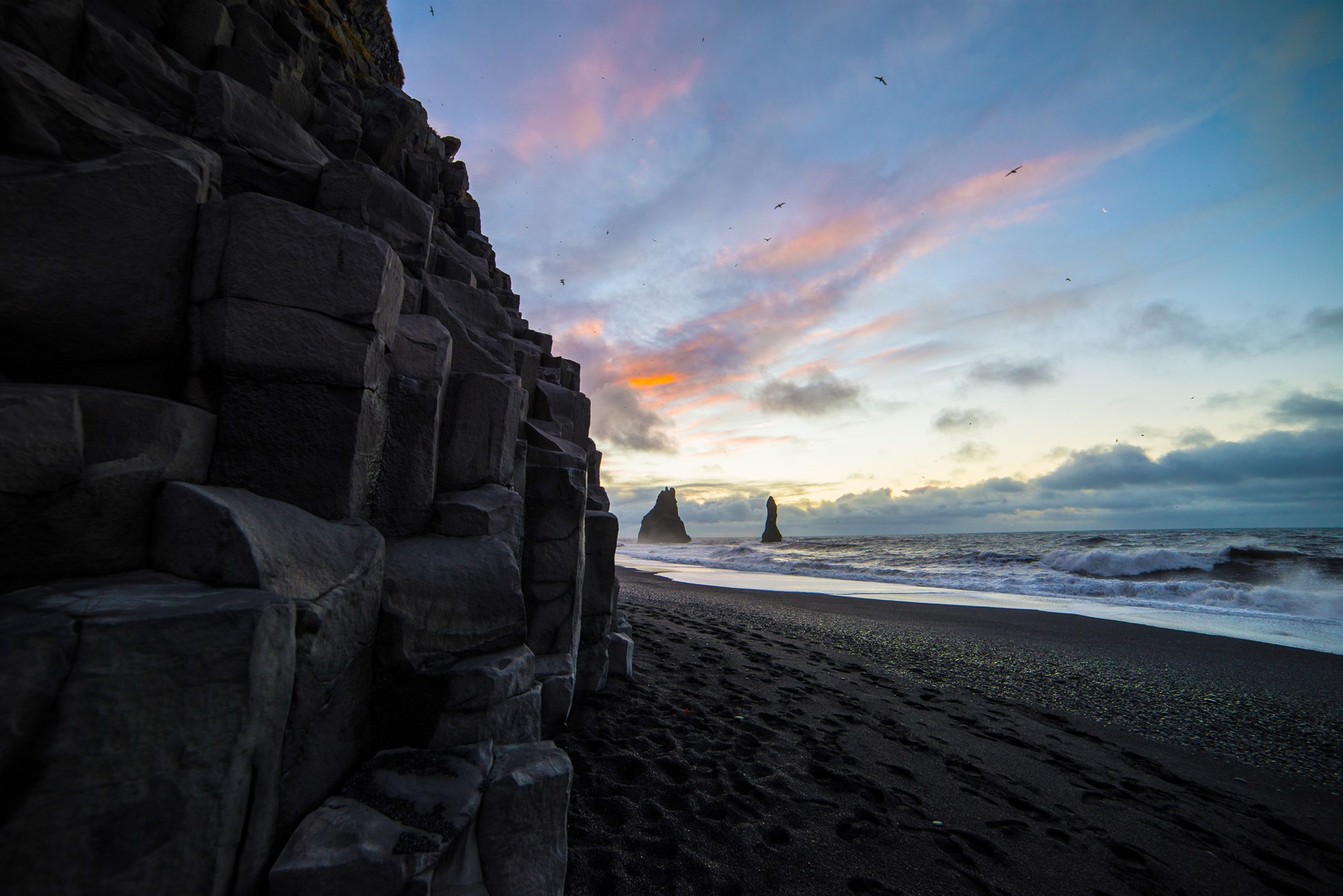 Alftanes
Distance from Reykjavik: 99.8 km
Approximate time travel: 1h 31min
This natural oasis is a lovely location for an afternoon picnic, the sand is white and dotted with lava rocks. This is the closest beach to Reykjavik, with a distance of a twenty-minute drive away. It is home to the President of Iceland and is a historically significant area. If you fancy a warm swim, Álftanes swimming pool is situated close by.
Djupalonssandur
Distance from Reykjavik: 207 km
Approximate time travel: 2h 44min
This unique black pebble beach is located on the Snæfellsnes Peninsula. It is home to ancient remnants of a time spent, of people who once lived. You can find ancient lifting stones that weigh between 23kg- 155kg; these named stones (Amlóði (useless), Hálfdrættingur (weakling), Hálfsterkur (half-strong) and Fullsterkur (full-strong) were used to test the strength of fishermen.
Diamond Beach
Distance from Reykjavik: 379 km
Approximate time travel: 4h 59min
 This black sand beach by Jökulsárlón Glacier Lagoon, has shimmering blue and white iceberg fragments on its shore, like giant diamonds.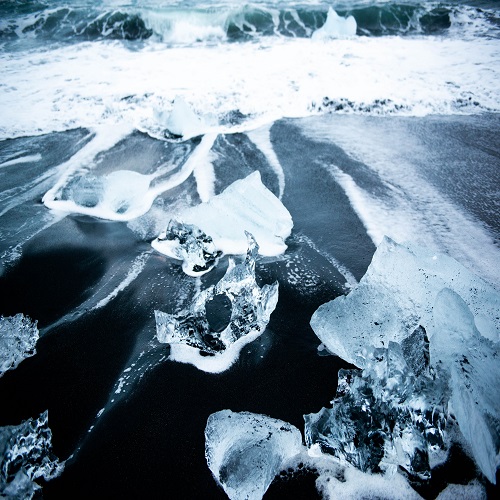 Rauðisandur (Red Sands) Beach
Distance from Reykjavik: 397 km
Approximate time travel: 5h 16min
This remote beach in the southern edge of Westfjords is characterised by a 10 km long stretch of golden sand, with red tones. The red tones are due to the presence of grounded scallop shells. The location makes it a little tricky to access, however it is well worth the visit, especially if you are a fan of birds, as it is located near the Látrabjarg bird-cliffs.
Búðir
Distance from Reykjavik: 173 km
Approximate time travel: 2h 16min
This secluded beach with windswept grass, lava rocks and light sand was once a bustling fishing town; now all that remains is a black wooden church and a charming country hotel. It has a path that leads to a crater, Búðaklettur.
Ylströndin at Nauthólsvík
Distance from Reykjavik: 3.5 km
Approximate time travel: 8min
In Reykjavík, you are never too far from the beach due to the city's coastal location. This man-made beach makes the list, as it has a geo-thermally heated lagoon. During summer months, this is heated to 15 degrees. Best time to go here is between 15th May – 15th August, as admission is free between these dates. The beach boasts amnesties such as outdoor hot tubs, sauna, dressing rooms, volleyball net, and a selection of delicious food outlets.
Grota
Distance from Reykjavik: 5 km
Approximate time travel: 9min
This beach is a birdwatcher's paradise, situated on the outer edges of the capital. It is gifted with exquisite sunsets and sunrises that are set against a lighthouse and many species of birds. Due to the rich birdlife, during nesting season (May-June) there is no access to the beach. The sand is coal-black, and when the tide is low, visitors can walk up to the century-old lighthouse before going on a search to find Kvika (a small hot pool) to dip your tired feet in.
If you go during winter, in the darkness and distance away from the city, you may sight the Northern lights. Grota beach is a very romantic destination.
Solheimasandur
Distance from Reykjavik: 163 km
Approximate time travel: 2h 12min
This Black Beach is distinguished by a decades-old Plane Wreck. Fortunately, everyone survived. To get to the Solheimasandur wreck you can drive up to the large parking area by the Ring Road and then hike a round trip of 4 miles; it is just 10 minutes away from Skogafoss Waterfall.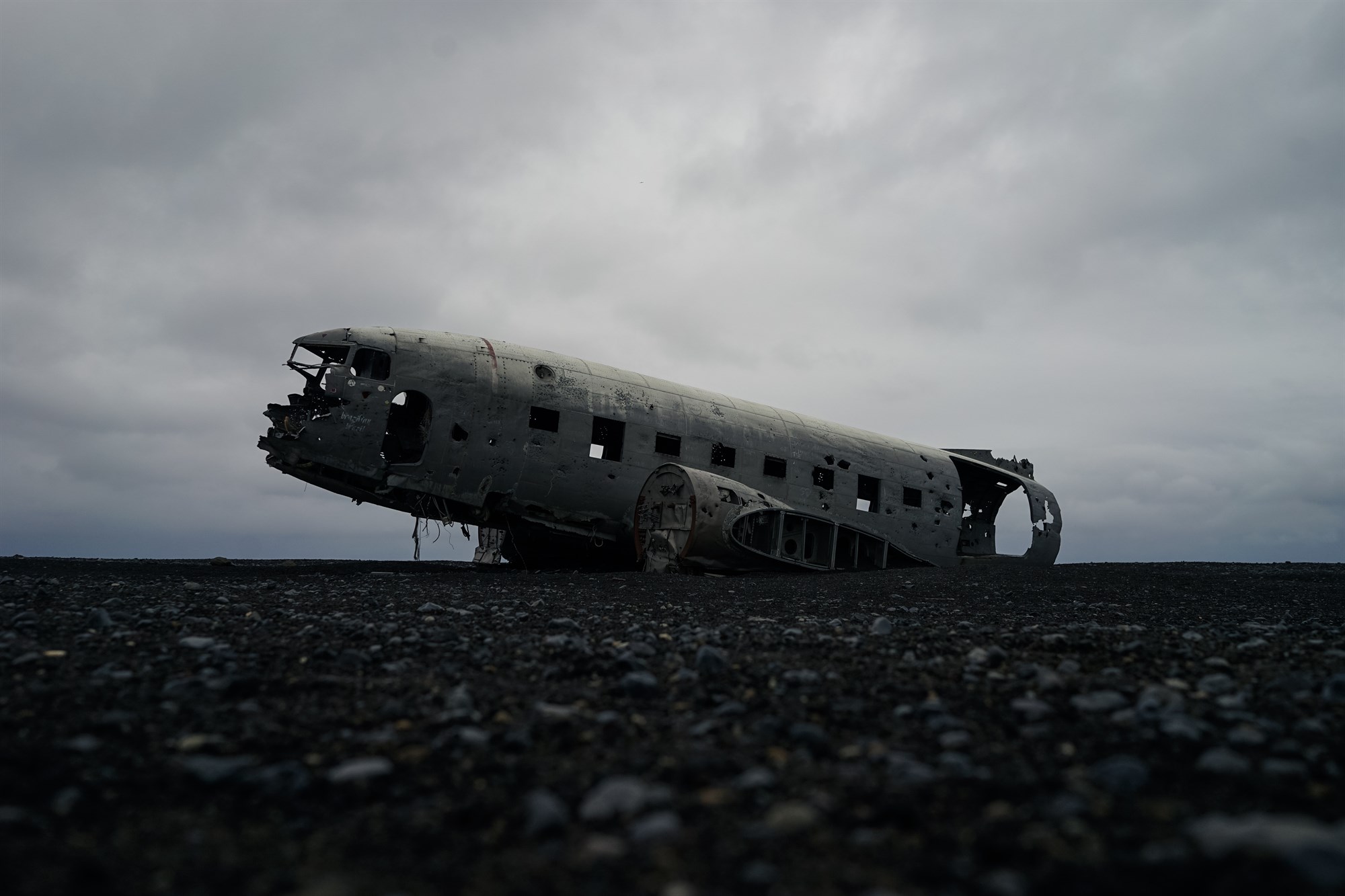 Stokksnes
Distance from Reykjavik: 464 km
Approximate time travel: 6h 8min
This black beach in east Iceland is a place where the mountain meets the sea. The best time to visit here is during the winter months, when the Vestrahorn mountain is blanketed in a coat of white snow. This beach is also one of the prime locations in Iceland to see the Northern lights; this is because of its remote location and virtually non-existent light-pollution. It is 6 hours away from the capital and costs a worthy 800 Kroner to gain access to. However, it's not one of the popular tourist-trodden-tracks, so if you want seclusion, this is the beach for you.
Back