Best Wildlife Encounters in Iceland
Due to its unique climate and geographical characteristics, it's possible to observe some fascinating and rare wildlife in Iceland. For a one in a lifetime experience , it's difficult to do better than a trip to Iceland. Whether you're searching for the smallest, oldest, quirkiest, or largest beasts, you're sure to find something in Iceland to interest you. Our guide not only gives an overview of the wildlife you can find on this gorgeous island, but also includes hints on where you can spot such magnificent creatures. 
In the Sky
Iceland is home to plenty of species of birds, from seabirds to ducks. While certain birds are fiercely protected and you must pay for a photographing licence, others are commonly seen not just along shores but in central Reykjavik. Check out more about birds in Iceland in our blog.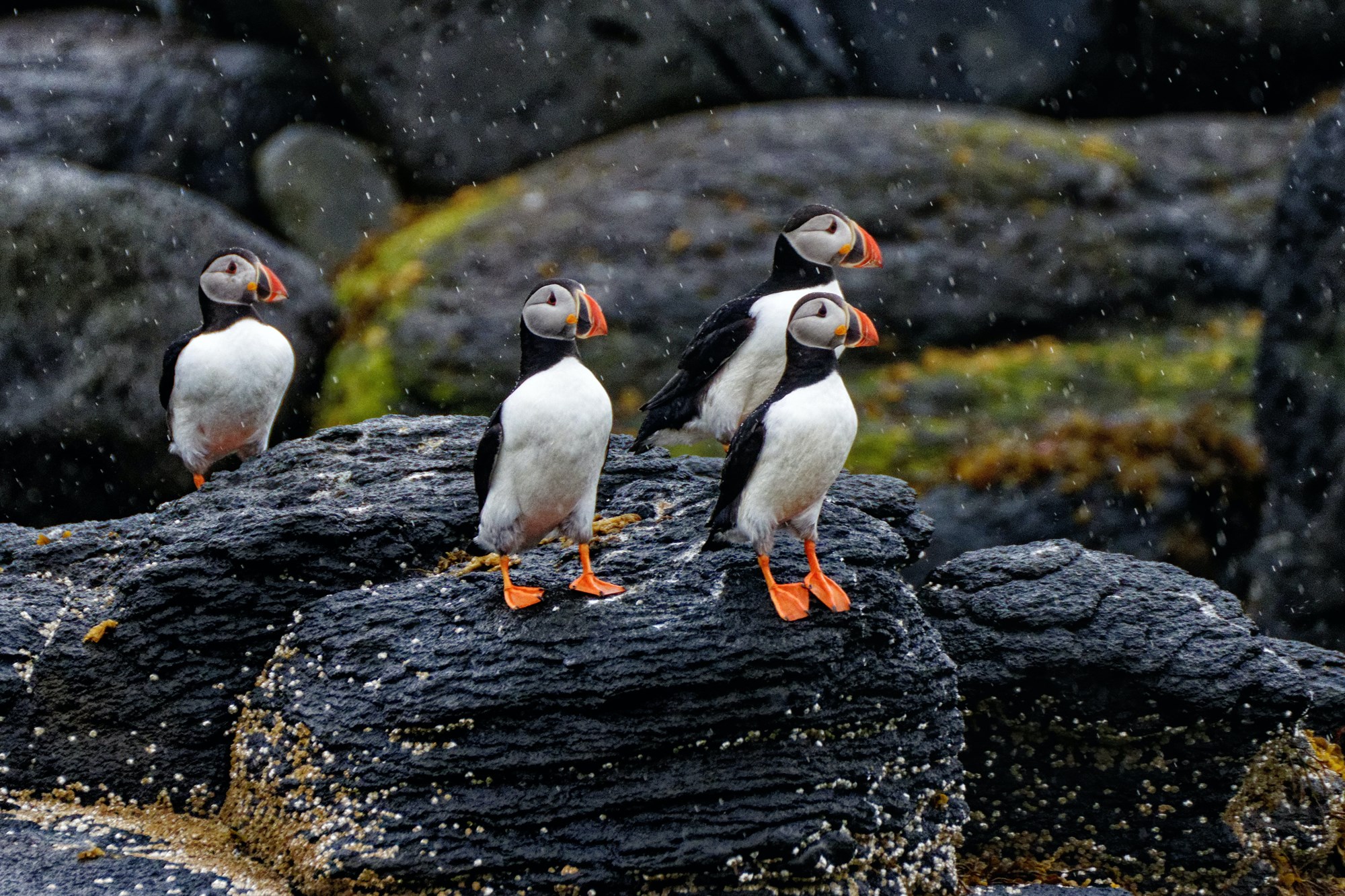 Puffins
Though difficult to spot and hugely elusive across the rest of the world, Iceland has no shortage of the fascinating birds. In fact, around 60% of the worldwide population of Puffins breed in the cliffs around Iceland. Where you can see one Puffin, there are likely hundreds of others in the same place, as they like to nest where others of their species reside. 
Puffins arrive to breed in Iceland in April and May where they usually remain until August. From Reykjavik's Old Harbor, you can likely spot these remarkable creatures in rocky outcrops and cliffsides, either from a boat tour or from the shore. Puffins also nest in the Latrabjarg Cliffs in the Westfjords, around the Westman Islands, in the East Fjords, and to the North on Grimsey Island. 
Gyrfalcon
The national animal of Iceland, the Gyrfalcon, is the largest falcon species in the world. If you're lucky, you might be able to observe these birds circling or even catching their prey, demonstrating their strength and hunting techniques in areas like Lake Myvatn.
Like many other bird species found in Iceland, these magnificent and protected birds prefer to nest in high places, like cliff sides and rocky outcrops. The population of Gyrfalcons are concentrated in the northeast of Iceland. While you may be eager to grab a quick photo, you will need to gain special permission to do so as these are fiercely protected in Iceland.
On the Ground
You won't have to look to the skies to spot a furry native Iceland resident. With some more common than others, keep your eyes peeled for some of these masters of camouflage.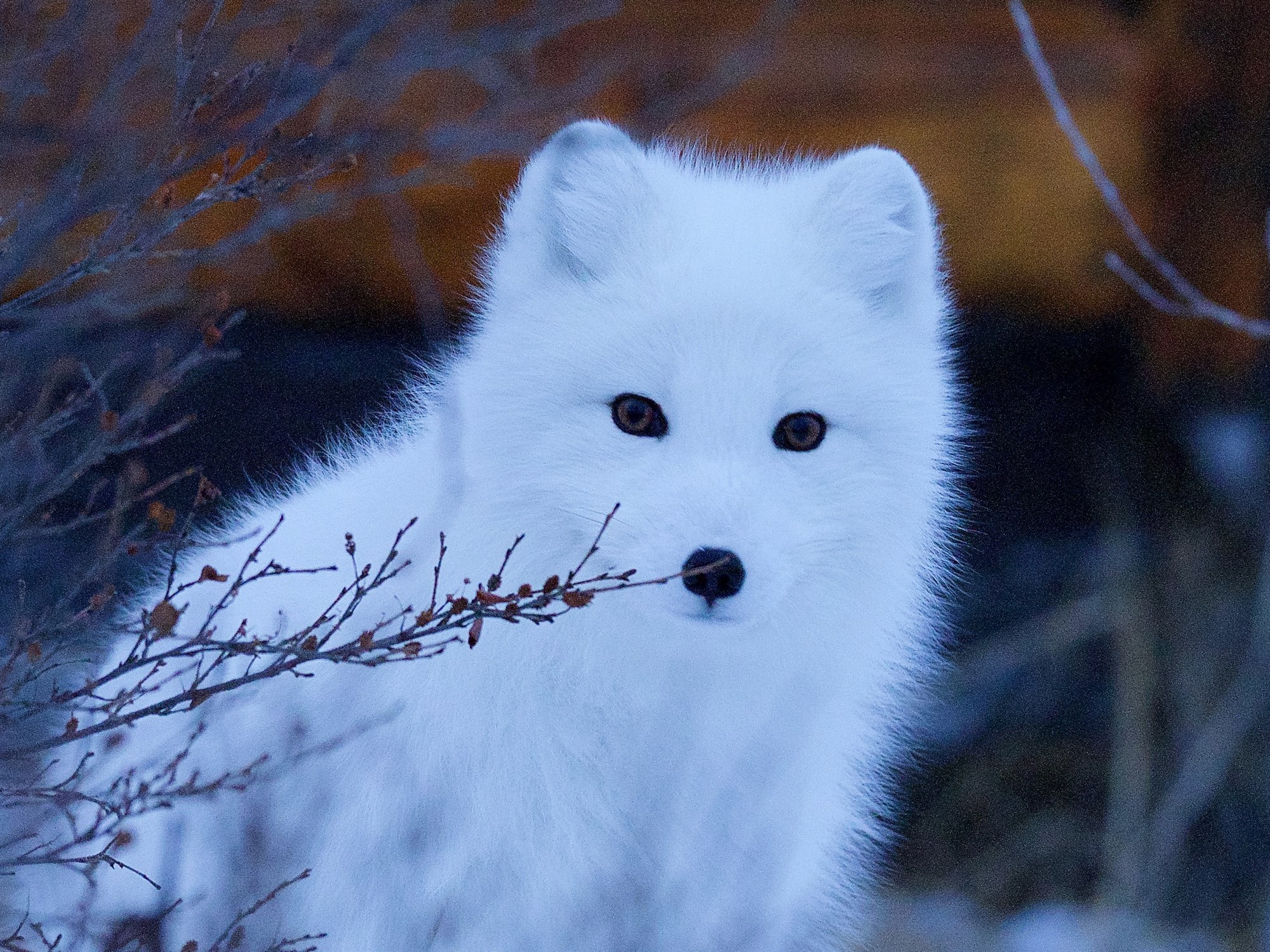 Arctic Fox
The only native land mammal to Iceland's shores, the arctic fox is a very popular animal for tourists to grab a picture of. Naturally playful, these elusive creatures thrive in the Arctic tundra and are a real joy to observe in the wild. To learn everything there is to know about the Arctic Fox, visit the Arctic Fox Centre in Súðavík.
Increase your chances of spotting an Arctic Fox by visiting areas of Iceland with many birds, as these are a source of prey for the native mammal. The Westfjords are an ideal hunting ground while the Hornstrandir Nature Reserve protects Arctic Foxes from being hunted, meaning both these areas provide ideal conditions to observe them in their natural habitats. 
Reindeer
More commonly spotted in Iceland are Reindeer. These very real creatures are much more than just Santa's sleigh-pullers. They were brought across to Iceland in the 18th century intended to be farm animals, however Icelanders never took to the practice. Now the population of around 3,000 Reindeers roams the country free, but is controlled annually to minimise damage to sheep populations. 
Reindeer herds are commonly seen in East Iceland. On your trip to Iceland, you should stay or drive through the East Fjords of the country to spot these magnificent animals.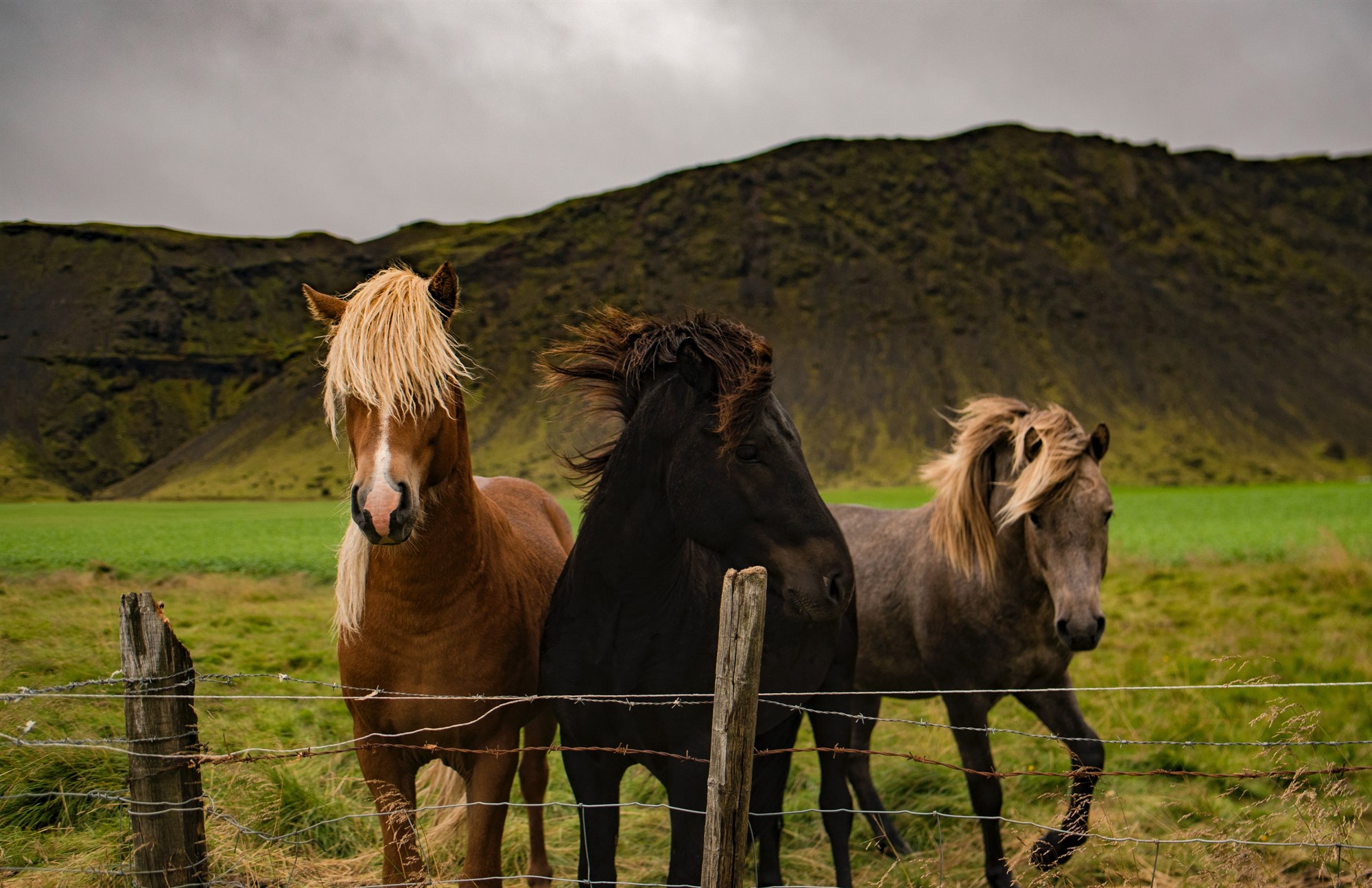 Icelandic Horses
Icelandic horses are the most friendly, intelligent, and curious horses that you will ever come across. The population descends from only the best of ancient Norwegian horse stock, as only one horse could be transported in a longboat at a time. Though small, standing at around 59 inches, Icelandic horses are sturdy, strong, and smart, and have become a part of Iceland's national identity. No other breeds of horse are permitted on the island to prevent diseases, which the native breeds are highly susceptible to.
Meeting or riding an Icelandic horse is an essential part of the Icelandic experience. If you are wondering where to see Icelandic Horses, there is an abundance of options. There are plenty of companies that offer tours or stable visits to meet these friendly creatures. Even if you yourself are not an equestrian, you will not regret meeting an Icelandic horse.
In the Water
The water-bound animals and aquatic life may be the first thing that comes to mind when you think of wildlife in Iceland. Countless whale and dolphin species are commonly seen from Iceland's coasts and shores, so a boat trip is an excellent way to see these incredible animals up close and personal.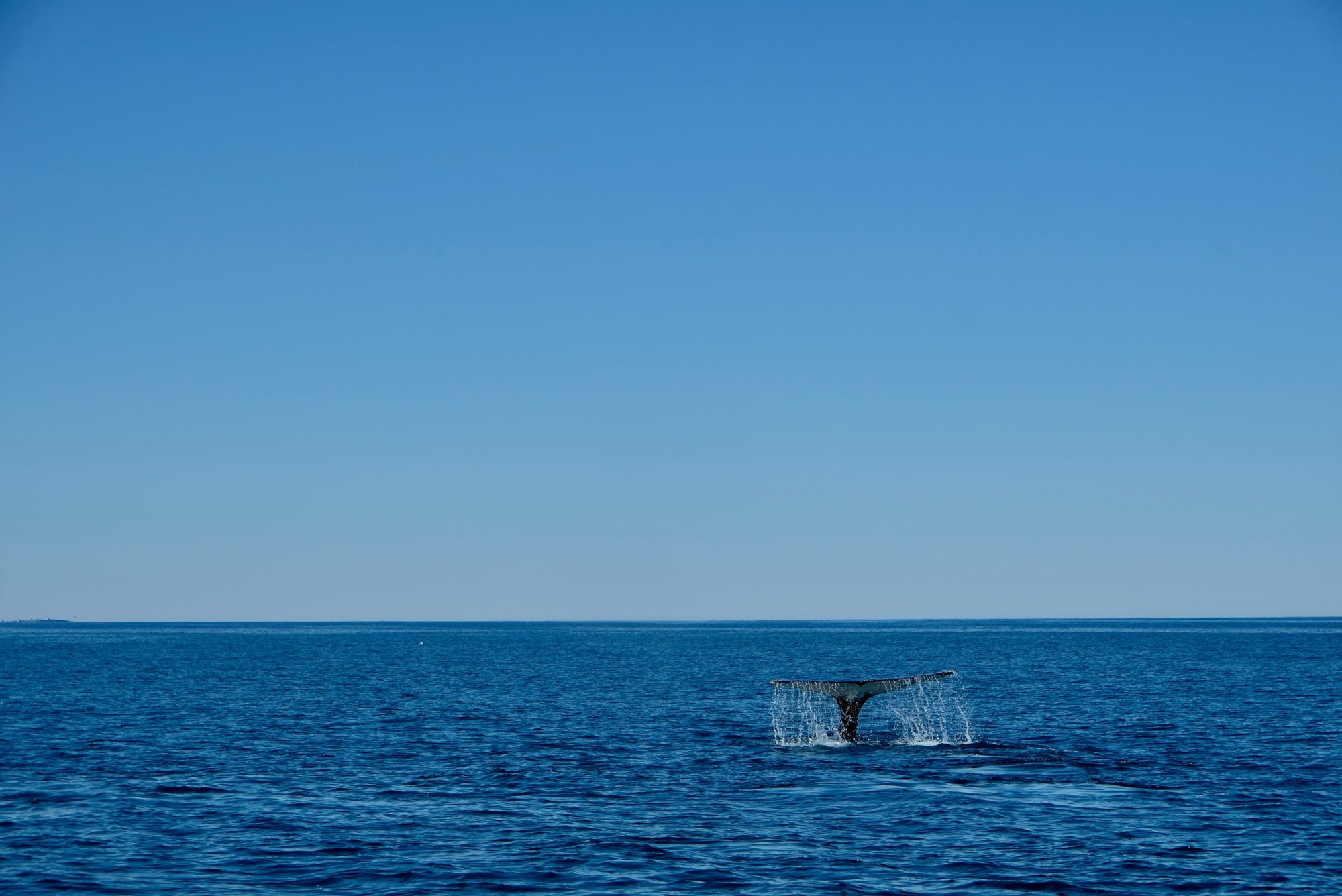 Whales
Iceland is known as the whale-watching capital of Europe, and there's a good reason. A wide variety of whales are known to dwell in the waters around Iceland, including Minke, Humpback, Sperm, Beluga, and Blue whales. 
There are numerous dedicated whale-watching tours that run around the island. If you want to increase your chances, visiting in Summer will give you a much better chance of catching a glimpse of Iceland's whales as they migrate to feed. If you're not sure where to start, our Guide to Whale Watching in Iceland provides some excellent tips. The whale capital of Iceland is Husavik as this is where some of the best whale-watching in Iceland takes place.
Orcas
Though you may have heard Orcas called 'Killer Whales', they are actually a part of the dolphin family. These are magnificent and huge creatures, definitely worth trying to spot on your trip to Iceland. 
The wintertime is the best time to try and spot Orcas in Iceland as they are drawn to the shores by schools of Herring. In West Iceland, the Snæfellsnes peninsula is a great place to observe Orcas, whether you take a boat tour or stand on the shoreline. 
Ensure you have the chance to see all these creatures and more at your own pace with an affordable and quality rental car from Iceland Car Rental. Browse our cars to find the perfect model for your adventure today.
Back