Your Guide to Camping in Iceland
Camping in Iceland is one of the best ways to immerse yourself in the natural beauty that the country holds. You can fall asleep under the Northern Lights and wake up within walking distance of a spectacular waterfall, all on a very reasonable budget. Here's our guide on how to camp in Iceland to ensure that you have a fun, safe trip, whilst following all of the rules. 
Where can I camp in Iceland?
In Iceland, camping locations are restricted. You must use designated campsites or privately owned land with permission from the owner. It is illegal to not follow these restrictions also when using a campervan in Iceland. If you are planning on pitching a traditional tent, you may also do so on uncultivated land (only if there are no camping spaces in the local area).
The good news is that designated campsites can be found all over the island, in some of the most spectacular locations you have ever seen. There are lots of benefits to choosing from one of these spaces such as the facilities, which most often include toilets, access to electricity, kitchen facilities, and sometimes even kids' playgrounds. 
Some of the most popular places to camp are:
Skaftafell Camping 

Vogar Campsite near Lake Myvatn

Skógar Campsite

Reykjavik Campsite

Asbyrgi Campsite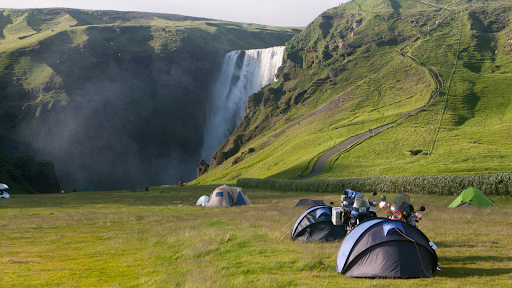 Is it expensive to camp in Iceland?
The fees charged on camping grounds in Iceland vary between locations, but you should expect to pay between 10 and 20 euros per person. You may even be lucky enough to find a free campsite, such as Gata Camping in South Iceland.
What is a camping card?
The Iceland camping card is essentially a pass that permits family camping at around 35 campsites across the country. The card is valid for up to 2 adults and 4 children sharing one unit and can be used for up to 28 days following the first day of use. Camping cards can only be used between the middle of May and the middle of September.
The pass can save you a significant amount of money if you are looking to spend several nights in a tent or campervan at any of the sites included. In 2022, the cost of an Iceland camping card was 159 Euros and it is unlikely that this will fluctuate too much for the next season. 
If you wish to purchase a camping card, you can do so upon your arrival in Iceland, or in advance via the official website.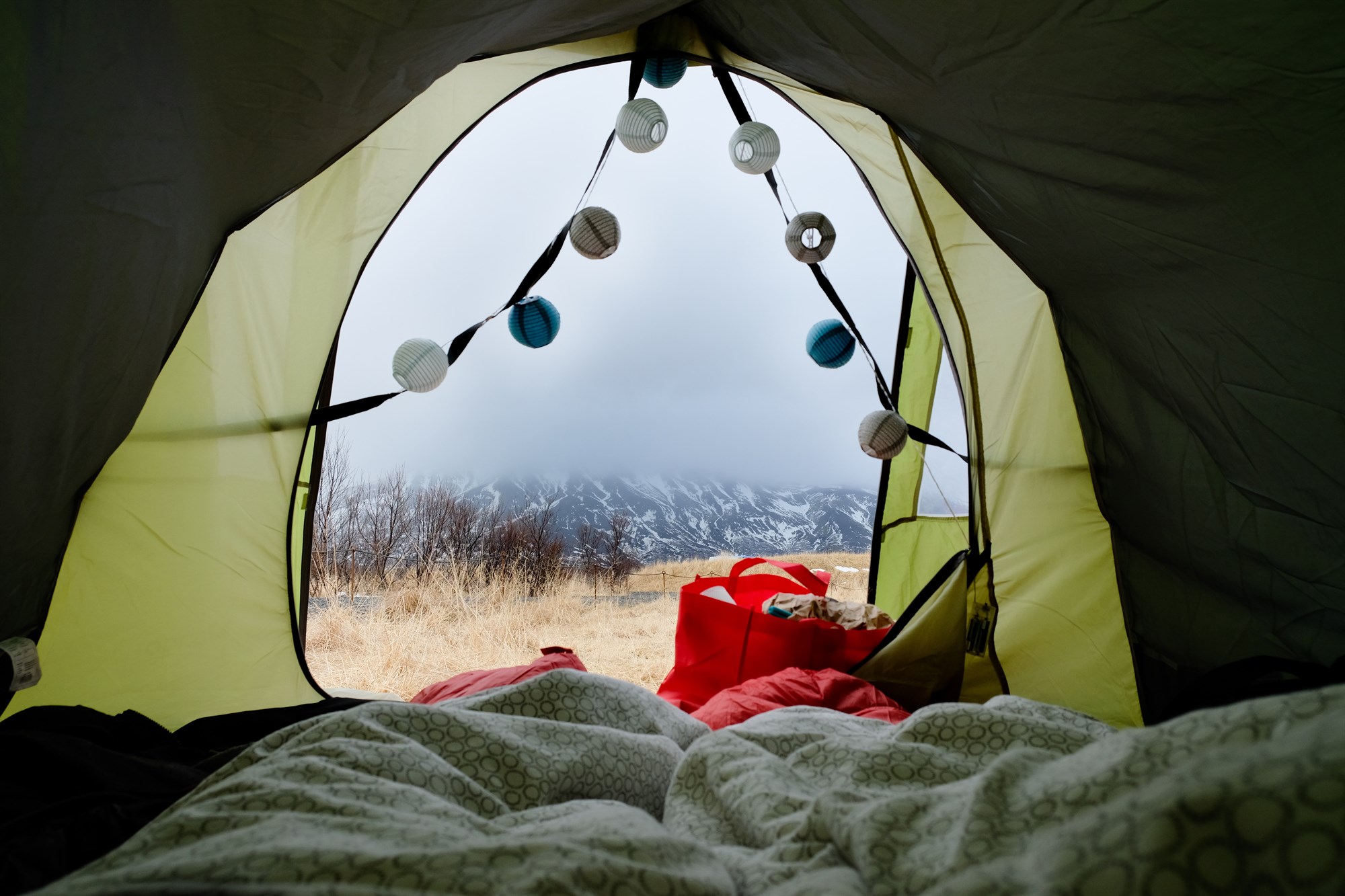 When is the best time to go camping in Iceland?
If you're a fair-weather camper, the best time to visit would be between June and September, as this is when the weather is generally warmer. Despite this, the weather in Iceland can be extremely volatile, so you should be prepared for all conditions. Some campsites are only open during the summer months, so we would advise checking the situation before setting off to a specific location. 
Many people choose to go camping in Iceland in September, as this is when you have a good chance of spotting the Northern Lights.
It is possible to camp in Iceland during the winter months however the conditions can be harsh and the temperature can be well below freezing, even more so in the North and the Highlands. If you do decide to camp in winter then it is wise to budget enough spending money so that you can check into a hotel should the weather conditions become too difficult. 
You can keep an eye on the local forecast and any weather warnings via the Icelandic Met Office.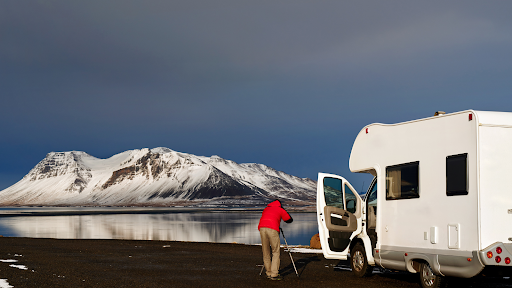 Do I need to bring my own equipment?
When camping in Iceland, you can of course bring your own equipment. However, you will likely already have lots of luggage such as warm clothing, suitable footwear, and thick coats. 
If you want to ease the load, then you can hire your camping equipment from reputable businesses in Iceland. They offer everything you may need from tents and sleeping bags to cooking and dining equipment. If you place a pre-order, some will even deliver your equipment to you upon your arrival. 
Additional tips for camping in Iceland
To make sure you are as prepared as possible for your experience, here are some further considerations:
During the summer months, Iceland experiences the Midnight Sun, during this time it doesn't get fully dark at night. If you are particularly sensitive to a light environment whilst you're trying to sleep, you may want to bring an eye mask!

Popular campsites tend to reach capacity around 6 or 7 pm during peak season, to avoid missing out it's recommended to either arrive early or try to pre-book your pitch.

Washing machines and dryers are often in short supply at campsites, however, many swimming pools offer these facilities for a small fee. 

'Take nothing but pictures, leave nothing but footprints' - this popular phrase in Iceland is an important reminder to respect your surroundings. 
Organising a self-drive tour of Iceland and camping at various stops along the way is an immersive, exhilarating experience. You will have full control over where you stop, when you stop, and what sights you get to experience. You can view our range of vehicles and find a car that will suit your needs with Iceland Rent a Car.
Back