5 Reasons You Should Spend Christmas in Reykjavik
In Reykjavik, magic is in the air during Christmas. From the pretty lights that cast their glow on snow-capped streets to the quaint markets that pop up only during the holiday season, there are ample reasons that make a Reykjavik Christmas tempting. 
If you want to hear Santa's sleigh as it glides from the North Pole, look no further than Reykjavik as the ideal Christmas destination.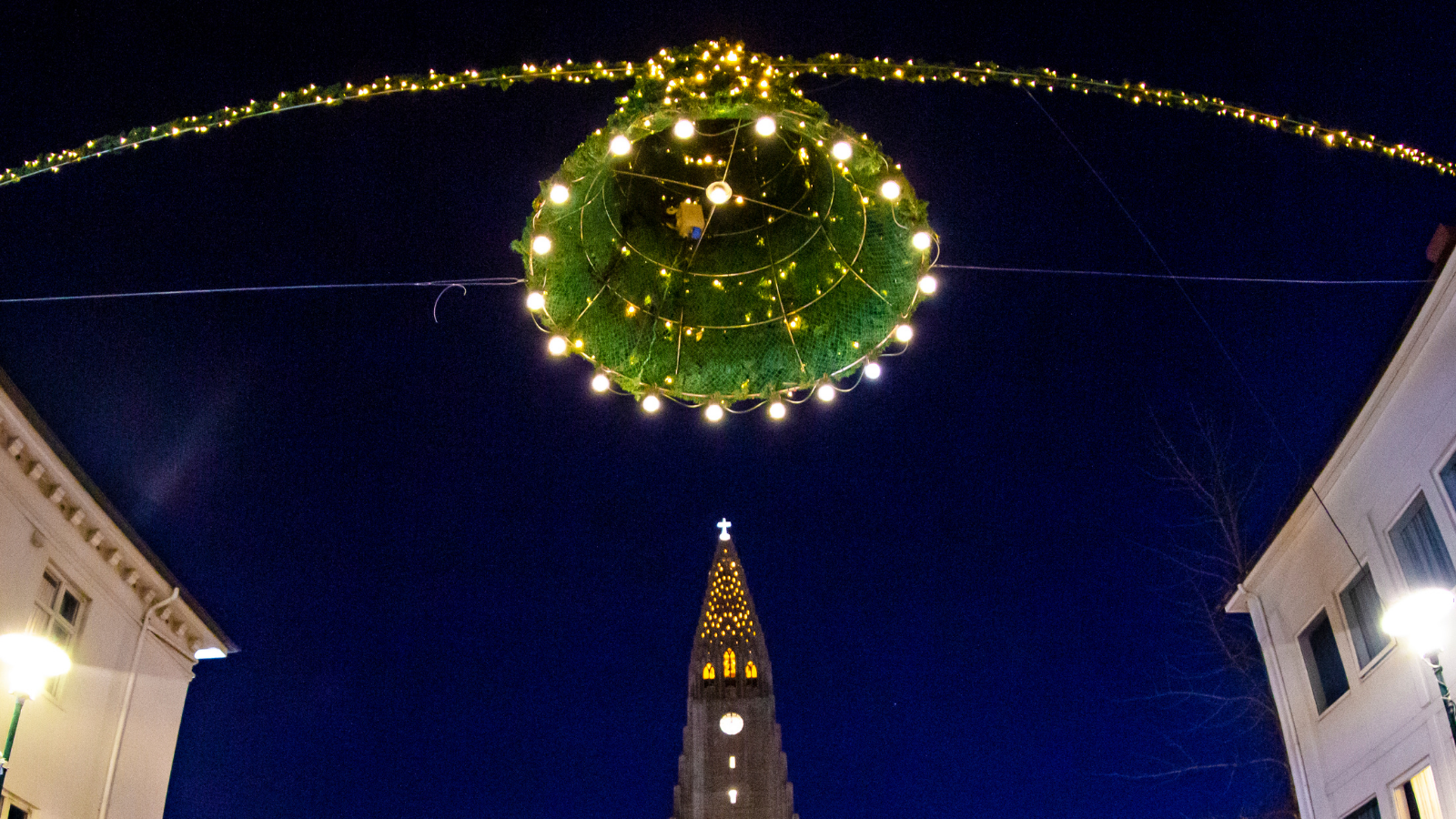 Winter Wonderland
If you fancy a white Christmas, there's a decent chance of this occurring in Reykjavik. The city often turns into a winter wonderland as it receives peak snow during the holiday season.  The colourful Christmas lights reflected on the white blanket of snow are rivalled only by the stunning Northern Lights. Furthermore, fireworks colour the Arctic sky over Reykjavik for hours on New Year's Eve.
Snow Activities
If you love snow, there are plenty of activities to keep you occupied in Reykjavik over Christmas. Whether you're keen to get outside and explore or want something a bit more cosy, Reykjavik has options for everyone.
Ice Caves and Glaciers
A Reykjavik Christmas will allow you to experience the snow in novel ways. From exploring ice caves to glacier hiking, there are lots of options to choose from. Snowmobiling across icy deserts is a popular activity in the winter. In a glacier lagoon, you can even sail around icebergs!
Skiing and Skating
Snow activities such as skiing and skating are loved by all. The easy-access terrain in Iceland makes skiing an ideal winter activity for individuals of all levels, though you might have to venture a bit beyond Reykjavik to partake. The main ski resort in the Reykjavík area is Bláfjöll. It is 25 minutes from the capital and has 14 lifts.  For skating, the top choices would have to be the frozen Lake Tjörnin and the popular Laugardalur Ice Skating Rink.
Hot Springs
A unique way to experience Christmas in Reykjavik is to soak in one of Iceland's natural hot springs. The geothermal pools are packed with health benefits and can make you feel relaxed and rejuvenated during the holiday season. If you would like to test the waters without diving in, the Kvika Geothermal Footbath in Reykjavik would be perfect for you. 
Reykjavik Christmas Tours
Christmas is the best time to experience unique tours in Reykjavik such as beer tours. A Reykjavik Christmas Walking Tour allows you to experience the beautiful Christmas decorations in the city whilst soaking up its history and culture. Be sure to keep an eye out for the Yule Cat - a monstrous figure from Icelandic folklore who hunts people who haven't received new clothes for Christmas! 
Bibliophile Heaven 
If you love reading, Reykjavik is the place to be during Christmas. There is an annual book flood over the holiday season due to the Icelandic tradition of giving and receiving books over Christmas. Reykjavik's cafes with their Icelandic treats and warm cocoa make ideal reading nooks.
Festive Treats
Shopping at Reykjavik's Christmas markets will make your holiday truly memorable. You can't miss Santa's mailbox at the main shopping street, Laugavegur. You can also listen to some angelic choirs at Harpa Concert Hall before feasting on a traditional Icelandic Christmas buffet.
General Information About Visiting at Christmas
It is always important to be well-informed when travelling to a place, especially over the holiday period with some festive closures likely. Here is some key information that will help you prepare for your trip.
Icelandic Christmas Key Facts
The Icelandic word for Christmas is Jól. It is derived from the same roots as the English word Yule. Christmas in Iceland is celebrated for 26 days from 11 December to 6 January. There are 13 Yule Lads - figures from Icelandic folklore who like to make mischief on Christmas - who come to towns one by one. Once the last Yule Lad returns to the mountains on the 6th of January, the festive season is officially over.
Things to Note
One thing for Christmas visitors to Iceland to note is that most shops and stores have reduced opening hours during the holiday season. We recommend booking a restaurant well in advance.
It is also important to pack wisely for an Icelandic winter. Reading our Iceland safety guide will ensure you have a safe and smooth holiday. 
Book your ticket to Iceland now for a truly Reykjavik Christmas!
Back