Ultimate Guide to Ice Caves
In Iceland, ice caves are popular among the locals as well as the tourists for their beauty. These hypnotic structures are unique, they are changing caverns of light that recreate themselves in winter and melt away during spring, you can never go into the same cave twice.
It is undeniable that visiting an ice cave during your trip to Iceland is a must. We have put together the ultimate guide on ice caves that gives you a comprehensive overview of ice caves and answers a range of frequently asked questions.
Difference between ice caves and ice glacier caves? 
It is important to know the difference between a glacier cave and an ice cave as if you use the terms interchangeably you may mistakenly end up going into a cave of unexpected disappointment.
The main difference is as follows:
Glacier caves are probably what you are dreaming of when you say 'ice caves', glacier caves are made entirely of ice.
Ice caves are natural cave formations that have a significant amount of ice inside: such as, Vatnajökull and Mýrdalsjökull ice caves.
When is the best time to visit ice caves in Iceland?
Whilst there are two glaciers that are accessible throughout the year, the best time to go to see a natural glacier ice cave is wintertime – specifically from early November to the end of March. The ice cave season is quite short in Iceland, as the weather must be cold enough. Outside the cave season, there is the danger of the caves collapsing if temperatures drop.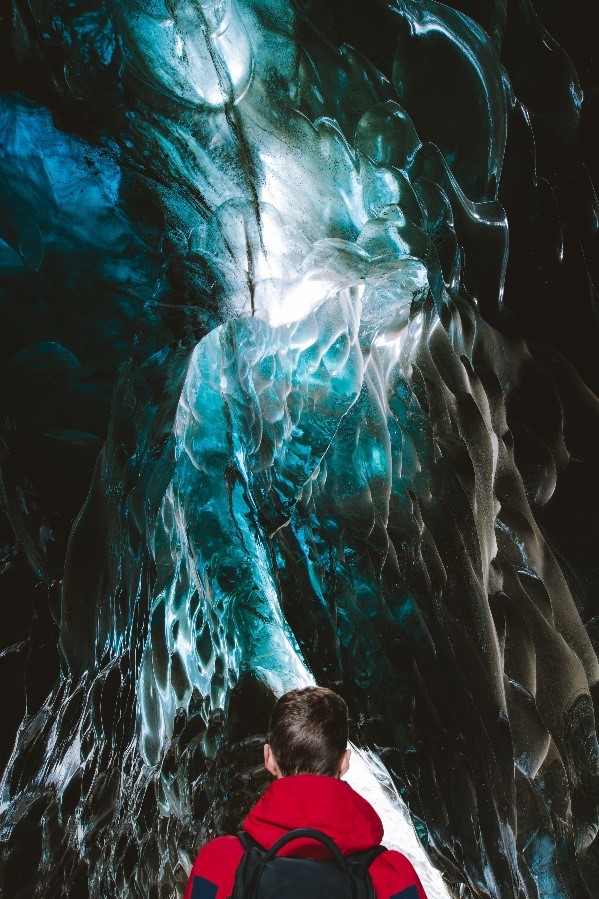 Why are ice caves in different colours?
 There is a brilliant variety among ice caves, they can be an amalgamation of colour, opaqueness and transparency, it is quite rare for a cave to be a singular colour. Naturally occurring ice caves in Iceland can come in varying shades of black, grey, white or blue.  The blue quartz crystal colour of the ice is due to the air bubbles in the ice being eradicated and compressed over centuries; for example, Vatnajökull crystal ice cave. The colour of the ice is often intensified if there are algae present, leading to more brilliant aquamarine and violet hues. Deep anthracite and black ice are also known to colour the caves. For example, the ice cave known as 'Dark Rubin', in Vatnajökull is adorned with black ice. In Mýrdalsjökull glacier, another dark ice cave with black colouring can be discovered.
What are the best ice caves in Iceland to visit?
Ice caves in Iceland come and go, they melt with spring and recreate themselves in winter.  Also, each cave is unique, the 'best' ice cave depends on what you are looking for, it depends on a number of variables like desired colour, location, etc. Ahead of travel check which glacial caves are popular in Iceland and safe to visit.  Don't limit yourself to natural ice caves. There are also man-made caves like the Langjökull ice cave, which can be visited all year round, even in the summer. It maintains a perfect balance between nature and man; there are amazing stalagmites and stalactites that adorn the cave, but it also has cool furnishings and a built-in chapel.
In contrast, the natural Vatnajokull ice caves, located in Breiðamerkurjökull and famed for the turquoise blue colouring, the Crystal Ice Cave is considered the most famous of ice caves in Iceland. In the northeast highlands of Vatnajokull, you can find the Kverkfjoll ice caves, which are equally unique. Vatnajokull has the largest ice glaciers in Europe.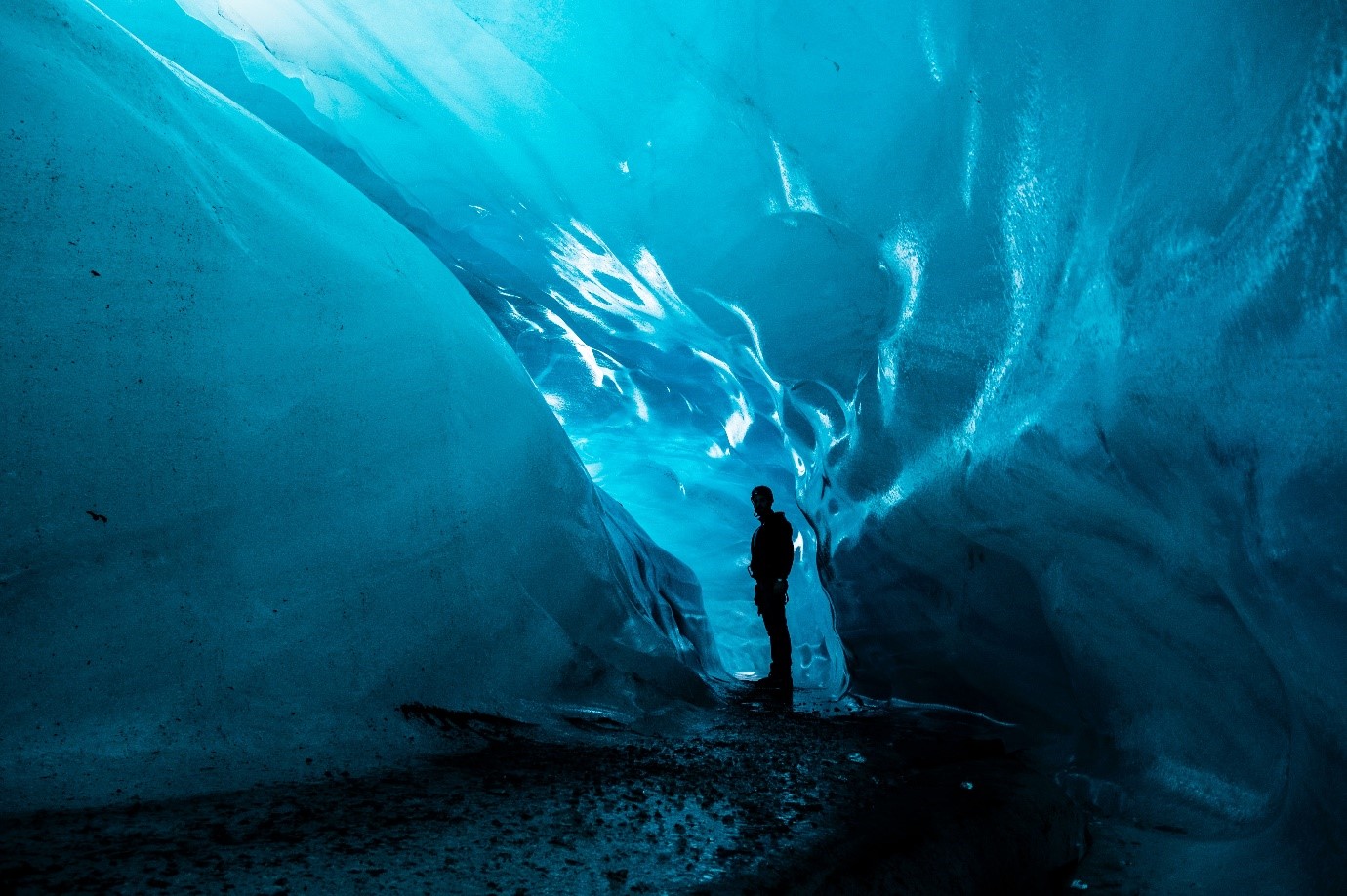 Self-drive and safety considerations
Self-driving is a great way to save money and give yourself the freedom to sculpt your tour according to your own tastes and needs. This means visiting as many of Iceland's ice caves as you want. However, it is important to know your limits and respect the dangers that may affect the roads during the winter glacial season. Below you will find some tips to help you.
It is vital you don't venture into ice caves by yourself as they are temperamental structures. Fundamental structures, the cave can shift and lead to the cave collapsing or large amounts of ice chunks falling on you.
Acquiring a professional guide is very important as they are experienced and qualified in assessing if a cave is safe and stable enough to explore. Over the years, there have been several deaths from unaccompanied travellers.
Our guide should fully equip you with the necessary ice cave exploring equipment; such as, with crampons, head protective gear, ropes, hiking boots, adequate clothing and other safety equipment.
Be an adaptive driver, due to the harsh, changing weather of the winter season.
Don't try to do a day tour. It is advisable to spend the night in the area if you are doing an ice tour. Tours into ice and glacier caves are highly weather dependent. Also, because you are going during winter, the roads aren't great for continuous long journeys.
Before booking your trip, check availability as cave tours are very popular and are known to get booked out very quickly. Plan in advance and secure tickets to avoid disappointment.
Be mindful of road conditions, the weather in Iceland is highly temperamental and is known to change quickly. If you are travelling to ice caves, make sure to go early so you can minimise the damage caused due to a commuting delay and avoid the disappointment of missing your tour. Therefore, make sure to check the road conditions ahead of travel. This can be done at safetravel.is and www.vegagerdin.is.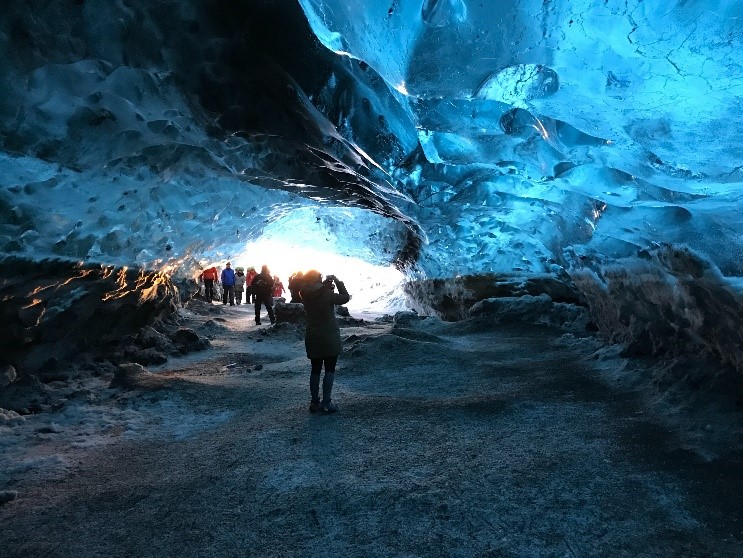 Back