Top 5 Churches in Iceland
Iceland is home to some of the most beautiful and unique churches, all of which are situated in stunning locations. Iceland's churches can be found in the middle of the town or city, while others are isolated and surrounded by nature. All of Iceland's churches are unforgettable and are just one example of quirky attractions in Iceland. 
One of the most amazing things about these buildings is the unusual architecture, which is unlike anywhere else in the world. Some of the larger and more famous churches are heavily influenced by modern architecture, while others stick to the more simplistic and iconic Scandinavian traditions. All of them are special places to visit, no matter your beliefs. 
Why are there so many churches in Iceland?
Some visitors to Iceland, who associate the country with the ancient Norse pagan religion observed by the Vikings who originally inhabited the island, are surprised to see so many churches. While Iceland still maintained pagan traditions, Iceland as a country was converted to Christianity in the year 1000 (an event referred to as "kristnitaka," which translates to "the taking of Christianity). 
But the reason there are so many churches in Iceland comes down to logistics. Prior to the establishment of the Ring Road, thanks to Iceland's rugged terrain and often extreme weather, getting around the island was difficult. Even travelling just a few miles was difficult for people as recently as the early 20th century. For this reason, each village and hamlet had its own church so that everyone had an opportunity to attend services. 
Our List of the Top 5 Churches in Iceland
It would be impossible to provide an overview of all the churches in Iceland. There are so many to explore and discover, with different aspects that will appeal to everyone. But for those of you keen on architecture, spirituality or culture, join us as we highlight and countdown our pick of the top 5 churches Iceland has to offer. 
5. Hallgrimskirkja, Reykjavik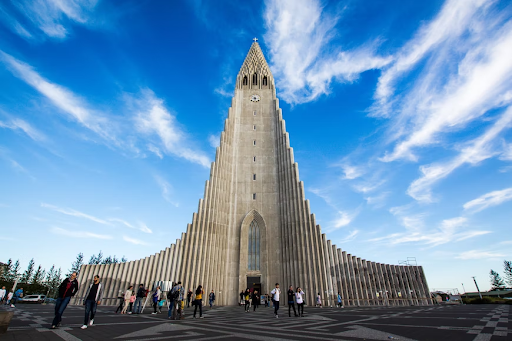 Even if you've never visited Reykjavik, it's likely that you have seen images of this iconic church. Hallgrimskirkja is a Luthern church and was designed by Guðjón Samúelsson, who began working on blueprints for the church in 1937. The steeple of the church stands at nearly 250 feet, making it the tallest church in Iceland. Construction was quite the undertaking, and it took more than 40 years to complete Hallgrimskirkja, from 1945 to 1986! The church is a perfect example of modern architecture, which is popular in some areas of Iceland.
Hallgrimskirkja is one of the most iconic spots in Reykjavik, and each year roughly 200,000 visitors climb to the top. No trip to Iceland would be complete without enjoying the remarkable design of the church, and the amazing view from the top. 
4. Akureyrarkirkja, Akureyri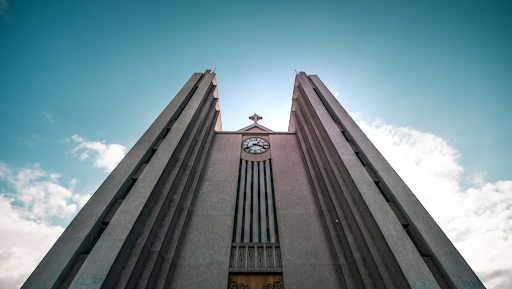 For another beautiful example of a modern church in Iceland, head up north to Akureyrarkirkja. Nestled in the heart of Iceland's northernmost city, Akureyri, you will find this church which was also designed by Guðjón Samúelsson and completed in 1940. 
The interior of the church is equally stunning, with stained glass windows made in England and bas-relief sculptures, a suspended ship and one of the most impressive organs you're likely to see. 
3. Heimaey Stave Church, Heimaey, Vestmannaeyjar, Iceland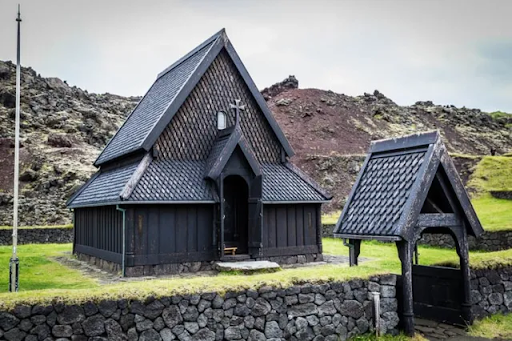 Source: Visit Vestmannaeyjar 
If you're not opposed to travelling off the beaten path to Iceland's gorgeous Westman Islands, you're in for a treat. Tucked away on the island of Heimaey is this magnificent and intriguing little church. The black, wooden church was a gift from Norway to Iceland back in the year 2000 in acknowledgement of the 1000th anniversary of when Iceland converted to Christianity.  In a touching gesture, Heimaey Stave Church was modelled after the first-ever church built in the Westman Islands, just before the official turn to Christianity. 
2. Husavikurkirkja, Husavik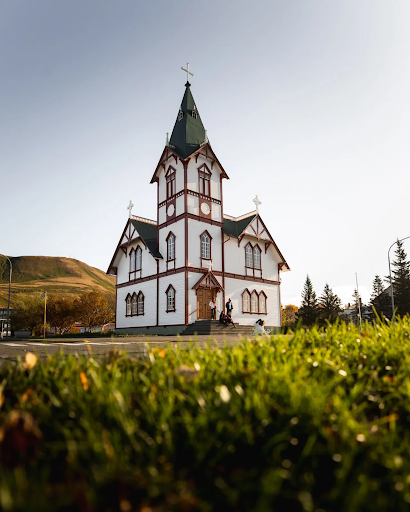 Source: Visit North Iceland
In the North of Iceland you will find the charming fishing village of Husavik. Within the town, you'll find the even more charming Husavikurkirkja wooden church. It is still a functioning church, which holds services, weddings, funerals and baptisms. The immaculate church was built in the early 1900s and was designed in the easily recognisable Swiss-Chalet style. Any visit to Husavik is incomplete without a stop at this lovely church for some wonderful photo opportunities. 
1. Grafarkirkja Turf Church, Gröf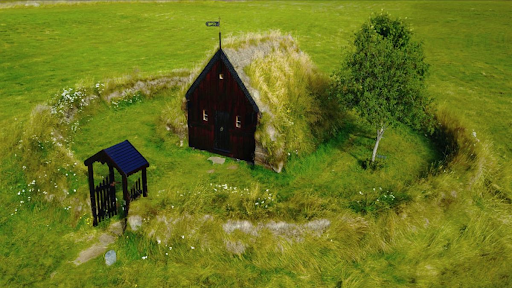 Source: Atlas Obscura 
If old churches are what you're after, then you'll want to head to Grafarkirkja Turf Church. You'll find many old turf buildings and dwellings, as well as Iceland's oldest church. The current structure was built in the 17th century, but it is believed that there was a church in this location even before that time. 
The church is unusual not only because of the turf style but also because inside there are baroque-style carvings. Most Icelandic turf buildings are known for being rather austere and plain, but that is not the case with this unique and unmissable little church. 
Back