The Ultimate Guide to Landmannalaugar, Iceland
Often referred to as the Pearl of the Highlands, Landmannalaugar is an expansive valley offering breathtaking views of unusually colourful mountains, popular hiking trails and relaxing hot springs. Its remote location in the Fjallabak Nature Reserve means you'll often be sheltered from the large crowds of visitors that head to Iceland in the summer.
The mountains, which boast shades of red, blue, green, yellow and pink, are composed of silica-rich rhyolite rock. If you're keen to make a stop in this virtually untouched region during your visit to Iceland, we've put together everything you'll need to know. 
How Do You Get to Landmannalaugar?
From Reykjavik, you'll need to drive the Ring Road down to road 26, which will take you inland. Follow road 26 to the F225 or Landmannaleið, which will lead you to the F208 where you will see signs for the Landmannalaugar basecamp. This journey takes approximately 3 hours and 30 minutes however, owing to the F-roads which lead you there, the journey can be challenging and extra caution may need to be taken. You should also note that you will be required to drive a 4x4 vehicle, as other vehicles simply aren't equipped to handle the gravelly, uneven, wet or icy terrain you may find on these roads. 
You might also encounter rivers on your way to Landmannalaugar, which have been known to destroy many a vehicle over the years due to their hidden depths. Where you are able to pass, take care when returning the same way, as river levels can change drastically in mere hours. In fact, there is a deep river just 100m from Landmannalguar. For sensible travellers, opt to park on the other side of the river and walk over the bridge to explore!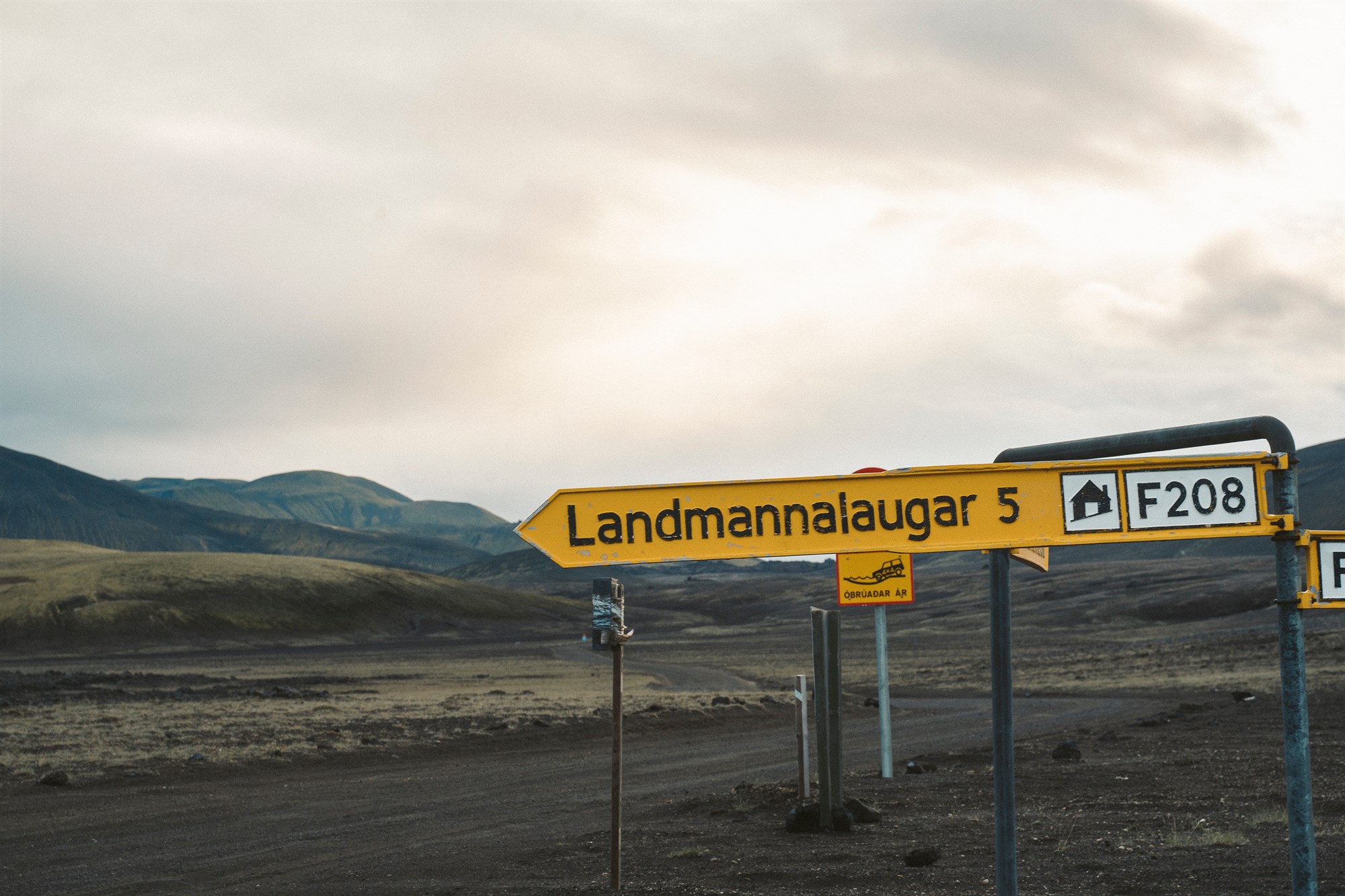 When is Best to Visit Landmannalaugar?
If you are hoping to drive to Landmannalaugar, you'll need to do so in the summer months when the F-roads are open. During the winter, these roads are closed due to dangerous conditions. Typically, the roads are open from mid-June to September, but this varies depending on the weather.  You can use Road.is to check the travel conditions and plan your journey. 
A sunny day in the highlands is one of the best times to take advantage of the panoramic, colourful views on offer in the valley. 
What Weather Conditions Can You Expect in Landmannalaugar?
During summer, the temperature in Landmannalaugar can reach around 12 degrees Celsius but the weather can be unpredictable at best. The harsh, cold winters bring thick snow and ice, hence why the roads are impassable for a large majority of the year.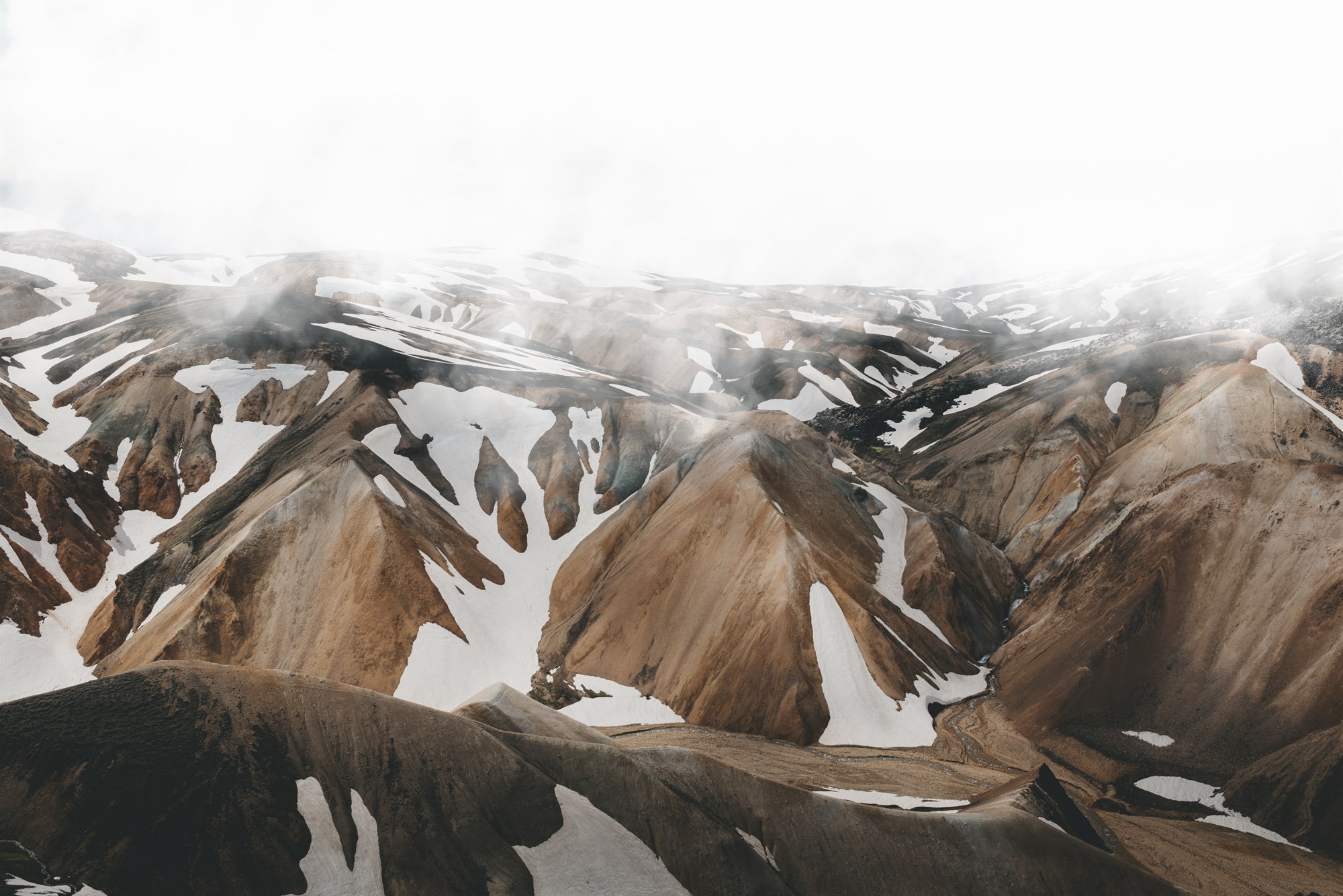 The Best Activities in Landmannalaugar
Upon arrival in Landmannalaugar, you'll realise your options for adventure within this picture-perfect setting are endless. You can challenge yourself to a hike, reward yourself with a soak in a geothermal pool or simply admire your surroundings at your own pace. You can even spend the night in a tent surrounded by mountains.
Landmannalaugar Hiking Trails
Famous for its wide array of hiking trails, there's something for all trekking abilities in  Landmannalaugar. Trail lengths vary from a couple of hours to multiple days. The most popular trails include some of the main attractions in the area:
Ljótipollur:

A large explosion crater that's part of the Veiðivötn volcanic fissure system. Ljótipollur, which translates to 'the ugly puddle', is actually quite beautiful, particularly on a summer's day when the dark brown rock contrasts against the blue water that pools in the centre of the crater.

Bláhnjúkur:

A volcano with a striking blue-black colour caused by volcanic ash and lava flows. On a clear day, Bláhnjúkur offers views of up to 5 glaciers. 

Brennisteinsalda:

A coloured volcano amongst the rhyolite mountains. The colours of Brennisteinsalda come from sulphur spots, green moss, and red iron from the earth. 

Laugavegur:

One of the most popular and most challenging hikes in Iceland. This 56km trail, which sits between

Landmannalaugar and Thórsmörk,

is also known as "the hot spring route". This route does have the option of mountain huts for overnight treks, however, these must be pre-booked.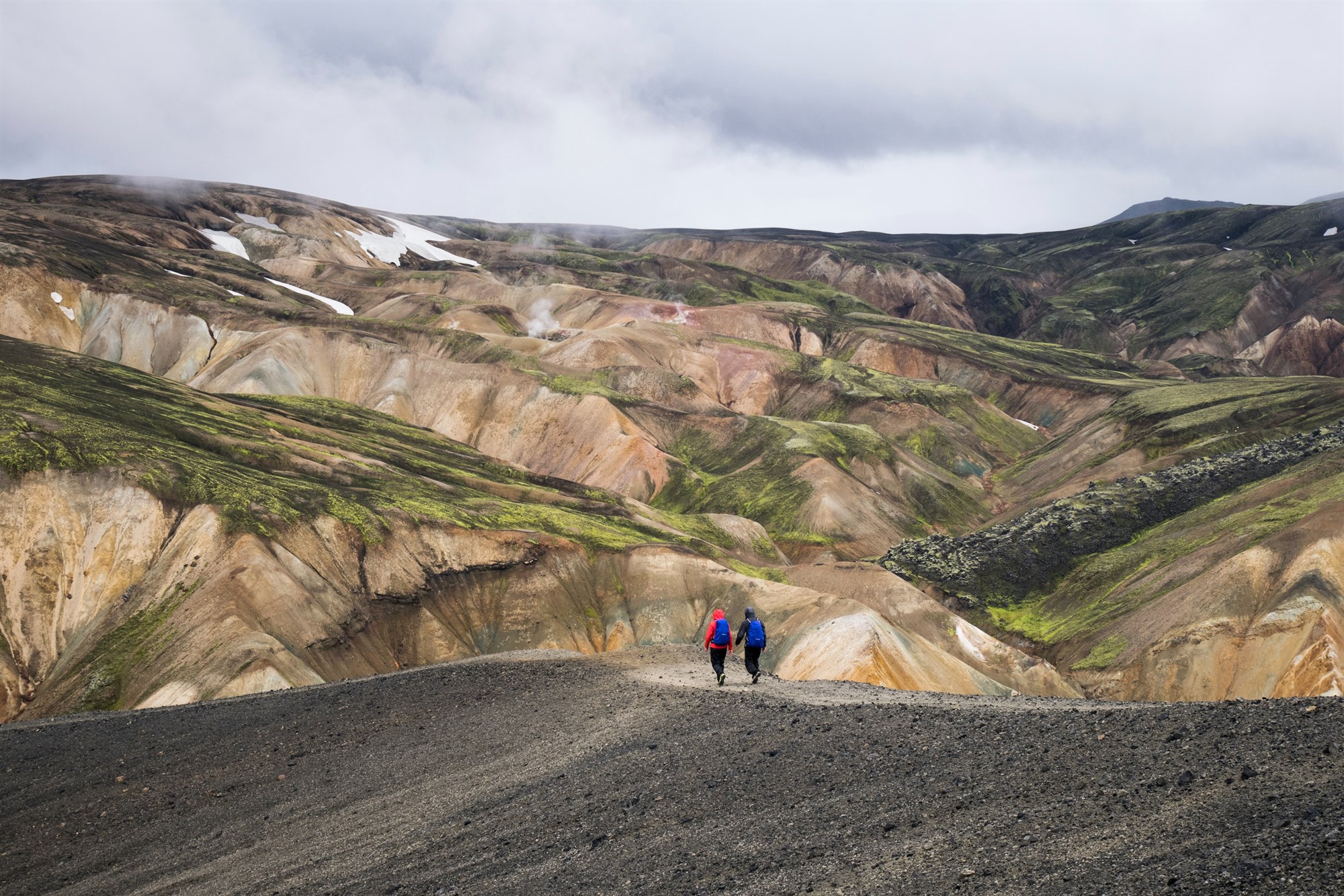 The People's Pool
Whilst there are many geothermal pools to choose from in the Landmannalaugar area, this popular hot spring is located alongside the Laugahraun lava field. The water here is typically a pleasant 36 degrees Celsius and is a great place to soak away your stresses, or hiking-related aches and pains!
Camping
Pitching a tent or taking up overnight residence in a hut at the foothills of the rainbow mountains is simply a joy. You'll need to book your spot in advance and pay the relevant fees which will grant you access to the facilities such as toilets and showers. A big mountain hut is based here too, which will require booking in advance to access. Time your trip right and you may even get to sleep beneath the midnight sun! 
If you're planning a summer trip to Iceland and want to enjoy some of the lesser-visited regions, Landmannalaugar should be at the top of your list. Take a look at our range of hire vehicles that will get you there safely. 
Back