Northern Lights at Jökulsárlón Glacier Lagoon
Experience the Northern Lights over 'The Crown Jewel of Iceland', otherwise known as the Jökulsárlón Glacier Lagoon for a truly mesmerizing sight. People travel to Iceland for a number of reasons, but most admit that its the country's natural wonders that drew them there. Iceland's outstanding, untouched scenery has captured the hearts of millions of travellers worldwide and is definitely worth the visit. 
The calming Jökulsárlón Glacier Lagoon is filled with icebergs and is visited by thousands of people each year. An incredible number of photographs capture the lagoon's stunning beauty, especially when the Northern Lights are dancing in the endless night sky above. See our list of The Best Photos of the Northern Lights.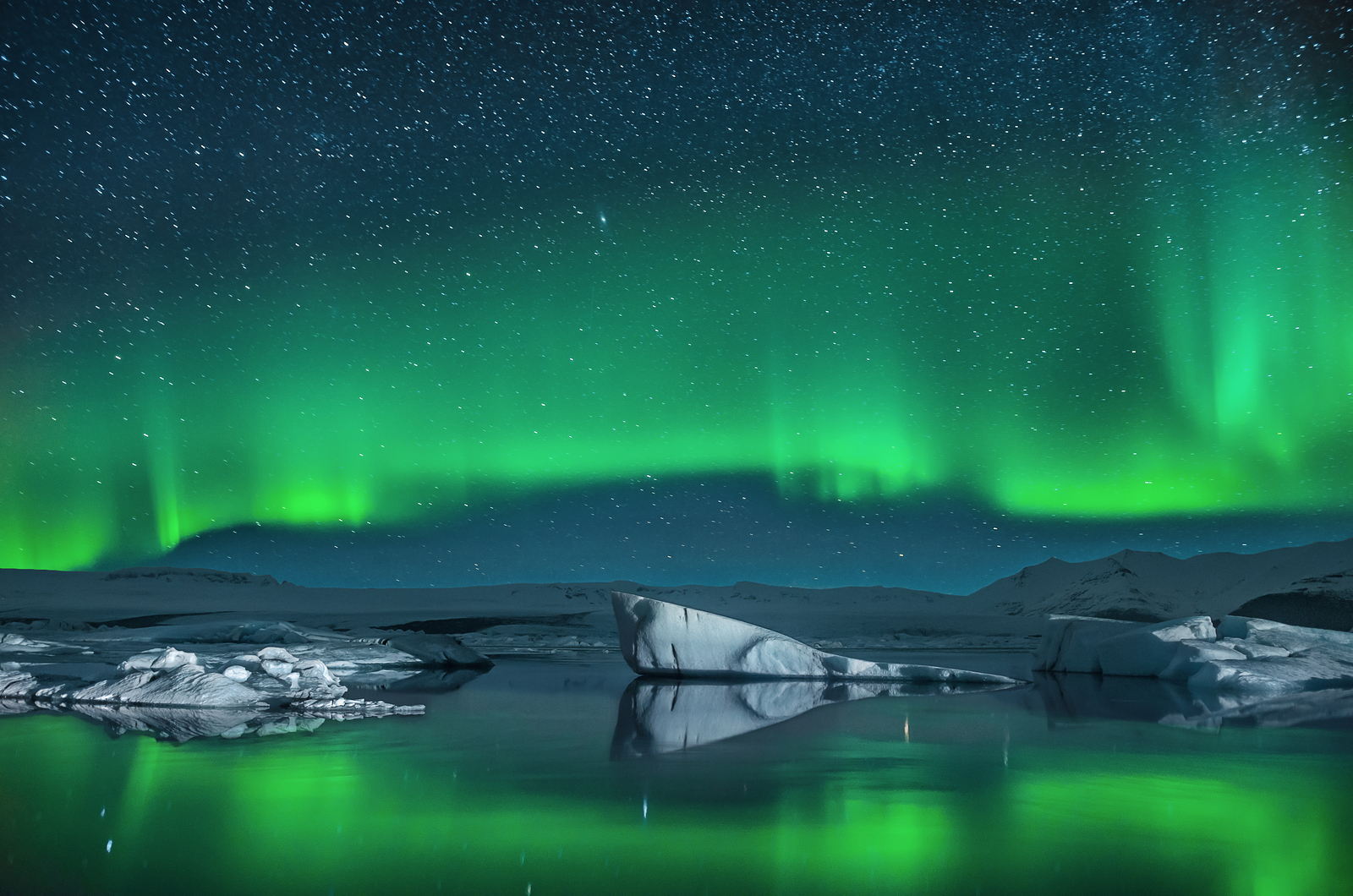 Jökulsárlón is Iceland's deepest lake, measuring 248 meters in depth. Due to the effects of climate change, the lake grows larger each year. Jökulsárlón is surrounded by a collage of steep mountains, lush vegetation and, at the right time of year, glistening snow, which explains its appeal to tourists. Without any urbanisation in the area, the lake has become a hotspot destination for those seeking a glimpse of the Northern Lights, which can visibly be seen in the clear, unpolluted skies. Even though the area is well known for the Northern Lights, there is still no telling of exactly when you will be able to see them. In addition to escaping light pollution, you'll also need the perfect weather conditions to spot the Northern Lights, so their appearance is never a given. Therefore we still suggest that you check the auro forecast ahead of your trip.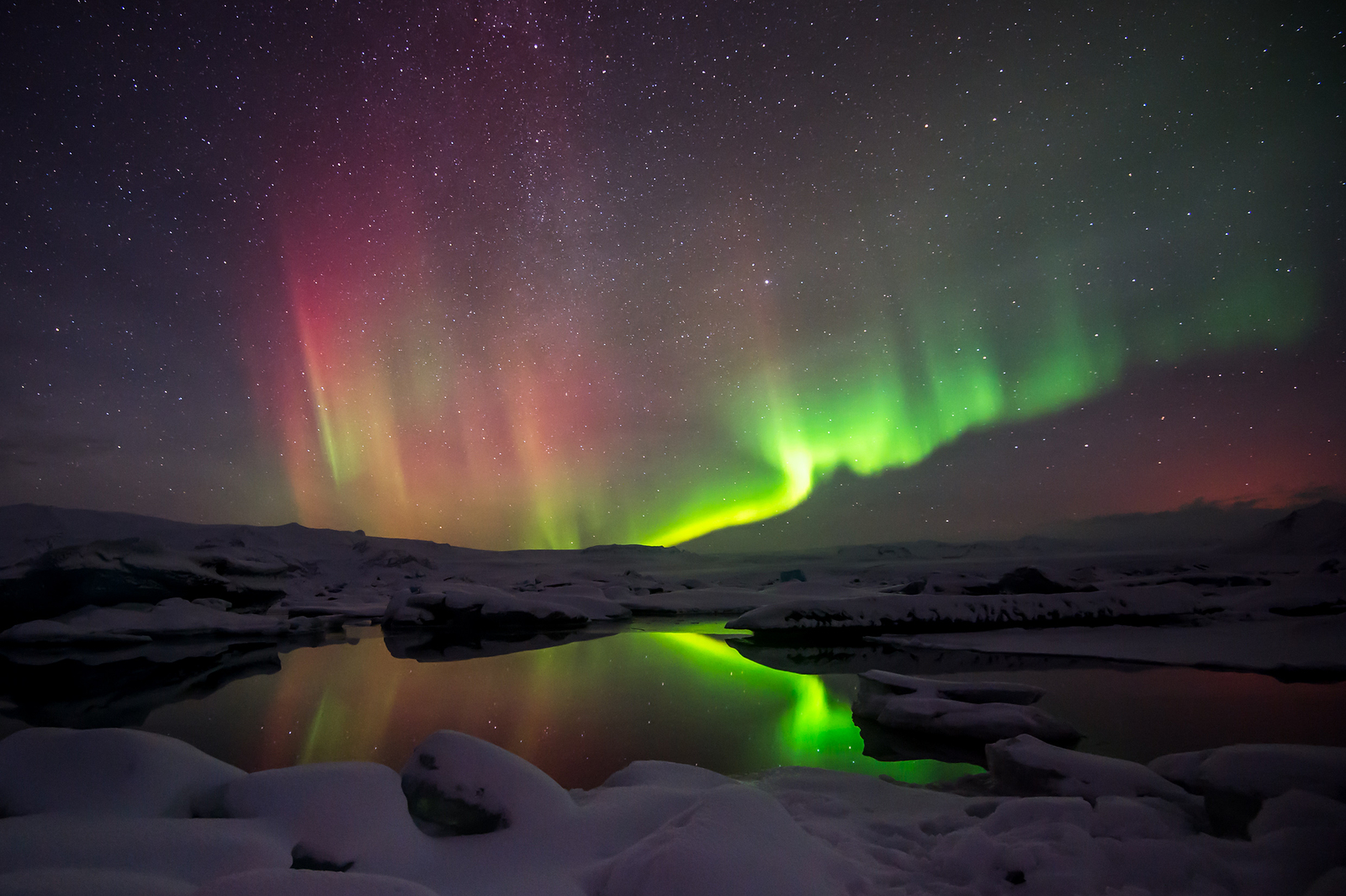 One of the best ways to guarantee that you see the Northern Lights at Jökulsárlón is to take the responsibility out of your own hands and instead book a guided tour. Tour operators will have experience and better knowledge about the area and will know the best time to take you to see the lights. This will prevent potential disappointment and will allow you to maximise your time at the lake.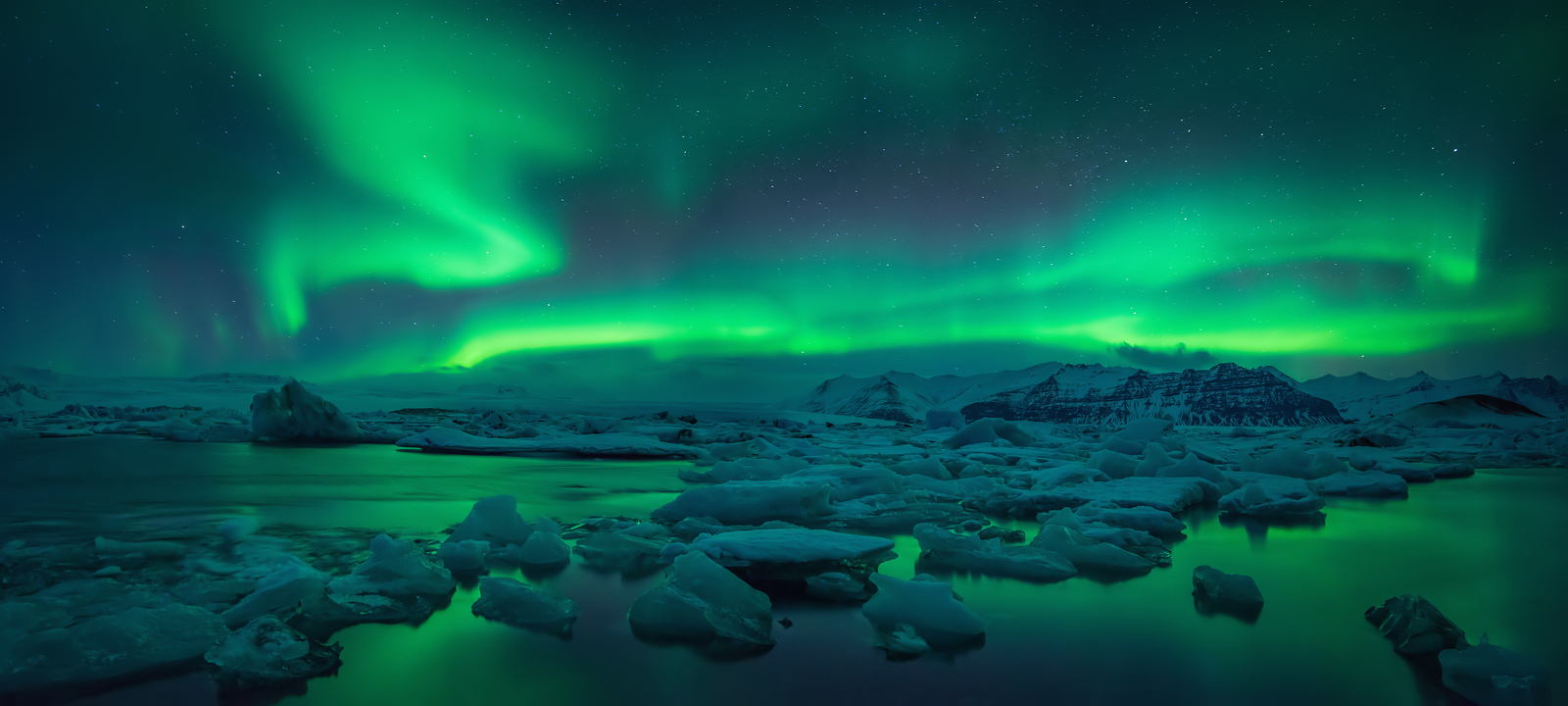 To reach Jökulsárlón, you can either drive or join a tour. If you are driving from Reykjavik, please note that it is a 6-hour scenic drive to get there, so ensure you allow for a full day of travelling. Luckily there are some amazing sights on the way, so you can always stop off at several to break up your journey. You will see some magnificent waterfalls such as Seljalandsfoss and Skogafoss as well as Eyjafjallajokull volcano and several glaciers. There are a number of self-drive itineraries which can be found online. 
If you are able to see the Northern Lights at Jökulsárlón then you will most likely be able to also see them from the nearby Diamond beach. This is only a 5-minute walk away from Jökulsárlón, so is easily accessible. Diamond beach features black sands and sparkling diamond ice chunks, which are truly beautiful - especially when reflecting the Northern Lights. The beach is a great place to see the all-natural water cycle taking place, watching clear chunks of ice wash up on the dark sands.
If you are looking to visit Iceland during the sublimely beautiful winter months, we highly recommend a visit to Jökulsárlón and Diamond Beach. Seeing the Northern Light at these iconic destinations will be an incredible sight and an unforgettable memory. Iceland's incredible natural landscapes present the perfect opportunity to see the Northern Lights in all their glory. Book your rental car today on Iceland Car Rental so that you can venture to the lagoon to see the Northern Lights for yourself. You won't regret it.
Back