A Guide to the Geothermal Areas of Iceland
Known as the Land of Ice and Fire, Iceland more than lives up to its name. Glaciers and long winters fulfil the first part, while volcanoes, long summers and geothermal areas fulfil the second. The island of Surtsey in the south was only formed in 1967 from an underwater volcano explosion! Iceland is also known for its many hot springs, some of which can be found in hidden corners across Iceland.
But hot springs are geothermal areas that are tame enough for us to survive while we swim in them. There are plenty of areas that are much more powerful and so also incredibly awe-inspiring. If you don't like the smell of sulphur or want to learn more about the science, consider going to one of the places that are dedicated to teaching about these areas. The Volcano House in Reykjavik has a mineral exhibition and a Volcano Cinema. The Volcano Museum in Stykkishólmur in the west has old and new works of art, objects, artefacts and volcanic rocks. The Natural History Museum in Kópavogur focuses on geology and zoology. The Friðheimar farm in the South has a geothermal run greenhouse and amazing tomato soup!
If you want to visit a geothermal site yourself, but can't get too far away from Reykjavik, consider visiting Seltúnshverir, found on the peninsula. This area has two observation platforms which allow you to look out at the boiling mud, fumaroles and solfataras. The landscape is painted bright yellow, red and green because of the sulphur.
Within the area is Fúlipollur, a massive black mud pool, and the crater Grænavatn, which is now a lake with amazing, bright emerald colouring. Some say that the colour is a result of the high levels of sulphur, others report a mysterious creature that sometimes appears from the lake… why not pay a visit to the area and decide for yourself?
Also near Reykjavik Lighthouse is Gunnuhver, named after Gunna, with whom the Sherrif had a conflict with, according to lore. The area also houses the country's biggest mud pool – 20 meters wide.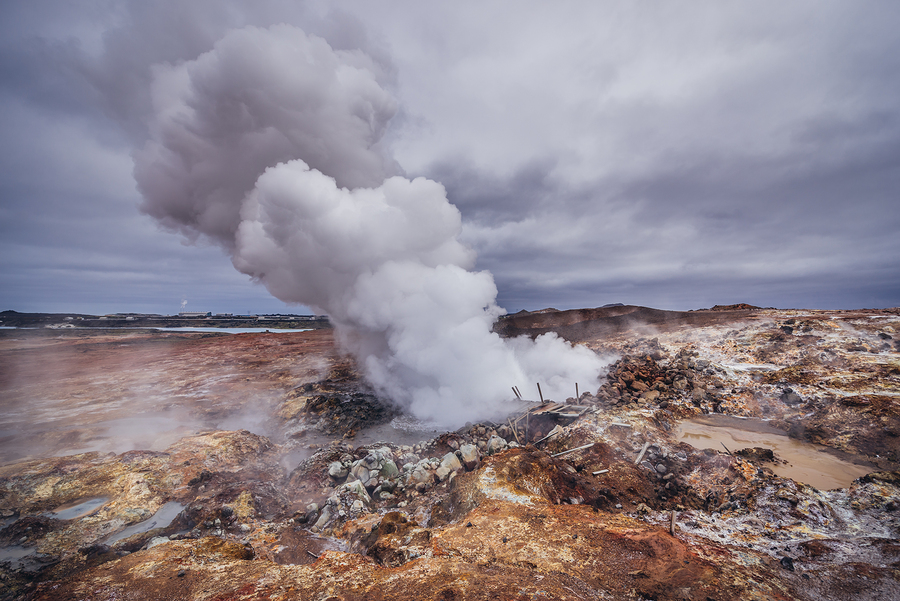 If you're venturing slightly further out from Reykjavik, you should explore at least some of the Golden Circle, and a major part of that is Haukadalur Valley, which houses Geysir and Strokkur. Geysers across the world are named after Geysir, which used to spout water up to 80 meters into the air. It's currently been dormant for 20 years, so is less reliable than its nearby fellow Strokkur, which expels water every 5 to 10 minutes.
In the north, if you're by Lake Mývatn you should visit Námaskarð (also known as Námafjall, Hverir and Hverarönd). Like Seltúnshverir, the area is stained with many beautiful colours and has many interesting smells! There are huge pillars of steam, black rivers and boiling pools of mud and water, so stick to the roped path so you don't walk on the dangerously hot areas or fall in.
During the summer, you can drive into the Highlands, but during the winter you'll need to book a tour to visit, but Hveravellir is worth it. Most of the hot springs need to be appreciated from a distance, though they also have some man-made ones for you to enjoy. This area has mud pools, fumaroles and walkways for you to adventure through.
The Highlands are also home to the Kerlingarfjöll mountain range, which used to be a sky resort but now is a protected nature reserve. This area has beautifully coloured hillsides for you to walk on top of, which were made from 10,000-year-old rhyolite stone which appears to change colour in passing light. It also is home to many hot springs, some of which you can bathe in.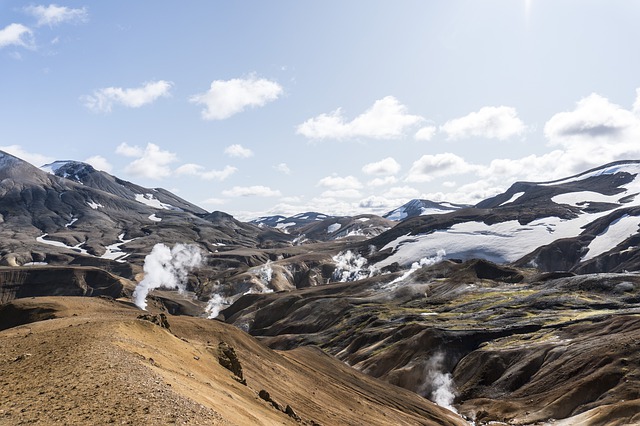 So if you're venturing to Iceland, spend some time to learn about the history and geology of the land, and visit some of the most awe-inspiring scenery possible! Driving around the Golden Circle and the Ring Road will allow you to see many geothermal wonders, so consider renting a car for the most flexibility.
Back