In nearly all of Iceland, parking is free. There are some places that you can't park, like the sides of the road outside of the city, and you may have to pay if you are parking in Reykjavik city centre or Akureyri. Even within the major cities, there's normally street parking outside of the downtown area that is available.
Parking Zones
If you are parking in Reykjavik city centre, you need to be aware of the different zones and their restrictions. There are four parking zones within the downtown area, near Laugavegur (the high street) and Lækjargata/Austurstræti. The P-signs are also located on lamp posts, though we have a diagram below to help: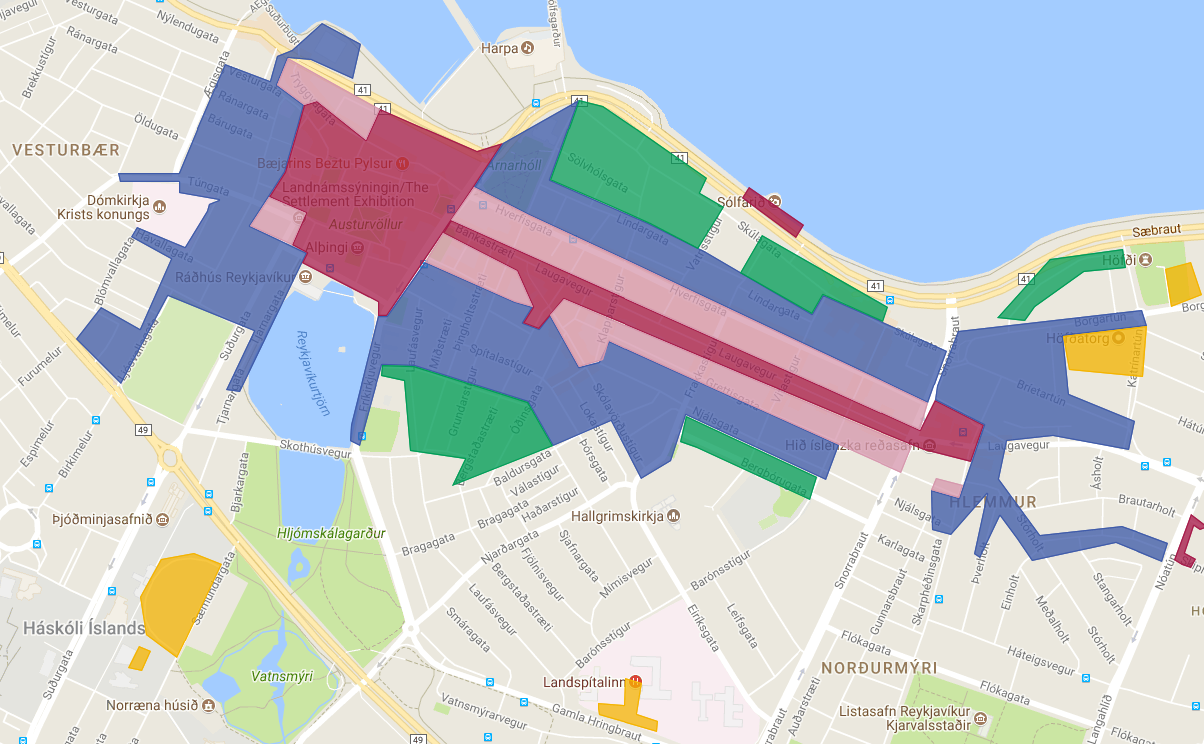 As of Spring 2019, the prices are:
P Zone 1 (red & pink) = 250 ISK / hour
P Zone 2 (blue) = 125 ISK / hour
P Zone 3 (green) = 90 ISK / hour for the first two hours & 150 ISK / hour following that
P Zone 4 (orange) = 125 ISK / hour
The tickets expand, so P1 tickets apply for all P-zones, but a P4 ticket will only allow you to park in P4 zones.
As of Spring 2019, the hours are:
Mon-Fri : 09:00 – 18:00
Sat: 08:00 – 16:00
Sun: Free
The only exception is P4 zones which are free on both Saturday and Sunday, but the hours are 08:00 – 16:00 on Mon-Fri.
During bank holidays, parking is free, but some areas may be closed off.
How to pay
Within the zones, there will be either meters or ticket machines, though the meters are being phased out.
Meters: You can only pay using bigger coins (10, 50 and 100 ISK) but cannot use cards.
Ticket Machines: There used to be pay and display machines, but now you just have to put your license plate number into the machine, choose your length of stay, and then pay with either coins or a credit card. The machine may print a ticket, but you can keep that with you as the parking attendant only needs to scan your license plate to determine whether or not you've paid.
App: There is a third option of using the leggja.is parking app, but all the instructions and the app are in Icelandic so you will need a good grasp of the language first.
Reykjavik Car Parks
If you don't want to park on the street or want somewhere secure to park overnight, there are multiple secure car parks for use. City Hall and Vesturgata are both often full, but the rest tend to have plenty of space. They are tight to drive through, as a warning. They are also only open between 07:00 – 24:00 every day, so don't try planning to drive out at 4 am and get stuck.
Stjörnuport and Vitatorg charge 150 ISK for the first hour and 100 ISK for every hour after that, but all the other car parks charge 240 ISK for the first hour and 120 ISK every hour after.
Parking for Free
Other than parking in a free space or overnight, there are two more ways that you may be able to park for free. Eco-friendly cars, which are marked with a blue parking meter (shown below) provides free parking in all zones for up to 90 minutes.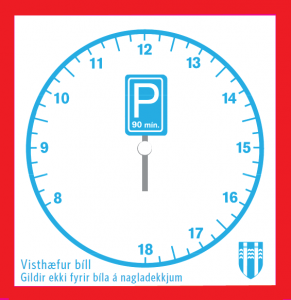 There is a different clock, called the Akureyri Parking Clock, on many rental cars that are only valid in Akureyri and not in Reykjavik. Also, be aware that if your car has studded tires (which is recommended in winter) that you will have to pay for your entire time parking as well.
If you have an official handicap FFA card that is visible in the window of your car, you can park for free in all parking zones. You cannot park for free within the car parks, but they do offer handicap spots.
Parking Fines
The parking inspectors are very thorough and efficient and the police make a point of giving out tickets, so don't think that you might be able to cheat your way out of parking properly.
There are three kinds of parking violations – Parking Meter Citations (extra parking fines), Parking Violation Charges and Parking in a Handicapped Parking Space.
Parking Meter Citations are given when you don't pay for your parking. The current amounts that will be fined are:
3,400 ISK if paid immediately
4,500 ISK (~ £30 / $35) normal
6,750 ISK if not paid within 14 days after the citation date
9,000 ISK if unpaid after 28 days
Parking Violation Charges are given when you park illegally, such as parking on a curb or in marked no parking zones. The current fines are:
8,900 ISK if paid immediately
10,000 ISK (~ £65 / $80) normal
15,000 ISK if not paid within 14 days
20,000 ISK if unpaid after 28 days
Parking in a Handicapped Parking Space is imposed when you park in a marked handicapped parking space without a valid disability card. The current fines are :
18,900 ISK if paid immediately
20,000 ISK (~ £125 / $160) normal
30,000 ISK if not paid within 14 days
40,000 ISK if not paid within 28 days
If you find yourself with a ticket, don't worry, and don't try to pretend it didn't happen. Car rental agencies will match the ticket to you and charge you. It is easy enough to pay, you just have to take the ticket to a nearby bank and pay there.
Our local office makes Reykjavik car rentals easy. Iceland Car Rental provide a number of guides to help you navigate driving in Iceland, including information about driving in snow and how to avoid speeding tickets while travelling in the country.