Your Guide to Fuel Stations in Iceland
You don't want to be left stranded if your tank runs empty, or have to pay our service fee when you return our hire car without a full tank of petrol. Our article is here to give you all the information you need about petrol stations in Iceland, which are a little different to the stations you might be used to in the UK.
Early and Often
While there are plenty of petrol stations around the country, the best method to stay best prepared is to top up your car whenever you drive past an available petrol station. If you plan on having a long day out exploring, you might not see another station for a long period of time, particularly when travelling on Iceland's f-roads in the Highlands. Even though you might not think it's worth it, it could save you from having to detour later in the day.
Filling up
When stopping at a full-service petrol station in Iceland, this is a fairly standard procedure. You can either fill up your own car using the pump (usually a green handle for petrol, black for diesel) or someone will fill up for you, and then you will need to enter the kiosk to pay for the petrol you have used.
You may be surprised to find that no one is around at some petrol stations when you pull in to fill up. This becomes increasingly common when you leave built-up areas and are driving around Iceland for days at a time. In these cases, the petrol pumps are self-service, meaning you will need a credit or debit card with a pin number in order to fill up your cars. This is important to note as some credit cards will only have a postcode to enter. 
When filling up at a self-service petrol station in Iceland, all you will need to do is pay on the credit card machine, tell the machine which petrol pump you are using, and then fill up. If you are unsure of the process, it's best to stop at a full-service petrol station with a person that can show you how to do this before attempting it at a self-service stop.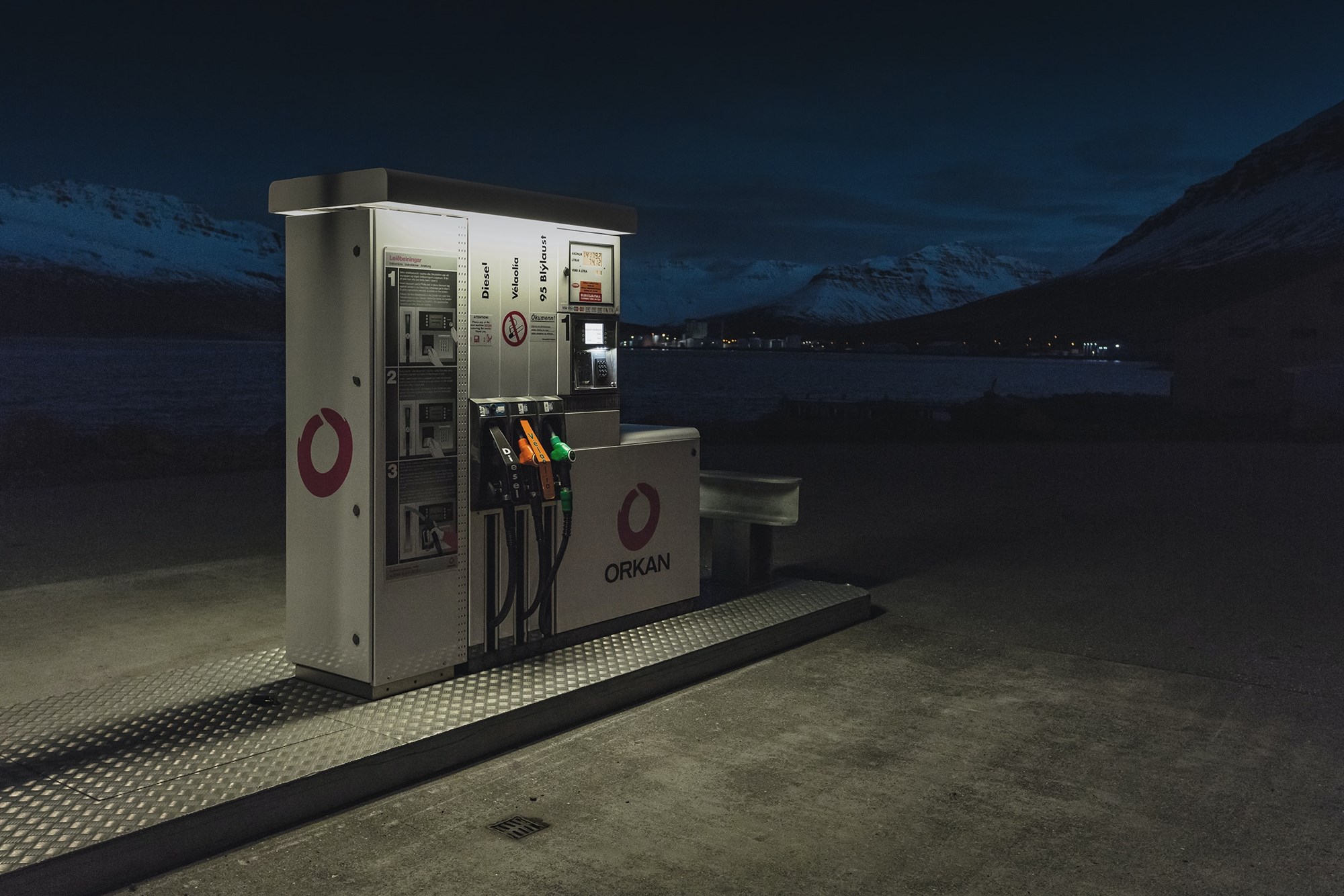 How expensive is fuel in Iceland?
Fuel in Iceland isn't cheap. Don't be surprised when the price tag is higher than you expect, even when filling up a tank on a small city car. Iceland is also experiencing a rise in petrol costs at the moment, with an increased average of around £1.767 per litre, or IKR 295.266. Petrol prices will vary from station to station, with higher prices nearer to the capital and lower prices more often displayed further north or east of the country. This is something to factor into your Iceland holiday budget if choosing to hire a car to see the best of Iceland. 
Where are the petrol stations in Iceland?
There are plenty of petrol stations across the country, with the majority focused near the capital city of Reykjavik and near the Golden Circle, as these are typically the busiest for vehicles in Iceland. This map below gives a good indication of the amount of petrol stations, and Google is a great help when searching for a location for your next fill-up.
If you have any other questions about driving our hire cars in Iceland, take a look at our FAQs for answers on a range of topics, from picking up your car to age requirements.
Back