Car Hire Keflavik


There is no better way to uncover the beauty of Iceland than by car. At Iceland Car Rental, we offer an exceptional range of high-quality rental cars from Keflavik Airport in Reykjavik.
Our cars are clean and safe, making them the best choice for your Icelandic adventure. Our cars come in a full range of sizes, as well as manual and automatic options, meaning that we can provide you with the perfect car for your visit. What's more, you can book now and pay later should your plans change unexpectedly.
How Far Away are Car Rentals from Keflavik Airport?
Some of the largest car rental companies are located in the terminal at Keflavik airport whereas others are located a short walk outside. Most rental companies that are not based in the terminal offer shuttle buses to their rental car offices. There are some good deals offered by companies outside of the terminal and Iceland Car Rental is located just a couple of minutes away via the shuttle bus.
Driving in Keflavik
Driving in Iceland is a great option for those who wish to explore our country at their own pace. However, driving in Iceland differs from many other countries and requires the necessary research and experience. Here are some of our top tips for driving in Keflavik and surrounding areas:
Be sure to select the right rental car for your visit. If you wish to drive along F-Roads for example, you will need to hire a 4x4 vehicle.
Whilst there are many spectacular sights to see in Iceland, try not to get distracted whilst driving. Always be sure to find a safe space to pull over should you wish to take a photo or explore.
Always follow the speed limits on the given signs.
Take a look at the weather conditions ahead of driving. The weather in Iceland can be variable, therefore making the road conditions uncertain. You can receive regular updates on this on the Road.is website.
Find out more useful information about Driving in Iceland.
Where To Find Us
You can easily locate our Reykjavik office via a free shuttle bus, which runs from Keflavik airport. The shuttle buses run every fifteen minutes and will take you between the arrival hall and our rental car lot in Keflavik.
Once you exit the customs area, continue straight ahead and outside of the Keflavik airport entrance. From there, you will walk through a covered footpath towards our shuttle service. The Iceland Car Rental Reykjavik office is located at the 4th stop. You can see the route you will take in the diagram below.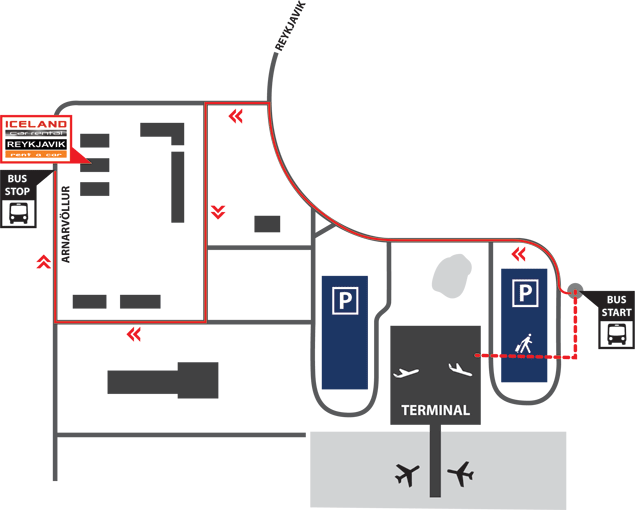 Contact our Keflavik airport car rental
Arnarvöllur 4
235 Keflavik International Airport
Iceland

Opening hours
Our office by Reykjavik airport (Code: KEF) is always open for pickups. If you are dropping off a car at night during our office season you can leave the keys in the drop off box.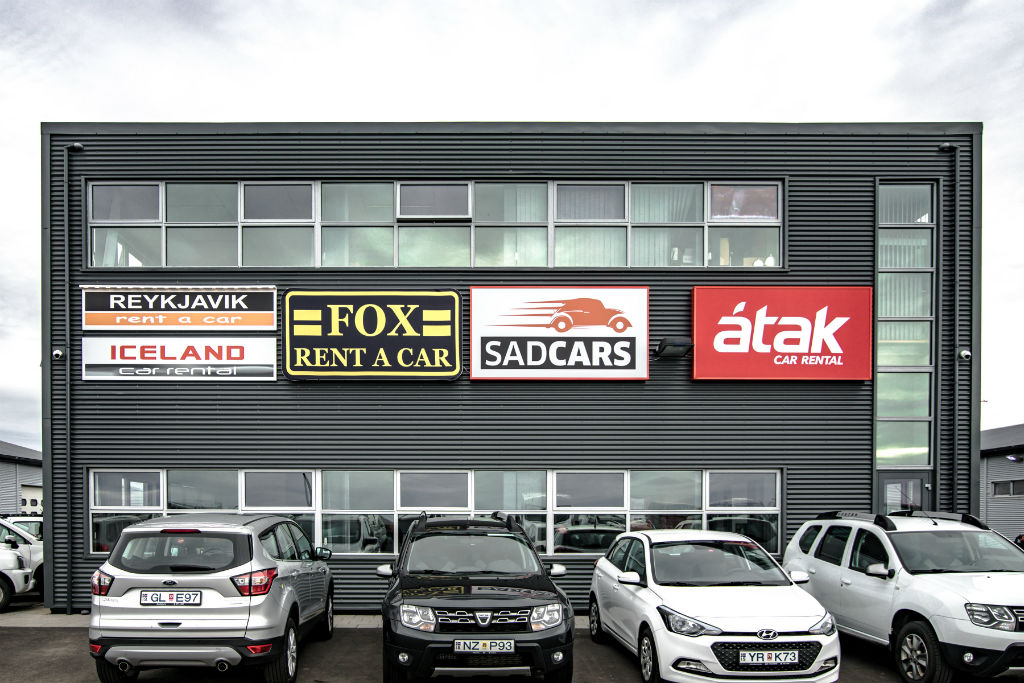 SSN 550508-0600. VAT 98214.